Best free plug-ins this week: TwoRuleFilter, FetDrive, ValhallaSpaceModulator
This week's roundup of the best free plug-ins brings us TwoRuleFilter, an awesome resonant filter with lots of modulation and rhythmic glitching. We've also got a FetDrive, a FET-based saturator, and the wonderful Valhalla Space Modulator is now free for everyone.
Can't get enough of great free plug-ins? Check out our huge archives!
2Rule TwoRuleFilter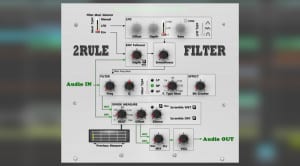 TwoRuleFilter is an updated version of the older 2RuleFilter. The plug-in is a self-resonating Moog-style filter with low pass, band pass and high pass modes, which can be modulated by an LFO with tempo sync and an envelope follower. Its best feature, however, is the "scrambler", which plays filtered bits of audio at random with selectable time divisions. That's a great way to turn any signal into a glitchy, filtered, rhythmic mess. To round things off, TwoRuleFilter also includes a bit crusher.
TwoRuleFilter is a VST and VST3 plug-in for macOS. The older version (2RuleFilter) is also available for Windows.
Analog Obsession FetDrive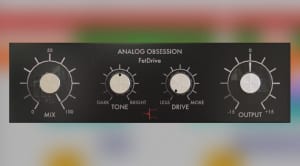 After FetSnap, Analog Obsession has derived yet another free plug-in from their emulation of a classic FET Compressor. FetDrive leaves out the compressor part and delivers a saturation effect based on the same circuit. The Drive knob raises the input level (with gain compensation) to drive the circuit into saturation. There's also a Tone control before the saturation stage. The plug-in also offers a Mix knob for blending the dry and wet signals, as well as an output level control.
FetDrive is available for Windows and macOS in VST, VST3 and AU formats.
Valhalla DSP ValhallaSpaceModulator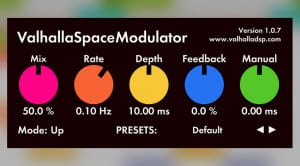 ValhallaSpaceModulator used to be a freebie for owners of a paid plug-in by Valhalla DSP. Developer Sean Costello seems to be in a generous mood lately: After giving us the awesome Valhalla Supermassive a few weeks ago, he has now made Space Modulator free for everyone. It's a flanger, but coming from Valhalla, it's got a few tricks up its sleeve. With 11 algorithms including through-zero flanging, detuning and doubling, Valhalla Space Modulator takes flanging to a whole new level.
ValhallaSpaceModulator is available for Windows and macOS in VST, VST3, AU and AAX formats.
Get ValhallaSpaceModulator here
Videos
Audio demos
Image Sources:
2rule-2rulefilter: 2Rule, Gearnews
analog-obsession-fetdrive: Analog Obsession, Gearnews
valhalla-space-modulator: Valhalla DSP, Gearnews