The Best Modern Synth Clones – Affordable Essential Classics!
Can't afford a vintage synthesizer or don't want to bother with endless maintenance? These five synth clones sit at the centre of the synthesizer Venn diagram between authenticity, reliability and affordability.
The Best Modern Synth Clones
What a time to be alive. Used to be that if you wanted a classic synthesizer, you had to trawl the back pages of music mags, scanning the classifieds with a magnifying glass for something good for sale. These days, enterprising companies of all sizes are giving the people what they want, with all manner of re-releases, updates and upgrades, and outright clones now just a Buy It Now button click away.
The only problem these days is with so many remakes now available, it can be hard to know what to buy. With that in mind I've put together this list of five of my picks for the best modern synth clones.
Behringer MonoPoly
The days of being able to pick up an original 1982 Korg Mono/Poly for less than a good night out are long gone. Instead of kicking yourself for passing on that one you saw at the pawnshop in 1995 (or for being born in 1995 and not 1975), give Behringer's synth clone, the slashless MonoPoly, a test drive.
Like the original, it has a unique array of four oscillators, which can be played together or individually. This makes the MonoPoly special in that it can be either monophonic or polyphonic—or paraphonic, given that all oscillators share a single filter and envelope section. You can also sync the oscillators or cross-modulate them, and even cycle through them using the onboard arpeggiator.
No modern remake will ever sound exactly like a vintage synth. Heck, no two originals will sound alike due to component aging. However, Behringer has done a remarkable job preserving the aura of the original while bringing it up to date with things like MIDI and USB.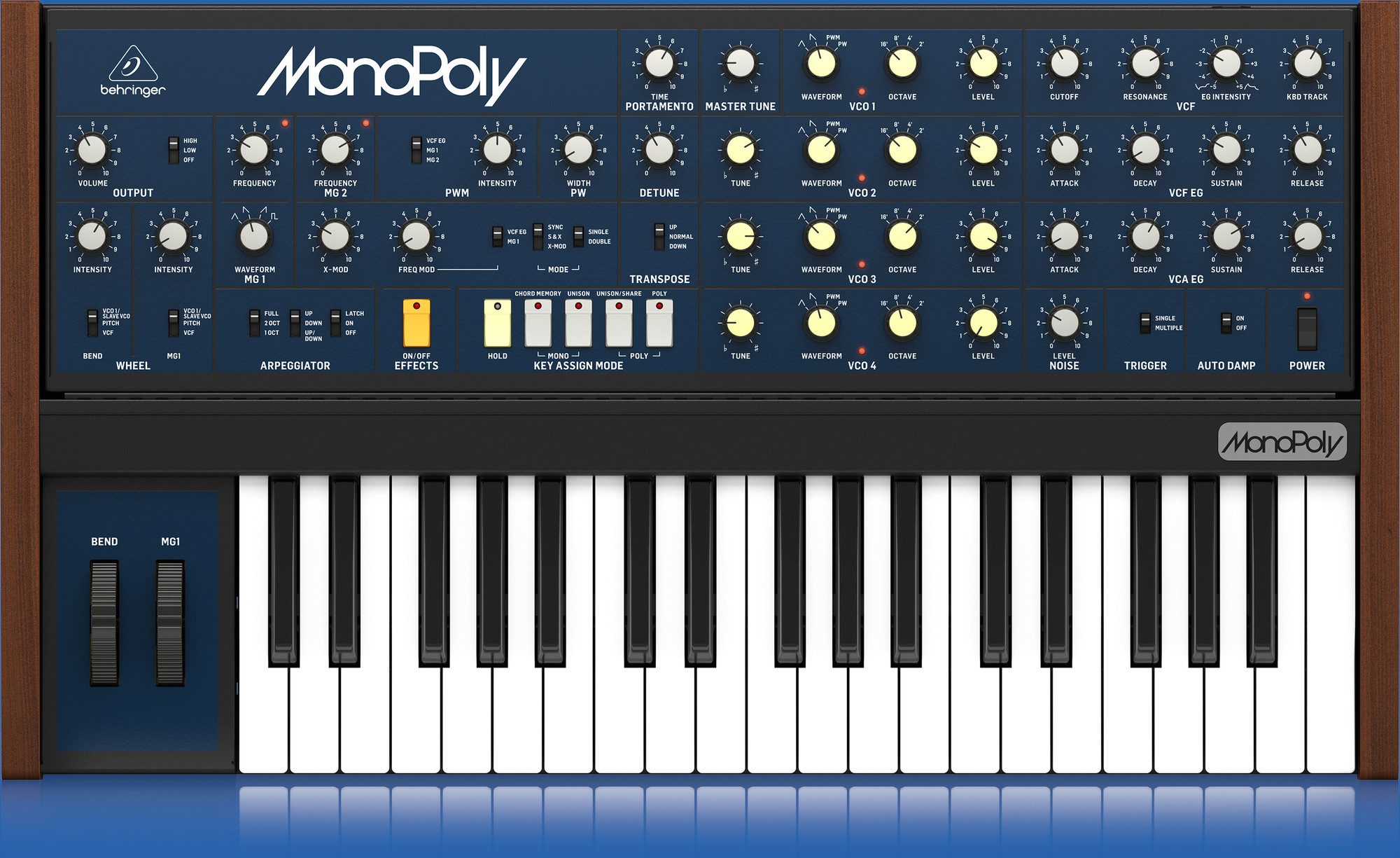 Korg ARP 2600 M
Is there anything cooler than an original ARP 2600? The answer is no. But for a close second, there's the ARP 2600 M, the official, and minified remake. There's no shortage of 2600 clones but if you're going to splash out on one, you may as well go for Korg's. It was approved by ARP co-founder and Close Encounters superstar David Friend, after all.
The 2600 is a three-oscillator, two-voice duophonic monosynth built into an upright cabinet. Being semi-modular (it was actually the first ever semi-modular synth!), you can use the normalled signal path e.g. oscillator to filter to VCA. Or by patching it like an old-fashioned telephone switchboard you can take the signal into uncharted territory.
Being modern, it has some extras that the '70s version doesn't, like two of the original filter models, MIDI in, USB, and plug-and-play class compliance for USB MIDI controllers and sequencers. We haven't even mentioned the sound, which is just as girthy and powerful as the original—despite the 60% smaller size.
Cyclone Analogic TT-303 Bass Bot V2
The allure of acid refuses to fade away. A genre of music started by some enterprising young producers in Chicago in the mid-'80s using cast-off gear has now become a monster, with originals of that gear—namely the Roland TB-303—regularly changing hands for sums usually reserved for things like precious jewels and cartons of eggs.
If you're like me and you stupidly sold yours for $100 back in the early '90s, the next best thing is a modern synth clone. Our pick for the one to get is Cyclone Analogic's TT-303 Bass Bot V2.
It may look like a tin of Altoids but it's got it where it counts: in the circuits. It sounds like what you want it to, with a single oscillator boasting sawtooth and square waveforms, a squelchy filter, and basic envelope controls. Being modern, it's got an expanded sequencer section, with swing, mutes, and an intelligent pattern generator and arpeggiator along with the trademark slides and accents.
Like to scream acieeed? No, me neither. But get one of these anyway.
Erica Synths SYNTRX II
Few synthesizers are more iconic than the VCS Synthi A. Made in 1971 as the portable version of the equally classic VCS 3, it was used by everyone from Pink Floyd to Jean Michel-Jarre and remains a much-sought-after vintage instrument to this day. Trouble is, they're obscenely expensive and more temperamental than a Bad Gear video comments section.
Enter SYNTRX by Erica Synths. More of an inspired remake than a synth clone, the instrument—recently updated to version II—runs with the Synthi format while bringing it up to date. It's got the same signal path, with two oscillators, series-connected high and lowpass filters with resonance, AD and ASR envelopes, and more, plus the famous mod matrix now updated from pins to push-button LEDs.
Being a 2023 synth, it's also got MIDI in and out, plus the kind of CV/gate connectivity you'd expect from a company that specializes in modular synths.
Don't get a SYNTRX II expecting a one-to-one copy of the Synthi but do get one for an inspiring and creativity-sparking take on the classic.
Moog Minimoog Model D (2022)
Let's try an exercise. Close your eyes and think of a synthesizer. Chances are, you're imagining something with keys along the front and a control panel full of knobs above it. We'd wager that the signal path of that synth goes from left to right, from oscillator through filter and on to amplifier. That's a Minimoog. First released in 1970, Moog's landmark Model D establish the blueprint for synthesizers, one that we're still using today.
Last year in 2022, Moog reissued the Minimoog Model D for the second time. The 2022 version is the same as the 2016 version, which is essentially the original machine with updated components. It's got the same three beefy oscillators, the same creamy Ladder filter, and all the controls (including the knobs!) that you expect from the classic. It also has a grip of additional parameters, like MIDI, that people often modded onto old machines.
The Minimoog reissue is not cheap. Moogs have always been premium instruments and command a premium price. However, they really do sound different, with a powerful presence that you only get from a Moog.
More about synth clones:
Videos:
*Note: This article contains promotional links that help us fund our site. Don't worry: the price for you always stays the same! We will receive a small commission if you buy something through these links. We appreciate your support!
Image Sources:
MonoPoly_P0E3H_Top_XL: Behringer
Korg has shrunk the ARP 2600 to about 60% of its size: Gearnews
Cyclone Analogic TT-303 Bass Bot V2: Cyclone Analogic
Erica Synths SYNTRX II: Erica Synths
Moog Minimoog Model-D 2022: Moog