REVIEW: D'Angelico Deluxe Eric Krasno Brighton. A guitar of surprises!
From the eye-catching aesthetics to the upfront and defined tone, there's no ignoring the signature Deluxe Eric Krasno Brighton guitar from D'Angelico. We were lucky enough to get our hands on one of only 50 examples available worldwide. As you'll see, it's a guitar of many surprises…
D'Angelico Deluxe Eric Krasno Brighton
So what do we have here then? D'Angelico might not be a brand you're initially familiar with; founded back in 1932 in New York, Vintage D'angelico guitars are amongst the most sought-after Jazz guitars ever made. The Eric Krasno Brighton Deluxe I'm reviewing here is a product of the current D'Angelico company, founded in 2011. The company is still based in New York, although the current instruments are manufactured in Korea.
This particular guitar is one of just fifty Eric Krasno models available, globally. It's based on the Deluxe Brighton model but with some key differences…
Custom Specs, Custom Tones
The first thing you'll likely notice are those unusual pickups; the "Strat in Humbucker" Alnico V pickups are manufactured by Seymour Duncan exclusively for the Eric Krasno Brighton. They're coupled to a three-way selector switch and a master volume and tone control.
Other key differences to the regular production Brighton Deluxe, come in the choice of tone woods. A rosewood fretboard replaces the Ebony of the non-signature guitar, while swamp ash top back and sides supplant the Alder of the regular guitar. Finally, you'll find Eric Krasno's signature adorning the beautiful, art-deco-style truss rod cover.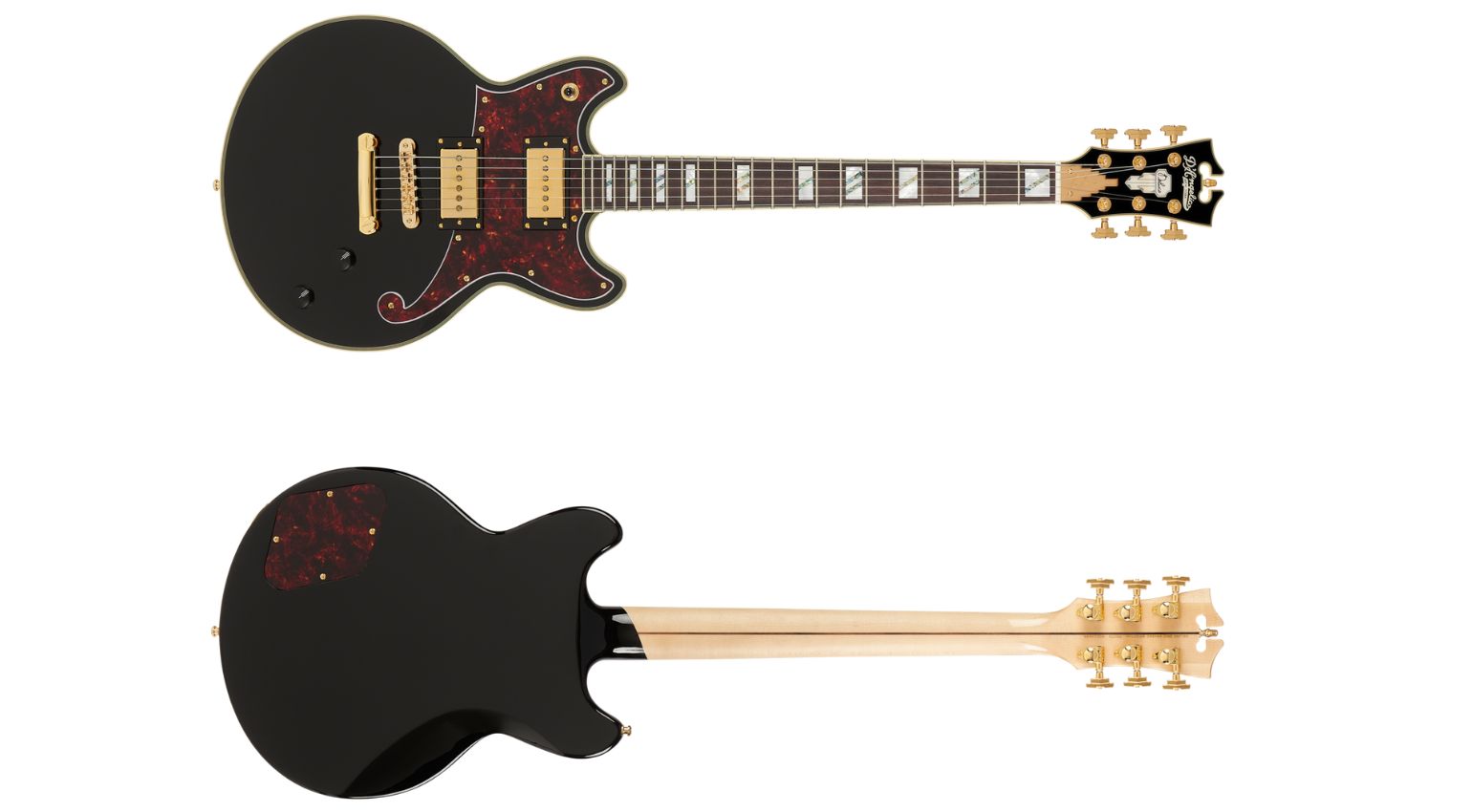 First Impressions
Unclipping the latches on the included fitted hard case, it's hard not to let out an involuntary "WOW" upon opening the case! This is one utterly stunning guitar! Importantly though, does that wow factor continue once you've picked the guitar up and started playing it?
There was a time when "Made in Korea" was something you'd only see on budget guitars. Teenage memories of plasticky finishes, terrible hardware, and junky electronics soon disappeared. It's no over-exaggeration to say that in terms of "out of the case" fit, finish, and playability, this is probably the finest guitar I've ever had through my hands for review… at any price.
Plugging In
If ever there was an example of "don't judge a book by its cover", then the Eric Krasno Brighton, has to be it. The double-cut aesthetic and Jazz leanings of Eric led to me expect a warm, rounded-sounding guitar. Nothing could be further than the truth!
This is a bright, forward-sounding guitar. Try and imagine the crystalline tones of a Strat married with the upfront mids of a Gibson and you're on the right track. There is no way this guitar will ever get lost in the mix! This bright and forward character comes with a caveat: the EKB is sensitive to the amplifier (or amp tone) you pair it with. I initially tried it with my trusty 30th-anniversary Marshall, which was an unhappy pairing!
Definition and Clarity
Krasno is an endorsee of Supro amplifiers; I didn't have a Supro to hand but what I did have was an obscure 60s little tube combo called a "Mazeltoff". Instantly, there was a world of difference, proving this guitar is very sensitive to amp pairing.
If you naturally gravitate towards darker "woollier" sounding amps and tones then the Krasno Brighton could be your secret weapon. The bridge pickup cuts like the proverbial hot knife through butter, while the neck pickup really sings with a sweet definition.
Equally, trying some boosted tones I was impressed by how quiet and hum-free these pickups are. That's no mean feat for single-coil pickups and is a testament to Seymour Duncan.
Smooth and Slinky
D'Angelico describes the neck profile on the EKB as a "slim C" profile neck. I have very small hands so found the neck a little on the chunky side. For balance, however, it's a world removed from a baseball-bat-type 50s Les Paul neck profile!
The high quality of fit and finish immediately benefits when playing the EKB. The satin neck finish is one of the nicest under my hands I've ever played. Equally, nowhere on the neck did I detect any dead spots, chokes, or the feeling of sharp frets under my fingers.
I particularly like the control layout of the EKB. A simple three-way toggle switch on the upper horn is easily accessible and never gets in the way. In the same way, the volume and tone controls never impede the player and feel intuitive in their placement.
Great for Eric, Good for You?
As with any "signature" instrument, you have to remember that this guitar has been designed to suit the exact needs of that artist. In this case, that leads to a guitar with a very distinct tonal character and a very distinct aesthetic. If you like your guitars to have a huge tonal variation at the flick of a pickup selector switch you may find yourself disappointed. This guitar is a specific (and beautifully made) tool for a specific job.
If, however, you're a fan of bright-sounding guitars and tend to gravitate towards low-wattage tube combos (like Eric) then this guitar could be a revelation to you. The note definition and clarity created by the choice of woods and pickups are striking.
If you think the EKB is the guitar for you, then move fast as only 50 of these have been made available worldwide. It's a beautifully built guitar and undoubtedly those lucky 50 people will be very thrilled with their purchase!
More Information:
Video:
Image Sources:
Eric Krasno Brighton Front and Back: D'Angelico
The unique "Strat in Humbucker" Seymour Duncan pickups.: D'Angelico