Buyer's Guide To Acoustic Guitar Pickups: How To Amplify Your Guitar
No matter if you use an acoustic guitar pickup or a microphone: a completely natural acoustic sound through an amplifier does not exist, will never exist, and simply cannot exist. Amplifying an acoustic guitar is unfortunately always a compromise. But each type of acoustic guitar pickup has its advantages and disadvantages. Read our guide to find out which system is best for you.
Acoustic Guitar Pickups: Quick Facts
Which types of acoustic guitar pickups exist?
The most common variety is the piezo pickup, a type of contact pickup that's usually hidden under the bridge inlay. Magnetic pickups are most often clamped into the sound hole. As a third variant, microphones inside the body can pick up the sound. Some guitars offer a combination of options.
Why do I need a preamp for my acoustic guitar pickup?
Piezo pickups in particular require electrical matching to the input of the amp or mixer, because otherwise their sound has little to do with the acoustic sound. Built-in preamps commonly offer tone and volume controls and sometimes extras like feedback control, notch filter, phase switch, and tuner.
What should I keep in mind when using an acoustic guitar on stage?
The biggest challenge when amplifying an acoustic guitar is feedback. This issue can be addressed by mechanical means and certain preamp features, which we'll get to later.
Acoustic Guitar Pickups: The Basics
An acoustic guitar on stage is a great thing – and in certain styles, it's an absolute necessity. However, you may find that once you hook up your otherwise great-sounding instrument to an amp or PA, the problems start. Feedback and an unnatural sound seem to be unavoidable side effects. All acoustic instruments suffer from this, because an amp or PA simply cannot reproduce the entire spectrum of an acoustic signal. You can easily tell whether you're hearing an acoustic instrument directly or through a speaker system, even at identical sound pressure levels.
Although the amp or PA play a big role, the pickup is usually the main bottleneck when it comes to acoustic guitars. Its job is turn the complex vibrations of the instrument into an electrical signal. In doing so, it must fail, because much of what makes up the sound originates at different points of the body. These components are only combined to form the actual guitar sound in the listener's ear. Strictly speaking, then, there can only be bad and slightly less bad acoustic guitar pickups, right?
Acoustic Guitar Pickups are better than their Reputation
However, this statement doesn't do the pickups justice. That's because "natural" doesn't necessarily equal "useful" – especially in a live context. There's a simple rule that affects all available pickup systems: The more natural the pickup sounds, the more problems you'll have with feedback. And vice versa. This also explains the success of instruments by Ovation or especially Takamine: While their amplified sound may not be particularly natural, it works without issues even on stadium stages. Plug, play, and forget! Under these conditions, a microphone placed in front of the guitar simply wouldn't work. In a quiet, intimate setting, on the other hand, a microphone is likely the way to go.
Microphones for Acoustic Guitar: the Champions
From a sonic point of view, a high-quality microphone is always the best way to pick up any acoustic instrument. Two microphones in a stereo configuration positioned at the right distance are the most accurate and natural-sounding method of capturing the acoustic guitar sound, which is why this setup is preferred in the studio. This is most often a job for small-diaphragm condenser microphones such as the Neumann KM 184, AKG C 451, Shure KSM 137, Rode NT5, or the t.bone SC 140. These microphones sound natural and direct and do a particularly good job of capturing the transients (attack) of an acoustic guitar. Large-diaphragm condenser microphones are also popular, but they tend to color the sound – which, however, is sometimes desirable.
The disadvantage of this method is that the microphones also pick up everything else that happens in the room – including your own amplified signal. This gets better if you position the microphones closer to the guitar, but then they only "hear" part of the sound. This can be enough to ensure a convincing presentation, but it won't be enough to prevent feedback at higher levels, which is why this method can be problematic on stage. In addition, the musician must remain rooted to the spot to ensure a consistent distance from the microphone.
Alternatively, you can attach a microphone directly to the guitar. Some microphones come bundled with guitar mounts (e.g. DPA 4099 Core Guitar, the t.bone Ovid System Guitar Bundle). These solutions offer the same sonic advantages and disadvantages as a microphone on a stand, but enable the guitarist to move around without changing the distance between the microphone and the guitar.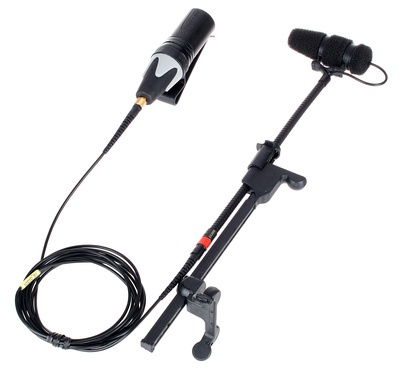 the t.bone Ovid System Guitar Bundle
How does it sound inside the Body?
Some pickup manufacturers like Fishman (Matrix Infinity Blend, among others) offer hybrid systems that combine a pickup with an additional microphone pointed at the strings from inside the body. This approach helps to improve the high-frequency response – this is where both magnetic and contact pickups have their greatest weaknesses.
The Anthem system from L.R. Baggs also uses a microphone inside the guitar. The feedback resistance is surprisingly good, but on large stages and at high volumes it can still be a bit problematic, at least if the guitarist wants to hear themselves on the monitors.
Piezo Pickups for Acoustic Guitar: the Pragmatic Approach
A contact pickup is in direct contact with one of the vibrating parts – but not the strings! – of a guitar. Most often, these are so-called piezo pickups. They work with a crystal that, when deformed by vibration, generates a voltage that can be amplified. This type of pickup is very reliable, which is why it was used by Ovation in their popular electroacoustic guitars of the early 1970s. And the fact that Ovations are still available is proof that the system works and still has its advantages.
Piezo Pickups for Acoustic Guitar: A Preamp is a Must!
Two conditions must be met in order for a piezo pickup to work satisfactorily. Firstly, its design must allow for it to be placed directly under the bridge. And secondly, it must be connected to a preamplifier. Due to its electrical properties – its resistance (more correctly: impedance) is enormously high – it doesn't work well with standard amplifier inputs. Without the right preamp, a piezo pickup sounds thin, chirpy, weak and unnatural. This is called a "mismatch". Without proper impedance matching, a piezo pickup is pretty much useless.
Pros and Cons of Piezo Pickups
The main problem with piezo pickups is their basic sound. They tend to color the sound in such a way that you can immediately tell that you're listening to a piezo system. However, the development has not stopped and the current systems by Fishman, Shadow and L.R. Baggs, to name just a few, are in a different league than many older designs.
A second disadvantage is the installation. While you could install a piezo pickup yourself, you have to be extremely careful and precise. If you make the slightest mistake, you may find that certain strings are louder or quieter than others. If this happens, the only sensible solution is to consult a trusted luthier, who will surely take care of the problem with great pleasure.
The main advantages of piezo pickups are easy handling and the extensive control options provided by many preamps. Most systems offer at least a built-in tone knob or equalizer; some also have a tuner, notch filter, and/or phase switch to combat feedback. There are also systems optimized for low visibility whose volume and tone controls are accessible through the sound hole.
Magnetic Pickups for Acoustic Guitar: Quick 'n' Dirty
With the exception of microphones, the magnetic pickup is the oldest method of capturing a guitar sound by electrical means. It goes back all the way to Gibson's hollowbody "ES" series first introduced in 1936, which stands for "Electric Spanish" – and ultimately led to the Les Paul, Telecaster, and Rock 'n' Roll. We all know from experience that the sound that comes out of a Les Paul, a Strat or an ES-175 has absolutely nothing in common with an acoustic sound. But it was the first way to make a guitar sound loud, which was more important than a natural sound at that time.
This changed around the 1960s, and attempts were made to wring a reasonably lifelike sound out of a magnetic pickup. One of the earliest developments came from Schaller and the older ones among you may remember its striking appearance. I have a vintage Schaller in my collection, and its main weakness is its imbalance: the b and high e strings sound much louder than the other four strings.
Magnetic Pickups: Lots of Choices
Today, all renowned manufacturers have at least one magnetic pickup in their portfolio. Even companies that otherwise specialize in electric guitar pickups, such as Seymour Duncan, DiMarzio or Dean Markley, the latter of which is mostly known for strings, are poaching on this territory. Fishman, for example, offers the very popular Rare Earth Blend, which combines this concept with a microphone mounted directly on the pickup, and L.R. Baggs offers the M1. And they all sound reasonably good, if you disregard the inherently limited reproduction of the highest frequencies – which you could also view as a "warm" or "vintage" sound. Of course, this does not apply to hybrid systems like the ones offered by Fishman – but those suffer more from the feedback problems commonly associated with microphones.
The real advantage of a magnetic pickup, however, is another: most can be clamped into the sound hole with little effort, making it easy to equip any acoustic guitar with an amplification option in the blink of an eye. Shadow even makes a pickup with a built-in wireless transmitter, which is simply mounted in the sound hole, where it also acts as a "feedback buster" by sealing the hole. However, magnetic pickups also have one major drawback: they stubbornly refuse to work with nylon strings.
Feedback: Your Biggest Enemy
Why is it that Les Pauls or Strats never have problems with feedback when things get loud, but acoustic guitars always do? The reason lies in the hollow body and resonant top. The sound from the amp or the monitors reaches the guitar and causes the soundboard and the body to vibrate. This builds up and results in the screeching or booming sound that we call feedback.
And here's the worst part about it: the better and more vibrant a guitar sounds acoustically, the more prone it is to feedback. That's the reason why an exquisite Martin or Taylor for three grand may not work as well on stage as a much cheaper Takamine or Harley Benton.
Luckily, there are three very simple but effective methods to combat feedback. The first is to seal the sound hole. For this purpose, special rubber "feedback busters" are available from various manufacturers. In a pinch, you could also use a few layers of tape, but you'd risk damaging the paint of your guitar.
In addition, the notch filter and phase switch are two other effective weapons against feedback. The notch filter creates a "notch" in the frequency response by attenuating a specific frequency (and a bit around it). As the attenuation is limited to a very narrow frequency band, the sound is only minimally affected. A notch filter is always tunable, so you can find the problematic frequency and turn it down.
The Phase Switch – Time for a Physics Lesson
The phase switch is a bit more difficult to understand. It reverses the phase of the signal. For this you have to know that the electrical signal coming from the pickup is an alternating voltage, i.e. the sum of many sine oscillations. If you paid attention in school, you know that adding two in-phase signals (the wave crests line up with each other) results in a doubling of the amplitude (= loudness). If you now reverse the phase of one of the two signals (the maximum of one wave lines up with the minimum of the other), the signals cancel each other out.
The phase switch can be an effective way to combat feedback without affecting the amplified signal. (By the way, a humbucker in an electric guitar is based on the same physical principle.) In practice, however, there is a small disadvantage: If you take just one step to the side, the phase relationship between the guitar and monitor signals can be completely different again.
Conclusion: Acoustic Guitar Pickups at a Glance
So what should you use to amplify your acoustic guitar as naturally and as conveniently as possible? First of all, you have to realize that no system is perfect. Each method has its advantages and disadvantages, and which one you should choose depends on what you think is the best compromise for you. Here's a small summary:
1. Microphone at a distance (over one meter)
Advantage: Most natural sound
Disadvantage: Very feedback sensitive
Possible applications: recording studio, smaller venues with a large distance to the PA and without monitor speakers on stage
2. Microphone at close range (less than ten centimeters)
Advantage: Reasonably natural sound, much less prone to feedback than the first method
Disadvantage: Unsuitable for high volumes, distance between guitar and microphone must remain constant (but this can be achieved with a clamp-on mic)
Possible applications: acoustic ensembles without the need for loud monitoring, also suitable for large stages
3. Piezo pickup under the bridge
Advantage: Easy handling, can also be used at high volumes
Disadvantage: Must be permanently installed (holes in the guitar), unnatural sound
Possible applications: easiest way to play an acoustic guitar on stage even in difficult acoustic conditions
4. Magnetic sound hole pickup
Advantage: Easy handling, can also be used at high volumes, can quickly be installed and removed without a trace
Disadvantage: Typical "magnet" sound especially in the treble, the fixed cable can get in the way. Does not work with nylon strings!
Applications: "Quick'n'dirty" solution for musicians who come on stage completely unprepared with their purely acoustic dreadnought. Every FOH technician should have one in their bag for emergencies.
For most live applications on bigger stages, it'll usually come down to a piezo or magnetic pickup – which is perfectly fine. But don't forget that a microphone can be a viable alternative. The sonic shortcomings of piezos and magnetic pickups are most noticeable in quiet and intimate settings. This is where a microphone pointed at the top of the guitar or the end of the fretboard (but not the sound hole!) from the outside can work wonders.
More about Acoustic Guitars
Videos about Acoustic Guitar Pickups
Note: This article was originally published in German on bonedo.de.
Note: This post contains affiliate links and/or widgets. When you buy a product via our affiliate partner, we receive a small commission that helps support what we do. Don't worry, you pay the same price. Thanks for your support!
Image Sources:
Audio Technica AT4041 Condenser Microphone: Bonedo
AKG C 451 B Condenser Microphone: Bonedo
AKG C414 XLII Large-diaphragm condenser microphone: Bonedo
Shadow Nanoflex: Bonedo
B-Band UST-Transducer: Bonedo
Fishman Pickup: Bonedo
Generic pickup from China: Bonedo
China Pickup: Bonedo
Unknown pickup from the 80s: Bonedo
Schatten Preamp: Bonedo
Fishman Presys+: Bonedo
Nearly invisible controls: Bonedo
Shadow Preamp for the Soundhole: Bonedo
B-Band Preamp with battery compartment: Bonedo
Size comparison of various piezo sensors: Bonedo
Piezo sensor magnified: Bonedo
Pickup installation: The bridge inlay must be perfectly straight: Bonedo
Holes in the guitar are sometimes unavoidable: Bonedo
Drilling through the bridge and top: Bonedo
The hole for the end pin must also be enlarged: Bonedo
Shadow Nanomag: Bonedo
Schaller Soundhole Pickup: Bonedo
Shadow Soundhole Pickup: Bonedo
Bill Lawrence Pickup: Bonedo