Best Acoustic Guitar for Beginners: Nylon or Steel Strings?
Acoustic guitars can be divided into two main categories: Classical guitars with nylon strings and steel-string acoustics. This means that beginners have to make a fundamental decision even before they start practicing: Should you buy an acoustic guitar with steel strings, or is a classical guitar with nylon strings the right instrument for you? Read our buyer's guide to find out which acoustic guitar is best for you.
History of the Acoustic Guitar
Even experts cannot pinpoint the exact origin of the guitar. However, it is now widely assumed that the first ancestors of the guitar originated in Mesopotamia more than 5000 years ago. From there, they found their way to the Hittites, as evidenced by rock art depicting stringed instruments with guitar-shaped bodies and fretted necks (1400 BC). Reliefs from the Pharaonic period (1700–1200 BC) also show instruments that look amazingly similar to our present-day guitar. These instruments and their descendants are commonly referred to as lutes.
In the first centuries after Christ, the predecessors of the modern guitar – oud and rubab – were formed from the various preceding stages of development. While the smaller rubab is today considered the predecessor of the violin, the oud also lent its name to the instrument genre "lute" with its Arabic designation "al-Oud". The oud finally made the leap across the Mediterranean Sea to Spain (probably in the 8th century) in the luggage of the Moors. The same applies to other guitar-like instruments.
The guitar was mentioned by name for the first time in the 13th century in a Spanish text. The term "guitarra" is derived from the Greek word "kithara". However, the ancient stringed instrument of that name had little to do with a guitar in terms of appearance or construction, but was closer to a lyre or zither.
From the Vihuela to the Acoustic Guitar
While the lute prevailed in the rest of Europe, in Spain it was the so-called vihuela, a stringed instrument similar to the guitar, which was either plucked or bowed. Many experts see the guitar more as a parallel development than as the successor to the vihuela. This is in part due to the fact that the guitar was explicitly described as a folk instrument for the first time in the middle of the 14th century – in direct competition with the vihuela and rubab, which were probably played more by the upper classes at that time.
In the 16th and 17th centuries, the gittern and quintern were popular instruments for song accompaniment in England and Germany, respectively. At the beginning of the 18th century, many baroque guitars were still equipped with four double strings and a single bass string.
Beginning in the middle of that century, the instrument received some crucial updates that paved the way for the modern guitar. It gained an additional bass string and now had six single, wound strings. Metal frets divided the fingerboard and various constructional changes were introduced that provided greater stability, thinner tops, and greater volume.
The Modern Acoustic Guitar
Based on these advancements, Antonio de Torres developed a concept in the middle of the 19th century that still applies to most classical guitars available today. By enlarging the instrument, which had been quite small up to that time, the Spanish guitar maker achieved a more dynamic, more assertive, and more intensely colored sound. The guitar community was enthusiastic and the new instrument design became a standard that is still in use today.
At that time, the higher strings of the guitar consisted of sheep gut, while the bass strings were made of metal-wound silk. It was the world-famous guitar virtuoso Andrés Segovia who persuaded the legendary string maker Albert Augustine to make the high strings out of nylon in the 1940s. Segovia was simply fed up with the climate-sensitive properties of gut strings and their lack of durability and was looking for strings that would have the same sound characteristics, but would be easier to handle and more robust.
Steel-string Acoustic Guitars
This leads us to one of the main differences between classical guitars and steel-string acoustics. As the name suggests, the strings of steel-string acoustic guitars are made of metal throughout. Their bass strings have a steel core that is wound with a bronze or phosphor bronze wire. Steel-stringed acoustic guitars were pioneered Christian Friedrich Martin, who was born in Markneukirchen, Germany, in 1796 and emigrated to the USA in 1833. Martin developed the so-called X-bracing, a bracing method that gives the top of the guitar more stability and made the use of steel strings feasible. To this date, almost all modern steel-string guitars are based on the concepts developed by C.F. Martin and his son C.F. Martin jr.
The popularity of steel-string acoustic guitars skyrocketed in the 20th century. But first, another problem had to be solved: The higher tension of the steel strings not only placed a higher load on the top. The neck was also affected. To counteract this, the necks of early steel-string guitars were still relatively thick. It wasn't until guitar makers began to use stabilizing steel inlays in the neck from around the mid-1930s that thinner necks, which were more comfortable to play, finally became possible.
These days, the term "acoustic guitar" usually refers to steel-string acoustics, although it technically includes classical guitars, as well. Acoustic guitars with flat tops are the most widespread. They come in various designs such as Dreadnought, Jumbo, OM, or Grand Auditorium, and are indispensable in popular styles like folk, pop, rock, bluegrass, or blues. Steel-string guitars cover a wide frequency range (depending on their construction) and are ideal accompaniment instruments. But steel-string acoustics also feel right at home in solo playing.
Buyer's Guide: Dreadnought Acoustic Guitars
Dreadnought Guitars up to 200 Euros
Harley Benton Custom Line CLD-15M*
Scale length: 643 mm
Harley Benton D-120BK*
Scale length: 650 mm
Ibanez V50NJP-NT Jam Pack*
Scale length: 650 mm
Dreadnought Guitars from 200 to 600 Euros
Harley Benton Custom Line CLD-1048SCE NS*
Scale length: 648 mm
Harley Benton Custom Line CLD-41SE WN*
Scale length: 643 mm
Harley Benton CLD-15MCE SolidWood*
Scale length: 643 mm
Fender CD-60SCE Blk WN*
Scale length: 643 mm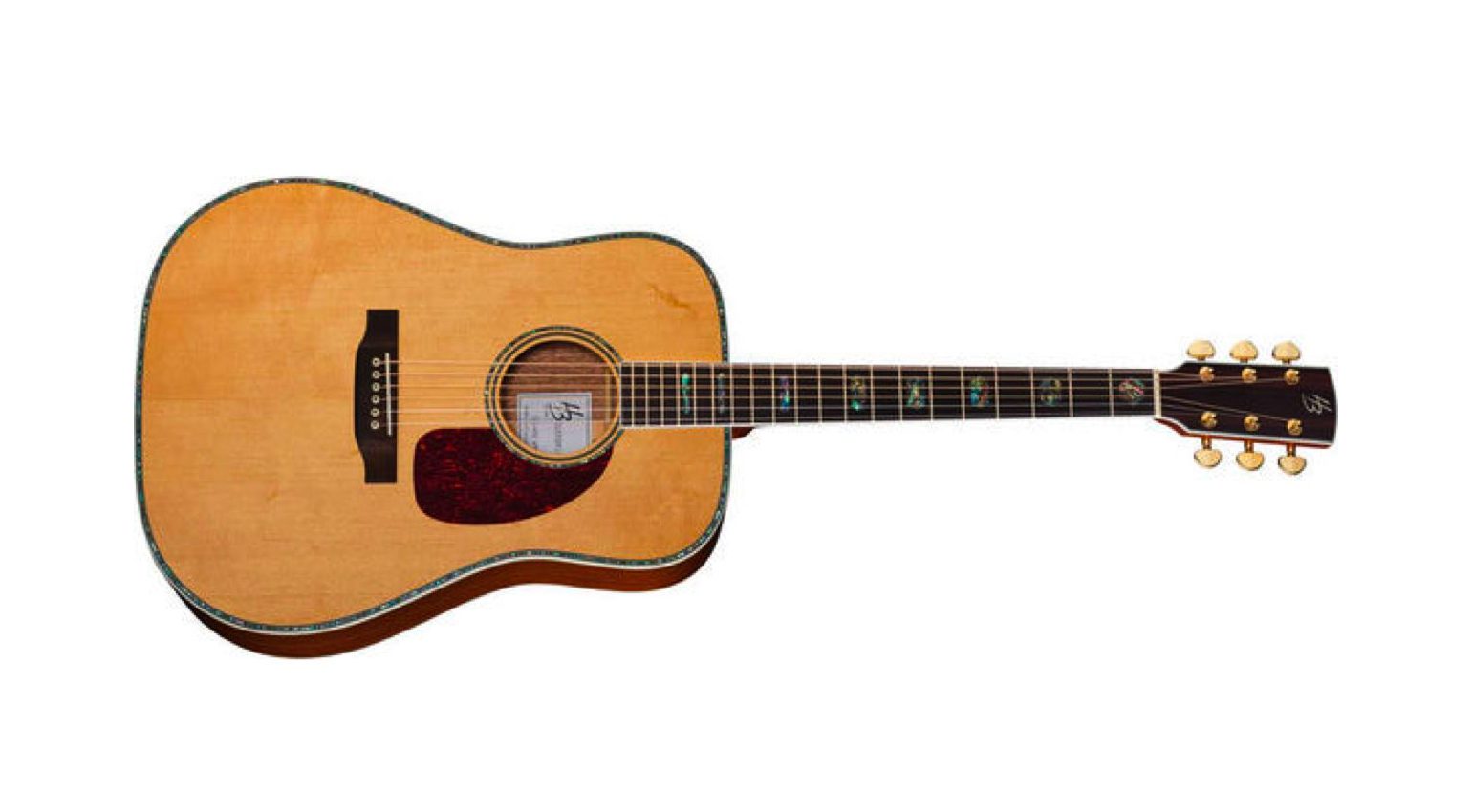 Dreadnought Guitars from 600 to 1000 Euros
Taylor 110e Walnut 2017*
Scale length: 648 mm
Gibson G-00 Natural Generation*
Scale length: 629 mm
Taylor A10e*
Scale length: 632 mm
Yamaha Transacoustic LL-TA VT*
Scale length: 650 mm
Buyer's Guide: Acoustic Guitars in O/OO/OOO Body Sizes
O/OO/OOO Guitars up to 200 Euros
Harley Benton Custom Line CLA-15M*
Scale length: 643 mm
Ibanez PC12MH-OPN*
Scale length: 650 mm
O/OO/OOO Guitars from 200 to 600 Euros
Harley Benton Custom Line CLA-16SCE*
Scale length: 643 mm
Harley Benton Custom Line CLA-15MCE*
Scale length: 643 mm
Harley Benton Custom Line CLP-15ME*
Scale length: 628 mm
Harley Benton Custom Line CLA-15MCE VS*
Scale length: 643 mm
Recording King ROS-11-FE3-TBR*
Scale length: 632 mm
O/OO/OOO Guitars from 600 to 1000 Euros
Recording King RO-328 All Solid OOO*
Scale length: 628 mm
Buyer's Guide: 12-string Acoustic Guitars
12-string Acoustic Guitars up to 300 Euros
D'Angelico Premier Fulton LS*
Scale length: 634 mm
Fender CD-60SCE-12 Nat*
Scale length: 643 mm
12-string Acoustic Guitars from 300 to 800 Euros
Guild F-2512E Maple Westerly Archbac*
Scale length: 648 mm
Takamine GJ72CE-12-nat*
Scale length: 644 mm
Epiphone Hummingbird 12 ACS*
Scale length: 628mm
Fender CD-140SCE-12 Nat*
Scale length: 643 mm
12-string Acoustic Guitars from 800 to 1200 Euros
Taylor 150e Walnut*
Scale length: 648 mm
Guild F-1512 Nat Westerly 12 string*
Taylor 254ce*
Scale length: 648 mm
Buyer's Guide: Special-Purpose Acoustic Guitars (Travel etc.)
How Acoustic Guitars compare in Terms of Sound
The sound of an acoustic guitar mainly depends on the construction and shape of the body and the type of wood. Steel-string guitars in the Dreadnought or Mini Jumbo designs have a transparent, assertive sound with a rich but defined bottom end, which makes them great allrounders. Jumbos are relatively loud and are mainly used for song accompaniment with strummed chords. Depending on the wood used, they're also suitable for fingerstyle playing, i.e. plucking the strings with fingertips, fingernails, or attachable fingerpicks.
The popular Auditorium design is also inspired by a Martin, the legendary 000 (Triple 0). These guitars are known for their precise tone and very good playability and are therefore often used for fast fingerpicking and solos.
Classical Guitars
Guitars with nylon strings are mainly associated with classical music, but because of their construction and warm sound, they're also widely used in bossa nova and jazz. In fact, the classical guitar is the most widespread type of acoustic guitar in South America and southern Europe. And then, of course, there's flamenco! Typical flamenco guitars are made of different woods, which gives them a harder and more percussive sound than their classical guitar cousins.
Classical Guitar Sizes
When choosing a guitar size, it's best to speak to an experienced guitarist or guitar teacher. But guitar salespeople in shops are also usually quite knowledgeable, as they're often guitarists themselves.
The recommendations below are just a rough guideline! When choosing the size of the guitar, one should take into account not only the height of the player but also the anatomy of the hands. The basic rule is that the guitar should allow for a comfortable posture that ensures extended playing without fatigue, discomfort, or even pain.
4/4 guitar: Full-size guitar for adults
7/8 guitar: Youth guitar, age group approx. 10-14 years, body height 140-160 cm (4'7"-5'3"), also suitable for women
3/4 guitar: Student guitar, age group approx. 10-13 years, body height 130-150 cm (4'3"-4'11")
1/2 guitar: Classical guitar for children aged 7-9 years old
1/4 guitar: Beginner guitar for children aged 5-8 years, height 100-135 cm (3'4"-4'5")
1/8 guitar: Beginner guitar for children aged 4-7 years
Buyer's Guide: 4/4 Classical Guitars
4/4 Classical Guitars up to 200 Euros
Harley Benton Santos Series C-40SCE NT*
Yamaha C40*
Scale length: 650 mm
Startone CG 851 4/4*
Scale length: 650 mm
Thomann Classica S 4/4*
Scale length: 650 mm
La Mancha Romero Granito 32-AB*
Scale length: 650 mm
4/4 Classical Guitars from 200 to 600 Euros
Cordoba C7*
Scale length: 650 mm
La Mancha Rubi CM-N*
Scale length: 650 mm
Fender CN-140SCE Thinline Natural*
Scale length: 650 mm
4/4 Classical Guitars from 600 to 1000 Euros
Cordoba GK Studio*
Scale length: 650 mm
Hanika 50MC*
Scale length: 650 mm
Höfner HZ27*
Scale length: 650 mm
Taylor Academy Series 12e-N*
Scale length: 648 mm
Buyer's Guide: 3/4 Classical Guitars
3/4 Classical Guitars up to 200 Euros
Thomann Classical Guitar 3/4*
Scale length: 570 mm
Startone CG 851 3/4*
Scale length: 580 mm
Yamaha CS 40 II*
Scale length: 580 mm
Thomann Classic Guitar 3/4 Black*
Scale length: 570 mm
Gewa Pro Natura Silver ¾ Maple*
Scale length: 580 mm
3/4 Classical Guitars from 200 to 600 Euros
Ortega R221-3/4 BK*
Scale length: 590 mm
Alhambra 1C HT 3/4*
Scale length: 610 mm
Acoustic Guitars: Wood 101
Maple:
Maple delivers a very clear tone with transparent high and low frequencies and is a popular wood for acoustic guitar tops.
Ebony:
Ebony is very expensive and has a high density and strength. It is used for fingerboards and bridges.
Spruce:
Spruce is known for a warm, transparent, and assertive tone and is ideal for making acoustic guitar tops.
Koa:
The wood of the koa acacia comes from Hawaii and delivers a clear tone with a striking midrange.
Mahogany:
Whenever you are looking for a warm and balanced tone with smooth highs, mahogany is the first choice.
Nato:
The wood of Mora trees has similar properties to mahogany.
Rosewood:
Rosewood is very durable and ideal for making fingerboards and bridges. Backs and sides made of rosewood deliver solid lows and "ringing" highs.
Cedar:
The elastic wood is known for a warm, full sound and a fast, precise response.
Cypress:
Cypress wood is quite light and generates a percussive, dry, and brilliant tone, making it ideal for flamenco guitars.
What's best for Beginners: Steel or Nylon Strings?
Traditionally, nylon-string acoustic guitars were very popular for beginners, and they're still widely used in music schools – much to the dismay of many aspiring young rockers. After all, what cool teenager would want to be caught with a "classical" guitar in his lap?
An attitude that is quite understandable from the perspective of the up-and-coming guitar hero. But from a purely technical standpoint, starting out on a classical guitar isn't stupid, at all. Besides, the name doesn't mean that you actually have to play classical music.
Classical guitars make perfect sense for beginners because of their lower string tension, softer nylon strings, and wider neck. This makes the critical first steps on the guitar much easier. The strings can be depressed more easily and because of the wider string spacing, fingering is also easier. And since classical guitars are available in various sizes, kids of all ages can handle them just as well as adults.
Despite the softer strings, you should pay attention to the string action (distance between the strings and the fingerboard) when buying a classical guitar. The softest string isn't worth much if you have to depress it by a full inch to get a clean tone. To be on the safe side, choose an entry-level instrument made by a reputable brand.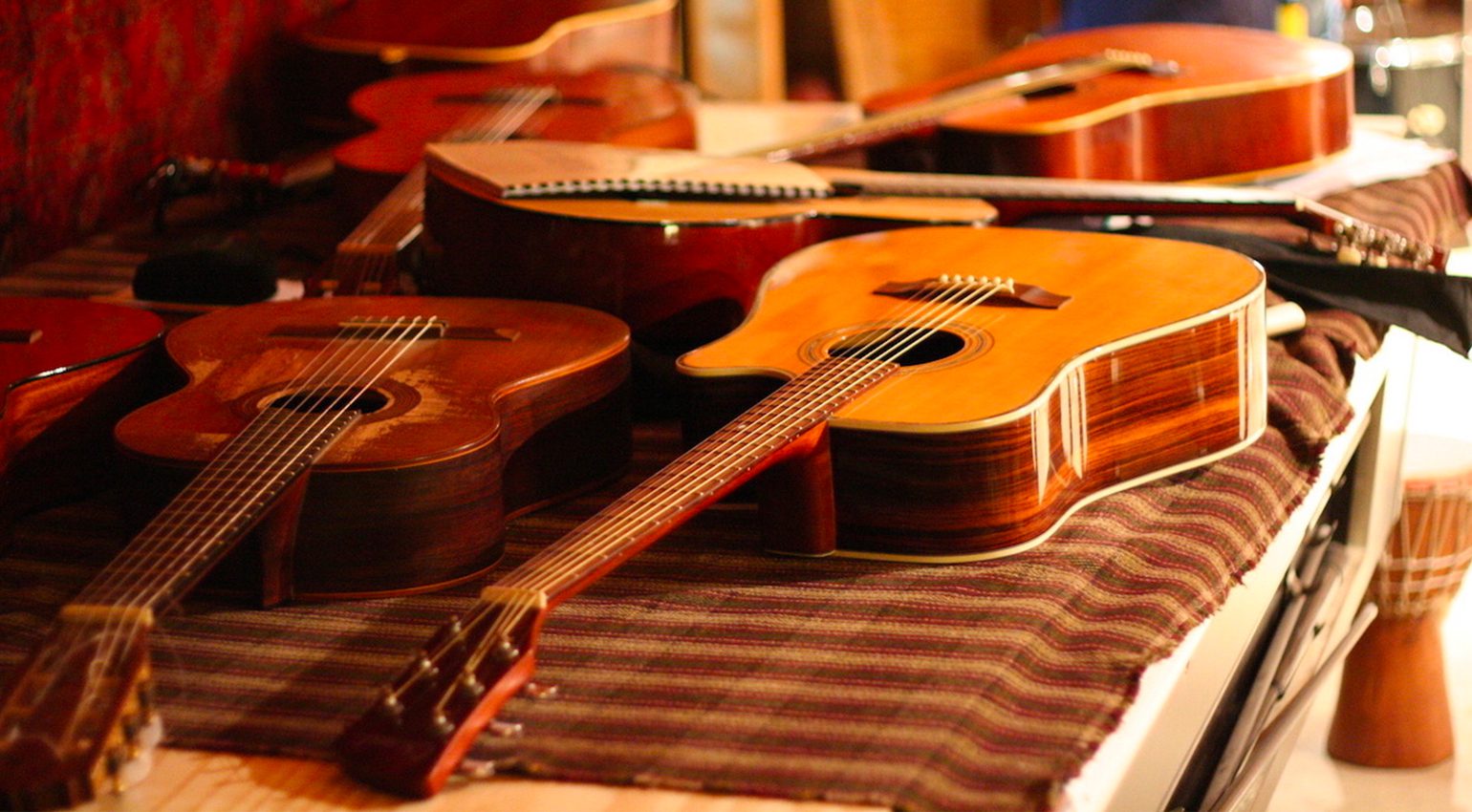 Steel-string Guitars for Beginners
Of course, you can also take your first steps on a steel-string acoustic. However, it's best to avoid super-cheap budget guitars. They can quickly turn practice into torture. Because of the higher tension of the steel strings, a good action is an absolute must.
In terms of strings, there are a few things you can do to make them more beginner-friendly. Most steel string guitars come with a light string set (gauge .012-.053). Even at this gauge, they already have a lot of tension and can be quite difficult to press down. If you are a complete novice, it is best to swap them for a relatively thin set. Thinner strings are softer and therefore easier to play.
But beware: different string manufacturers use different names for the various thicknesses. What one manufacturer calls light is called custom light by another, and what one manufacturer calls heavy could be called medium heavy by another. That's why you should always choose your strings by their thickness – the lower, the thinner. Thin strings produce a slightly less powerful sound, especially in the bass range, but this only plays a minor role in the beginning. For a comfortable start, we recommend the gauges .010-.047 or .011-.052, and there's nothing stopping you from moving to a thicker set later.
Beginners shouldn't worry too much about the material designation of the strings. While 80/20 bronze and phosphor bronze strings differ in sound, the difference is quite small and you can always change later, once you've gained some experience. In terms of playability, there are no differences between the two versions with the same string gauges.
Conclusion
The classical guitar has the advantage that it's generally easier to play for beginners than a steel-string acoustic. This is due to the nylon strings, the width of the fingerboard, and the fact that it's available in different sizes. Although the classical guitar was originally intended mainly for plucking, it's also quite possible to learn to strum chords on it. The stylistic spectrum is therefore not limited to classical music and you can absolutely learn to play modern styles on it, as well.
It's true that the rather soft sound and the characteristics of the strings aren't ideal for blues or rock riffs and solos with bendings (string pulling). However, jazz and pop guitarists show time and again that classical guitars are also suitable as solo instruments. And you don't necessarily have to play with your fingers. Very good results can also be achieved with a plectrum.
The tighter, harder strings of a steel-string acoustic can sometimes make life a bit more difficult for beginners. But if you've found an instrument with a good string action (and chosen thinner strings), this shouldn't be an obstacle.
Because of the narrower neck, steel-string guitars are also quite manageable with smaller hands. However, the narrower string spacing compared to the classical guitar requires a little more skill. Stylistically, steel-string guitars are true all-rounders and ideal for anything from folk, rock, and pop to blues and jazz.
Furthermore, steel-string guitars offer a similar playing feel to electric guitars, which means that you can also practice solo playing techniques on them (when using a softer set of strings). This means that it's quite easy to move on to an electric guitar at a later date.
More information about Acoustic Guitars
This article was originally published in German on bonedo.de.
* This post contains affiliate links and/or widgets. When you buy a product via our affiliate partner, we receive a small commission that helps support what we do. Don't worry, you pay the same price. Thanks for your support!