The Best Podcasting Mics: 6 USB and XLR Podcast mics for any budget!
Are you looking to get into podcasting or maybe improve the quality of your podcasts?  Owning a great-sounding mic is an essential part of a great podcast. Here's our pick of 6 podcast mics to suit all budgets!
What makes a good Podcast mic?
If you're looking to get into podcasting for the first time, you're going to need a microphone. With the huge choice of podcast mics available though, it can be tricky to choose the right mic for you! Fret not though, because we're here at Gearnews to help! Firstly, let's try and define what makes a good Podcasting mic.
Podcasting is all about speech clarity and intelligibility; it's perhaps no surprise then that a lot of the mics here were originally designed for radio broadcasting.
Without a doubt, you'll also need to ask yourself how you're going to be recording your podcast. Do you already own an audio interface? Similarly, are you an experienced audio engineer? A USB-based podcasting mic may provide a more user-friendly solution if you're just getting started!
So, without further ado, let's take a look at our pick of podcast mics!
Best Podcast Mics: USB
USB Podcasting mics are without a doubt the easiest and most hassle-free way to get into podcasting. You don't need an external interface and all the USB mics listed here offer built-in headphone monitoring. If you're looking for a "plug and play" podcast solution, then here are three great options:
Blue Yeti
The Blue Yeti has been around for ages now, and was originally launched in 2009! The chances are that most of your favourite podcasters either use or have used a Yeti. You'll no doubt love that it has an integrated desk stand, and we're impressed with the choice of cardioid, omnidirectional, figure-of-8, and stereo polar patterns. Those may be useful if you're doing a "round table" podcast with only one mic, for example.
The Yeti is the cheapest mic here, but nonetheless, one of the most versatile.
Shure MV7
The Shure MV7 has quickly rocketed to become one of the highest-rated USB mics available. Inspired by the legendary Shure SM7B (more on that later) the MV7 is another plug-and-play solution.
What's impressive about the MV7 is its clever software integration. You don't need to be a sound engineer to get the best from this mic. The ShurePlus desktop app gives you intuitive control of settings along with level, compression, and EQ.
The best choice for non-audio-engineers? Quite possibly!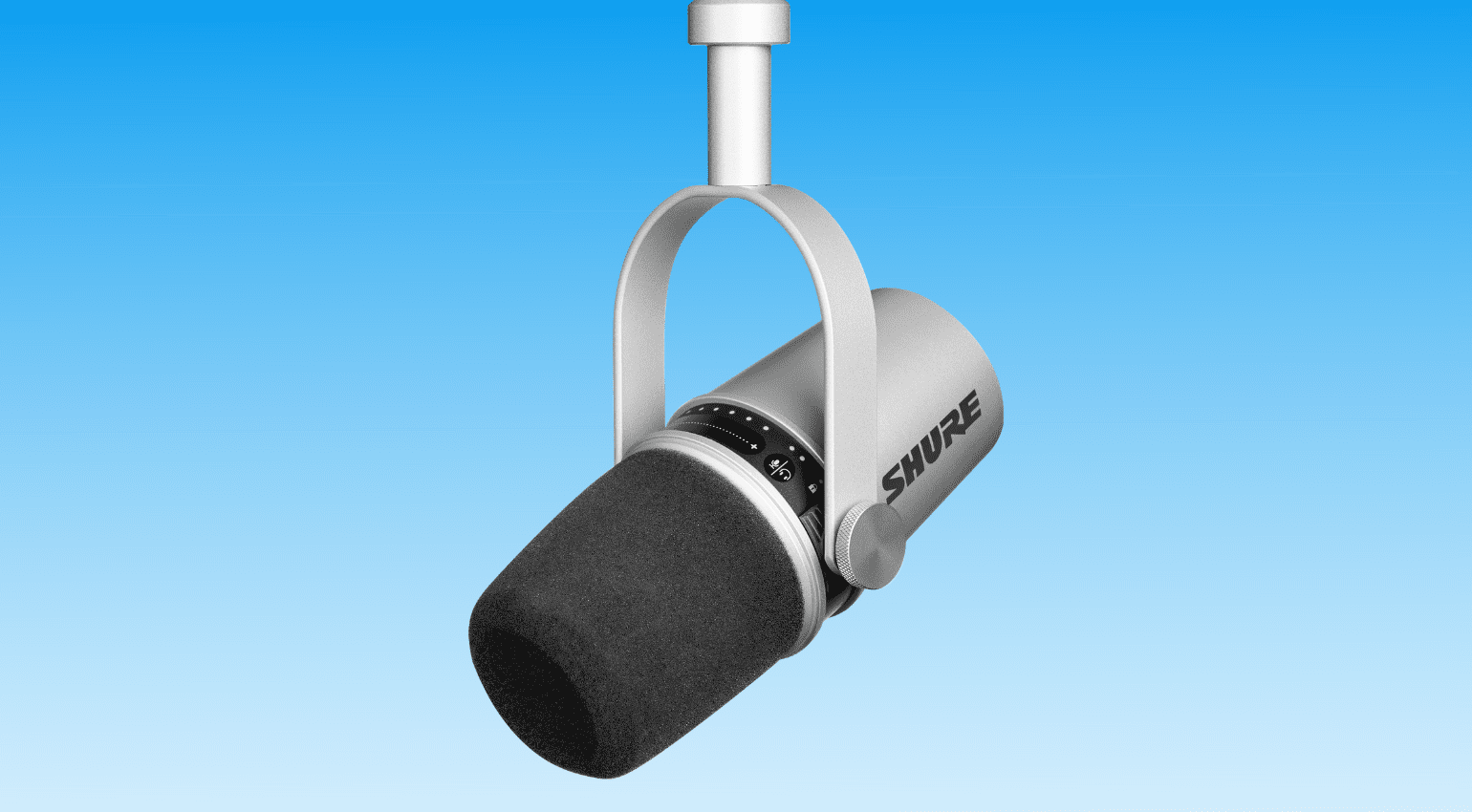 Earthworks Audio Icon
The Earthworks Audio Icon comes from a company renowned for high-end studio mics and has the build quality and engineering to go with it. Touted as "the last USB mic you'll ever need" this is a premium mic that's as handsome as it is beautifully engineered.
If you value sound quality and design as highly as convenience then the Earthworks Audio Icon could be the mic for you.
Best Podcast Mics: XLR
Now we're into the realms of professional, broadcast studio-quality microphones. Without a doubt, each of these microphones is a design and broadcast icon in itself. It should be noted, however, that you'll need an audio interface to use them.
You'll also experience better results with better-quality microphone preamplifiers. Additionally, none of these mics was intended to be portable and they're best suited to static, studio-type environments.
Shure SM7B
Here it is, the podcasting icon! This is the mic you've undoubtedly seen and heard on endless podcasts and vlogs. The Shure SM7B is a cardioid dynamic microphone that's earned a deserved reputation as a broadcast legend. The SM7B offers an integrated windscreen and for close mic'd voice reproduction it's very difficult to fault.
It's affordable, sounds great on most people, and is rugged and durable. The podcast legend!
Electro-Voice RE20
The EV RE20 has been with us now for over five decades; a product doesn't hang around that long, unchanged unless it's something very special. Designed from the outset as a dedicated broadcast mic, the RE20 is a legendary mic.
A cardioid, dynamic design, EV designed the mic with a "Variable D" design which negates unwanted proximity effect. What that translates to is a mic that is less fussy about mic technique and sounds consistently great.
The broadcast legend and good enough for Dr. Frasier Crane!
Neumann BCM104
OK, now we're really wheeling out the big guns! If you're a seriously successful podcaster and looking for the ultimate in broadcast mics, then look no further! Neumann is one of the most prestigious microphone manufacturers in the industry.
The BCM104 is a high-end, cardioid condenser mic with a capsule tailored for voice. Moreover, the mic has been designed with broadcast boom stands in mind and makes positioning and cable routing neat and clean.
The Rolls-Royce of broadcast mics. When only the best will do.
What's your favourite podcast mic? Let us know in the comments below.
More about Podcast Mics:
Videos:
Note: This article contains affiliate links that help us fund our site. Don't worry: the price for you always stays the same! If you buy something through these links, we will receive a small commission. Thank you for your support!
Image Sources:
Blue Microphones: Yeti, Yeti Pro and Snowball Studio Series USB Mics: bluemic.com
SHURE MV7 GN: Shure
The only USB mic you'll ever need? Certainly one of the handsomest!: Earthworks
The classic broadcast mic: Shure's SM7B : Shure
EV's classic RE20 broadcast microphone: Electro-Voice
Neumann's premium BC104 broadcast mic: Neumann