Studio Standards: The Best Voiceover and Speech Microphones
In this edition of our Studio Standards series, we check out the most popular microphones for voiceover and speech applications. While you can record speech with nearly any microphone, some have become true classics in broadcasting and recording studios the world over.
There are countless different microphones that you could use to record speech and voiceovers. In fact, it would probably be easier to list microphones that are poorly suited for the task – because most do a pretty decent job. But there are some classics that work particularly well and have established themselves as true studio standards.
Electro-Voice RE-20
One of the best-known and most recognizable voiceover and speech microphones is the Electro-Voice RE-20, a dynamic moving-coil microphone. It is an end-fire design, although there are some photos and videos where it can be seen addressed from the side like a typical large-diaphragm condenser microphone. One of the highlights of the RE-20 is the variable distance principle. The proximity effect that occurs with directional mics, which causes a bass boost when the distance between the sound source and the microphone is short, is distracting when a change of distance results in an inconsistent sound. Thanks to a sophisticated acoustic system, the EV RE-20 is quite forgiving in this regard. For a dynamic microphone, it also offers decent noise figures and high reliability.
Sonic characteristics of the EV RE-20: not too bass-heavy, very detailed for a dynamic microphone, natural




Shure SM7B and other Unidyne III mics
Like the RE-20, the Shure SM7B is one of the most ubiquitous microphones for broadcasting and voiceover applications. It comes with a practical yoke for mounting it on a microphone arm such as the ones commonly used in radio studios. Furthermore, it offers various options for shaping the sound. A high-pass filter allows you to control bass-heavy signals, and there's a switchable presence boost. The switches on the back of the microphone can be covered with a plate, which allows broadcasting engineers to prevent on-air talent from tampering with the sound.
The recently released Shure SM7dB is identical to the SM7B in almost all aspects, but offers the additional convenience of a built-in preamp. This means that you can use the SM7dB weaker microphone preamps and inexpensive audio interfaces without the need for an in-line booster like a Cloudlifter.
Fun Fact: The Shure SM7B uses the Unidyne III capsule, which also appears in the Shure SM58, Shure SM57, and even the 55 series ("Elvis mics"). Not surprisingly, then, all of those microphones also make decent voiceover mics. There's a reason why the famous Presidential Pair consists of two Shure SM57s.
Sonic characteristics of the Shure SM7B: upfront, assertive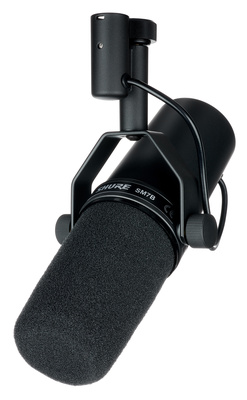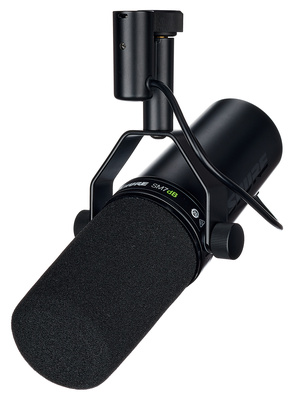 Coles 4104
The Coles 4104 is a bit of an oddball. This hand-held British reporter mic with a BBC heritage has a molded piece above the capsule that the user presses between their upper lip and nose, in order to maintain a consistent distance and angle. While this inevitably causes an enormous proximity effect, it also makes the Coles 4104 a great choice for noisy or windy environments. Perfect for reporters and content creators in the field, such as in the announcer's booth or even outdoors. And a very stylish one to boot!
Sonic characteristics of the Coles 4104: soft, warm, intimate, "dusty".
Neumann U 87
To many, the Neumann U 87 is the speech microphone par excellence. Countless radio broadcasts, radio dramas, audiobooks, and film voiceovers were recorded with this famous large-diaphragm condenser. Although condenser microphones generally provide much more detail than dynamic microphones due to their very light diaphragms, the large-diaphragm variants are usually a bit more subdued in the highs compared to their small-diaphragm counterparts. And the prevalence of dynamic microphones for voiceover work is proof that ultra-detailed highs aren't always what's best for recording speech. Many perceive the reduced sharpness of the U 87 and its copycats as pleasant.
Sonic characteristics of the Neumann U 87: highly detailed, neutral
Schoeps Colette CMC64 and other small diaphragm condenser microphones
That said, small-diaphragm condenser microphones are of course also suitable for voiceover and speech work. The Schoeps Colette and CCM series come to mind, as they're very common in TV broadcasting and high-quality conferencing systems. While Schoeps is perhaps best known for its omnidirectional mics, these directional microphones are among the most neutral-sounding options available to sound engineers in this field.
Sonic characteristics of the Schoeps Colette CMC64: extremely neutral with a high level of detail.
More about voiceover microphones and studio gear
Note: This article originally appeared in German on bonedo.de.
Image Sources:
Electro-Voice RE-20: Bonedo
Shure SM7B: Bonedo
Coles 4104: Coles
Neumann U87: Bonedo
Schoeps_Colette_CMC_62_64_MK2_MK423-1024x619: Bonedo