Studio Standards: The Best Vocal Microphones of all Time
Many of the famous voices on our favorite records from the past few decades were recorded using just a handful of classic studio vocal microphones. While there are countless mics that work great on vocals, some of them became true studio standards that everyone looks up to. Join us as we take a look at classic vocal microphones that made recording history.
For studio vocals, large-diaphragm condenser microphones are the obvious choice, often combined with tube technology. But there are other options. And if you can't or don't want to cough up the cash for one of the originals, there are now many affordable alternatives!
At the risk of repeating myself, there is of course not one single mic that works for every voice in every situation. You can be the owner of a locker full of fine vintage microphones, only to find yourself ending up with the cheapest mic from your collection for a certain voice and track – in fact, there are many famous examples of this. Money alone does not make a sound. That's why it's so hard to give recommendations – the best microphone is always the one that sounds the best in any given situation and for any given singer. But there are a few tried-and-true classics that have lent their sound to countless hit records. Let's take a look at some of them.
THE Tube Microphone: Neumann U 47
Three characters are all it takes to make the hearts of sound engineers and producers beat faster. The tube microphone with the legendary M7 capsule is considered the gold standard of vocal tube mics. To many, it's the ultimate sonic reference. What's especially remarkable about the U 47 – maybe even more so than the character contributed by the Telefunken VF14 tube and output transformer – is its open, almost three-dimensional sound and the beautiful support it provides to the high mid and presence ranges. Lester Smith, the microphone engineer at Abbey Road Studios, raved about their veteran U 47s when I visited there.
Have you ever typed "Neumann U 47 used" into a search engine? Perhaps it's best to let it go. Well-preserved U 47s are extremely hard to come by and therefore prohibitively expensive (as is the U 48 variant with a figure-of-eight pattern). And even if you're lucky enough to own one, maintaining it is not for the faint of heart, as the tube has been out of production for a long time and isn't exactly a bargain of its own.
How to get that U 47 sound
A number of manufacturers offer replicas that claim to be very close to the original. To name a few: Wunder, Bock, Flea, Pearlman, Voxorama, Peluso, Soundelux. The present-day company Telefunken Elektroakustik is actually an American manufacturer that has acquired the naming rights, which makes their U 47 from the Diamond series the most "official" replica (some U 47s were sold under the Telefunken brand in the USA in the mid-1900s).
But even for a clone or a "U 47-inspired" microphone, you should expect to spend at least $2k. Neumann itself offers the M 147, a pure tube cardioid microphone for around three grand. Sadly, there aren't many low-budget alternatives I can recommend. For under two grand, your best bet may be the Mojave MA-200, which is at least roughly close to the sound of the original.
One of my personal favorites is the Microtech Gefell UM 92.1 S. Gefell (the former East German branch of the Neumann company) still produces the M7 condenser capsule that is so important for the sound – and it really is PVC-based instead of Mylar-based. Yes, the sound is considerably cleaner and more modern than that of a U 47 or many of its clones. However, this makes the 92 more versatile. With a "grainy" sounding preamp, you can still get a lot of the vintage sound character.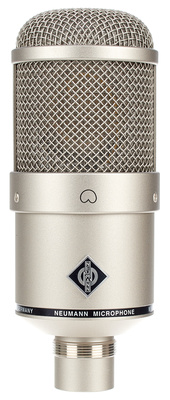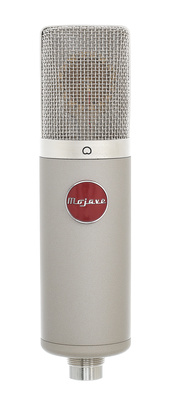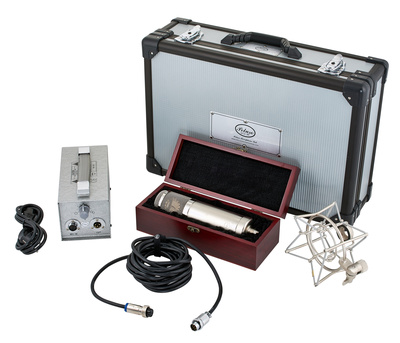 AKG C12
The C12 put AKG on the map as one of the most prolific names in the microphone business. In contrast to the M7, the C12's capsule has no center contact. This results in a slightly more biting and penetrating sound, which is in part responsible for the C12's lasting popularity. AKG also produced the ELA M 250, ELA M 251, ELA M 250E, and ELA M 251E microphones on behalf of Telefunken. These are basically C12s, but with major visual differences, some technical variations, and a slightly different sound. They are considered a bit more controlled in the highs and even less noisy.
Present-day Telefunken offers ELA replicas, albeit for five-digit amounts. The modern-day AKG C12 VR is a great microphone, but it doesn't have all that much in common with the historic original in terms of sound and technology – as was the case with the AKG D12 and D12 VR. One of the cheapest ways to get your hands on a C12 wannabe is the Warm Audio WA-251.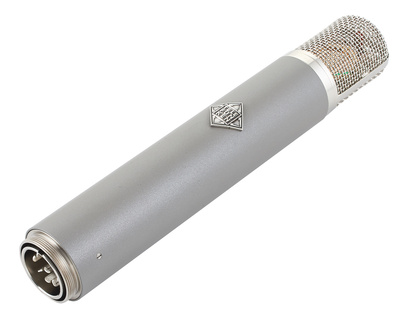 The Dark Star: Neumann U 67
The Neumann U 67 established the distinctive shape that became synonymous with studio vocal microphones – even to this day. Unlike the visually similar, transistor-based U 87, the U 67 is a tube microphone with the K67 capsule, which is still considered a reference today. The 67 captivates with its somewhat dark and smoky sound character, which is especially popular for female voices and is downright magical at close range. While well-preserved vintage U 67s are insanely expensive, Neumann now manufactures the microphone again at a more "reasonable" price point, claiming to stay as true as possible to the original. Once again, Warm Audio makes a popular replica with the WA-67. Other alternatives that have a reputation for being quite close are the Korby KAT 67 and the Bees Neez B67-269.
While the digits and the K67 capsule also live on in the Neumann TLM 67, be aware that that microphone offers neither the tube technology nor the output transformer of the original.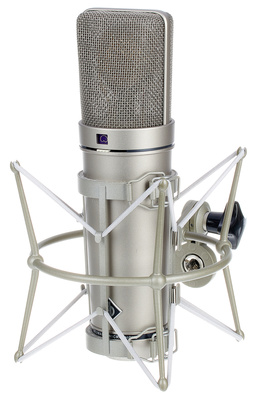 Shure SM 7B: A Broadcast Classic – and a great Studio Vocal Microphone
The venerable Shure SM 7B is proof that not all classic studio vocal microphones are condensers. As a dynamic moving-coil mic, this broadcasting favorite is much more robust and much less expensive than most other mics on this list. For less than 400 bucks, you get a versatile microphone that may not have the finest and most sophisticated top end, but nevertheless suits many pop and rock singers (and rappers!) very well. And if there's the slightest chance that you'll ever find yourself having to record speech, your collection simply isn't complete without an SM 7B.
There is one catch, however: While the mic itself is quite affordable for a studio vocal microphone, that doesn't mean that you can get away with a super cheap setup if your goal is to record studio-quality vocals. That's because the SM 7B is a bit of a diva when it comes to the preamp. As a dynamic mic, it requires much more gain than condensers, to the point where it pushes the built-in preamps of many audio interfaces way beyond their comfort zone. If you really want to get the most out of your SM 7B, I'd recommend investing in a high-quality preamp. While in-line preamps like the TritonAudio FetHead or sE Electronics DM1 are usually sufficient for podcasting and streaming applications, many professional studios like to pair the SM 7B with Neve-style preamps. If you're looking for an inexpensive alternative, check out the Fredenstein V.A.S. MicPre.
Classic Vocal Microphones: Honorable Mentions
While it's impossible to list them all, there are of course countless other microphones that helped shape the vocal sounds of classic recordings – and not all of them are large-diaphragm condensers! The Electro-Voice RE20 is another dynamic favorite that's sometimes used in place of or alongside the Shure SM 7B. In comparison, it's a bit less bass-heavy in close proximity, and it can handle brutal volume levels without turning a hair.
And let's not forget about American-style ribbon microphones like the RCA KU3A (hypercardioid!) or R44. AEA now makes them again – albeit at prices around five grand. The Oktava ML-52 (€ 305), MXL R77 (€ 349), and Golden Age Project R1 MkII (€ 199) are affordable alternatives if you're after that ribbon sound.
Neumann U 87 and U 47 FET
In terms of large-diaphragm condensers, we shouldn't overlook the transistorized successors to the Neumann tube classics mentioned above, namely the U 87 and the U 47 FET. The current U 87 Ai, which retails for about $3.5k, differs sonically from earlier versions, but is still one of the most popular all-rounders. Part of the U 87's distinctive sound is a characteristic peak slightly below 10 kHz. Neumann also makes the U 47 FET again to original specifications; it'll set you back about $4k. Budget alternatives: Mojave MA-201FET and a large number of inexpensive LDCs with switchable polar patterns.
The AKG C414 is another one that clearly deserves a mention. There are many different variants, of which the C414 B-TLII and C414 EB are the most popular for vocals. And last but not least, there's the Sony C800G, a favorite of the hip hop crowd. To some, it's simply the best mic ever made; to others, it's hopelessly overrated. In terms of capsule design, it's not too far from the Neumann U 67, but many perceive it as a bit tighter and punchier. Like all classic vocal microphones, the C800G has been copied and cloned multiple times, for example by Warm Audio.




More about Classic Vocal Microphones and Studio Gear
Note: This article was originally published in German on bonedo.de.
Note: This post contains affiliate links and/or widgets. When you buy a product via our affiliate partner, we receive a small commission that helps support what we do. Don't worry, you pay the same price. Thanks for your support!
Image Sources:
Neumann U 47: Neumann GmbH
Neumann U 67: Bonedo
Shure SM 7B: Bonedo
Electro Voice RE20: Bonedo
MXL R77: Bonedo