Studio Standards: Classic Mic Preamps that Made Recording History
If you want to record a microphone, you need a mic preamp. For many of us, that means firing up the built-in preamps of an audio interface or mixer. But if you want to up your game, you might consider investing in a high-quality standalone mic preamp. In this edition of our Studio Standards series, we look at classic mic preamp designs that made recording history.
Siemens / Maihak / Telefunken / AEG / TAB V72 and V76
The groundwork for what would become one of the most successful mic preamp designs of all time was already laid in the 1920s. But it wasn't until the early post-war years that the V72 went into production. This cartridge-type preamp, which operates at a comparatively low and fixed (!) gain of 34 dB, was widely used in broadcasting and classical recording and was manufactured in very high numbers. Over the years, its design was repeatedly modified, enhanced, and adapted to special needs. With a pair of EF804 pentodes and transformers, the V72 is known for its lively, gripping sound with clear, but never overly piercing highs. With increasing distortion, the sound becomes very large, powerful, and fat.
The V72 also made an appearance in the REDD.17 and REDD-37 consoles at Abbey Road Studios – even for the talkback microphone! The V76 variant is basically a "four-tube" V72 with more gain – many engineers consider it to be the holy grail of tube mic preamps.
Sadly, many of these "old-fashioned" and "outdated" preamps were simply thrown away or scrapped as studios were equipped with newer tech. Quite unbelievably, there were times when you could fish a rack full of V76s out of a dumpster. And you'd be lucky if you did, because original V72s and V76s now fetch astonishing sums.
How to get the V72 sound today
One thing to keep in mind is that these old-school cartridges aren't immediately compatible with today's tech. In order to use them in a modern studio, they have to be "racked". Sonic World and Neue Heimat are examples of custom racks that supply the modules with the correct operating voltages, modern connections, and additional control options. Also, some of the original components suffer greatly over time and need to be replaced.
While you probably won't find a V-series preamp on the cheap anywhere, there are a couple of options that more or less follow the design of these classics. Triton Audio from the Netherlands made the comparatively inexpensive D20 in several versions. Then, there's the Chandler Limited REDD.47, a reissue of the V72 preamps modified at Abbey Road. A bargain? No. But probably as close as you can get to the real thing. Plugins are available from Plugin Alliance and Waves, among others. There's even a free plugin by Analog Obsession.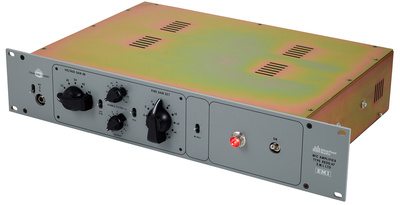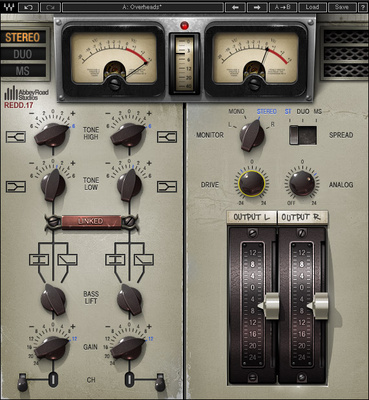 RCA OP-6
Back in the day, the Germans used condenser mics and the Americans used ribbons. While this statement is of course overly simplistic, there is a grain of truth in it. Ribbon mics have very low output levels and thus require powerful preamps. RCA, the legendary broadcasting tech and microphone manufacturer that has long secured itself a place in the history books of audio engineering, made the OP-6, a portable tube preamp with nearly 90 dB (!) of gain and a tangible, three-dimensional sound that's still in high demand, especially in the American folk and country scenes. Retro Instruments used to make an authentic re-issue – albeit also at a price.
Universal Audio 610
This preamp formed the core of the 610 tube mixing console developed by Bill Putnam. Today, the 610 is available in several variants from Universal Audio, the least expensive of which is the Solo 610 for about $1200. Then and now, the 610 is renowned for its full sound with plenty of character. It has an absolutely brilliant way of making anything sound big, fat, and – well – American. But beware: sometimes the 610 can be a bit too much. For example, if you already have a colorful tube mic and compressor, you'll probably want a preamp that's a bit more subtle.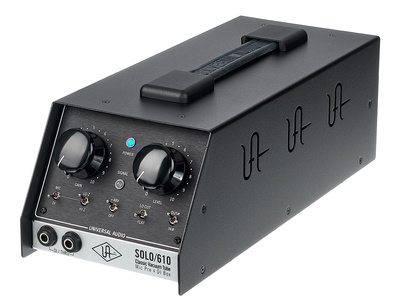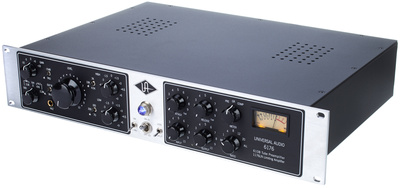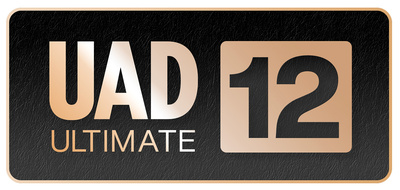 Universal Audio UAD Ultimate 12 Bundle Download
Tube-Tech MP-1A
The history of Tube-Tech preamps is comparatively short (for a tube unit) and begins in the 1980s in Denmark. Despite their relatively young age, these classic mic preamps became true studio standards. The MP-1A is a two-channel push-pull preamp in a 2U chassis, which is widely loved (for example, by me) for its grippy but very tidy and transparent sound and its restrained signal refinement, especially on consonants. That said, this highly acclaimed stereo preamp was anything but cheap and carried a price tag of almost 4000 Euros. When it was discontinued, the current MP-2A model picked up where the MP-1A left off and became its worthy successor.
Neve 1073
Rupert Neve is responsible for several tube-less mic preamp designs that became true studio classics: the 1051, 1066, 1081, and – above all – the 1073, which first appeared in 1970. Considered an excellent companion for a Neumann U 47 or even a Shure SM7B, the 1073 and its later derivatives and replicas are in high demand whenever the situation calls for assertive mids and creamy highs. Neve preamps are renowned for their "expensive" sound, which makes them especially popular in rock and pop music. The 1073 does have a tendency to distort quite early; however, it is very well controllable and sonically very pleasant.
AMS Neve today offers a whole line-up of 1073 derivatives, including the 1073LB 500-series cartridge, the 1073DPA rackmount unit, and the 1073OPX, a remote-controllable 8-channel variant. The original preamp/EQ combination is also available in single and dual channel variants.

Neve 1073LB Preampmodule 500er API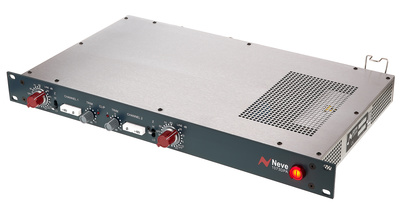 Neve 1073 DPA Preamp Stereo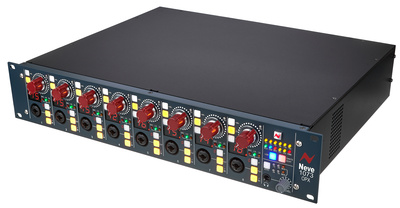 As one of the most iconic microphone preamps of all time, the Neve 1073 has also been imitated or cloned by numerous other manufacturers, including BAE, Heritage Audio, Black Lion Audio, Warm Audio, and Golden Age Project to name a few. I use the `73 preamp and EQ from Heritage Audio myself and am quite fond of it.
Focusrite ISA 110
On to another company where Sir Rupert Neve was involved: Focusrite. Known today primarily as a manufacturer of audio interfaces, Focusrite was also responsible for a classic preamp design that to this day stands for a highly musical and detailed sound that's exceptionally well-mannered while offering plenty of gain: the ISA 110. Originally built into the legendary Focusrite Studio Consoles (of which only ten were made), it is now very popular and quite widespread in a standalone format. And here's a big plus: Compared to some other classic preamps on this list, these are quite affordable.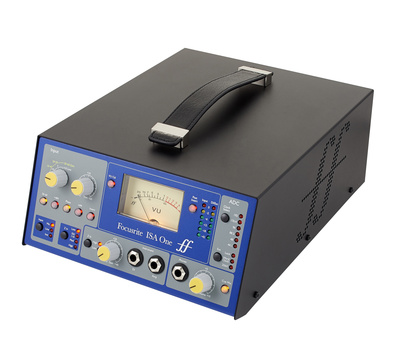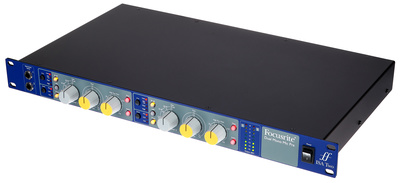 API 312 / 512c
The transistor-based API preamps are built around the venerable 2520 op-amps and are considered "punch masters". Even signals that require massive amplification can be brought to the front without distortion. Due to their somewhat mid-heavy and present sound, signals assert themselves very well even before processing. These characteristics make this preamp a favorite of many rock and metal sound engineers, for vocals (especially with dynamic mics), but also for guitars and drum signals. But of course, the API also excels in many other recording situations – for example, several albums by the Eagles and Prince were recorded on API consoles.
Like many other classic preamps, the API 312 / 512c began life as part of large-format mixing consoles. This modular format, which allowed for servicing or replacing individual modules without rendering the entire console inoperable, later evolved into the 500-series lunchbox format we know today. So it makes perfect sense that the API 312 and 512c are still available as 500-series cartridges. Clones and replicas are available from Warm Audio and Black Lion Audio, among others.
Solid State Logic: SSL 4000 Preamps
In case you've been wondering when SSL would appear on this list of classic mic preamps: the time is now! SSL preamps are among the clearer, cleaner and very detailed, yet assertive preamps. Perhaps more so than for their sound, these transistor preamps are famous for their versatility and for being very processing-friendly, leaving you with all options for later in the mix. It's hard to put a name on their character – if anything, they offer the crisp sound of the 4000 series mixers, which became a staple in pop production in the 80s and 90s. SSL offers its current VHD preamp as a module for the API 500 system.
Classic Mic Preamps do not Write Hits!
Sure, high-quality preamps can add that certain something to a signal and help bring out the characteristics of the room, instrument, microphone, and performance. However, it's important to remember that even an expensive preamp ultimately does nothing more than amplify a signal. No one sings straight because of it, no guitar solo causes goosebumps, and no groove makes you want to dance because of it. Tools are tools.
Moreover, it makes little sense to run a cheap microphone through an expensive preamp, perhaps apart from certain dynamic mics. The opposite is true: An expensive tube condenser microphone can really show its strengths when paired with a good preamp. And a high-quality cable, a high-end A/D converter, and a suitable acoustic environment. You see where this is going …
More about Mic Preamps and Classic Recording Hardware
Note: This article was originally published in German on bonedo.de.
Note: This post contains affiliate links and/or widgets. When you buy a product via our affiliate partner, we receive a small commission that helps support what we do. Don't worry, you pay the same price. Thanks for your support!
Image Sources:
The Chandler REDD.47 is based on the classic Siemens cartridges: Bonedo
Preamp section of the Universal Audio LA-610 mkII channel strip: Bonedo
Tube Tech MP-1A and MP-2A: Bonedo
AMS Neve 1073LB module with the ever-important transformers: Bonedo
Focusrite ISA: Bonedo
API 512c: Bonedo
SSL preamps are known for their versatility: Bonedo