Warm Audio WA-67: A clone of Neumann's ultra-desirable U67 condenser mic
Warm Audio wants to delight us with another replica of a classic studio microphone. After the new revision of the WA-87 a few weeks ago, it is now the turn of another coveted tube microphone. While the manufacturer only speaks of "the legend" and the "original from 1967", we can call it by name: the WA-67 is a replica of the venerable Neumann U67. While a real Neumann costs several thousand euros – no matter if it's an original or a reissue – this clone is much more affordable.
Warm Audio WA-67
The WA-67 is based on an EF86 pentode tube. Warm Audio promises the same "smooth and creamy sound as the original". The condenser microphone is described as a go-to choice for vocals, guitars, drum toms, overheads, piano, brass and strings. To do justice to the properties of the EF86 tube and the specially manufactured capsule, the manufacturer chose boutique components such as oversized polystyrene capacitors, polypropylene capacitors from Wima, and a Solen output capacitor. The large-core transformer comes from Sweden's Lundahl and is said to play an important role in the microphone's high frequency response.
The WA-67 supports three polar patterns (cardioid, omnidirectional, figure of eight). You can choose between them with a slide switch on the front. Further features are a switchable 80 Hz high-pass filter and a pad switch for 10 dB gain reduction.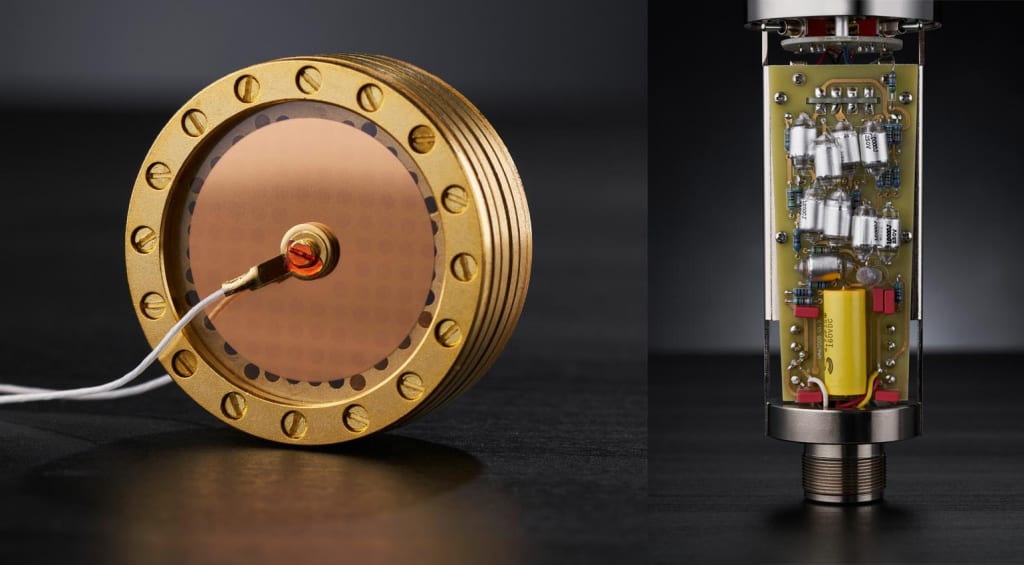 Technical specifications
Large-diaphragm tube condenser microphone
Exact replica of the pentode tube circuit
EF86 pentode tube
Specially manufactured large-core transformer from Lundahl
Specially developed replica of the K67 capsule in vintage style, made of brass
Gold-coated Mylar membrane, 6 micrometers thick
High bandwidth polystyrene capacitors
Boutique capacitors from Wima and Solen
Microphone body and head basket made of nickel-plated brass
Directional characteristics: cardioid, omnidirectional, figure of eight
Switchable 80 Hz high-pass filter
Switchable –10 db attenuation pad
Frequency range: 20 Hz – 20 kHz
Nominal impedance: 200 ohms
Nominal load impedance: 1 kOhm
Equivalent noise level (A-weighted): 17 dBa
Maximum SPL for THD 0.5%: 138 dB
Signal-to-noise ratio (A-weighted): 78 dB
Availability and price
The WA-67 should start shipping in a couple of weeks. You are probably curious about the price: that's EUR 1099. You can already pre-order the microphone from our partner Thomann (affiliate link). The scope of delivery includes an elastic suspension mount, a microphone holder, power supply unit, 7-pin microphone cable from Gotham Audio and a wooden storage box.
More information
This article contains affiliate links and/or widgets. If you buy a product via our affiliate partner, we receive a small commission on the sale, but you pay the same price. Thanks for your support!
Image Sources:
warm-audio-wa-67-mikrofon-kapsel-schaltung: Warm Audio
Warm Audio WA-67 - scope of delivery: Warm Audio