Best Audio Interface for iPad and iPhone
Are you looking to buy an audio interface for your iPad or iPhone? Tablets and smartphones have long been an integral part of musicians' everyday lives and, thanks to an almost limitless selection of apps, can perform a wide variety of tasks not only when practicing, but also on stage or in the studio. Read our guide to find out which iOS audio interface for iPad and iPhone best suits your application.
Audio Interfaces for iOS Devices
Apple's mobile devices are especially popular among musicians, and the iPad in particular excels in the more complex roles where performance and reliability are required. Depending on what you want it to do, an iPad can be a sound module for keyboards, a virtual guitar amp, or even a portable mini DAW for music production.
Most of the time, iOS devices already do quite well without additional audio hardware. However, there are cases where an external audio interface is recommended or even necessary. This article covers some basic thoughts on the subject and gives you some purchase recommendations for audio interfaces for iPad and iPhone.
Buy an Audio Interface for iOS: General Considerations
Audio Interface for iPad: when do you need one?
The built-in audio engine of iOS devices is already pretty decent and you can absolutely get away without any additional hardware for many musical applications. If all want to do is play the occasional software synth or make some beats now and then, you'll probably be fine without a dedicated audio interface for iOS. An audio interface comes into play when you need to make high-quality analog audio connections from your iPad or iPhone to the outside world.
A common case of such a connection is the use of a condenser microphone for recording vocals or instruments. In order to bring the low signal voltage of the microphone's output to a usable level, a microphone preamplifier is necessary. Moreover, condenser microphones require phantom power to operate, which the iPad or iPhone cannot provide. As long as you don't need any additional inputs and outputs besides the microphone, a USB microphone can do a good job and it conveniently connects directly to your phone or tablet. But needless to say, a full-fledged audio interface offers far more possibilities – e.g. multiple input channels or balanced outputs.
Compatibility: Lightning and Class-Compliant
The ideal audio interface for iOS devices is Lightning-compatible and thus does not require any additional adapters or workarounds to connect to the mobile device. However, you shouldn't limit yourself to this, because many current USB interfaces that weren't exclusively developed for mobile devices can absolutely be used on the iPad. It is often stated as an essential requirement that an interface should be "class-compliant", meaning that it fulfills the standards defined in the USB specification and thus doesn't require any special drivers to operate – at least in theory. However, it makes sense to double-check whether the manufacturer officially supports iOS. Unfortunately, not all "class-compliant" interfaces work completely without problems with Apple's hardware.
A "class-compliant" USB audio interface usually connects to an iOS device via the Lightning to USB 3.0 adapter (Camera Connection Kit), which you'll likely need to purchase separately. This adapter offers the possibility to charge an iPhone or iPad even when an external device such as an audio interface is connected. In the case of audio interfaces that run on USB bus power (as opposed to an external power adapter), an active USB hub is also required, because the amperage supplied by the iPhone or iPad is usually not sufficient. With an audio interface that comes with its own power supply, you don't have to worry about this.
Buy an Audio Interface for iOS: Our Recommendations
Extremely compact: IK Multimedia iRig Pro I/O
The IK Multimedia Pro I/O is an all-in-one solution that fits in your shirt pocket. In addition to Lightning compatibility for iOS devices, it can also serve as a standard USB interface under Windows and macOS (generally at up to 24 bit/96 kHz). The handy audio interface offers a mic/line combo input, which also works as an instrument input for electric guitar or bass. In addition, you get a MIDI input and output for your synths. While the built-in preamp isn't particularly strong with 40 dB of gain, it is sufficient for mobile recordings with most condenser microphones. On the output side, the iRig Pro I/O offers a headphone output in 1/8" mini jack format.
The iRig Pro I/O runs on two AA batteries or, if needed, an optional external power supply – and this can even charge the iPhone or iPad. Guitarists will like that it comes with the popular Amplitube amp simulation software (for both Win/Mac and iOS). And if you need a little more, the IK Multimedia iRig Pro Duo I/O offers two Mic/Line-Ins and two balanced Line-Outs.
The IK Multimedia iRig Pro I/O and iRig Pro Duo I/O are available at Thomann*.

IK Multimedia iRig Pro I/O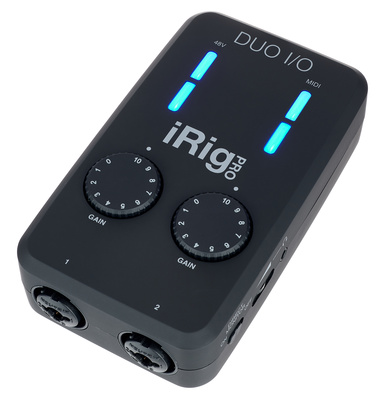 IK Multimedia iRig Pro Duo I/O
Console Sound on the Go: Audient iD4 mkII
Inside the Audient iD4 mkII lives one of the high-quality microphone preamps that the manufacturer also installs in its large-format recording consoles. With 58 dB of gain, you're ready for the more demanding tasks of everyday recording. In addition to the mic/line combo input, there's an instrument input that lets you connect an electric guitar or bass. On the output side, you get two headphone jacks in addition to a main out.
The USB 3.0 interface converts at resolutions up to 24 bit/96 kHz and is class-compliant. This means that you'll need a Lightning adapter to connect the audio interface to your iOS device. Since the iD4 mkII runs on USB bus power, you'll also need to get yourself an active USB hub. Consequently, the Audient iD4 mkII is a bit less portable than the IK Multimedia iRig Pro I/O. However, the sound quality and the quality of the microphone preamp in particular speak for themselves.
Get the Audient iD4 MKII at Thomann*.
High-quality USB microphone: Apogee Mic+
As a Lightning-compatible USB microphone, the Apogee Mic+ is an excellent choice for all users who want to record vocals or speech at a high quality and can do without the advanced connectivity of an iOS audio interface. The large-diaphragm condenser microphone features a built-in 24 bit/96 kHz AD/DA converter. This eliminates the need for a separate audio interface.
Thanks to a headphone output and a mix control for blending the input signal and DAW playback, the Apogee Mic+ allows for latency-free direct monitoring. And you don't have to limit yourself to iOS. The Mic+ also works as an "ordinary" USB microphone on Mac or PC.
The Apogee Mic+ is available at Thomann*.
More about Audio Interfaces for iPad and iPhone
Videos about iOS Audio Interfaces
This article was originally published in German on bonedo.de.
* This post contains affiliate links and/or widgets. When you buy a product via our affiliate partner, we receive a small commission that helps support what we do. Don't worry, you pay the same price. Thanks for your support!
Image Sources:
An audio interface adds high-quality analog audio connections to your iPad or iPhone: Remise 3
The IK Multimedia iRig Pro I/O supports both Lightning and USB: Remise 3
IK Multimedia iRig Pro I/O: Remise 3
Audient iD4 MKII: Remise 3
Apogee Mic+ with iPad: Remise 3