E-mu Emulator II: How I upgraded a 1984 sampler for modern production
You may have seen it, heard of it, or simply heard it on some of your favorite records and film scores like most of us. First released back in 1984, the Emulator II is a classic 8-bit companding digital sampler with a 27.7 kHz sample rate and loaded patches via 5.25″ floppy disks.
E-mu origins
The sound became famous from the SSM2045 24 dB/oct analogue filter board. Following the lineage pioneered by Synclavier and the Fairlight CMI, it was the accessible design ingenuity of Roger Linn's LM-1 that would inspire E-mu to create a more accessible sampler.
The EII was Emu's second sampler and was initially available in 2 models: the Emulator II and II+, priced at $7,995 and $9,995 respectively – which was actually considered a cost-effective solution at the time.
A digital sampling legend
Various upgrades were available such as an additional floppy drive, a 20 MB hard drive, and a 512K memory kit. It's important to note that the early model of the Emulator II was produced with an RS-232 port which was later updated with the RS-422 interface which allowed communication with an Apple II running Digidesign's Sound Designer software.
When I did this upgrade of an EII it was one of the aforementioned very early models, and the RS-232 board required modification for RS-422 compatibility. The upgrade allowed the Emulator II to change patches via Mac OS X with the help of the EMuSer interface and the EII Editor for OS X designed by Wolfram Niessen.
Let's take a look at what goes into the upgrade and hopefully, I can save you some time with the research I did throughout the process.
Restoring the E-mu Emulator II
First off, before you spend $2000 to $4000 on an Emulator II off Reverb or eBay, know that this is by no means an easy build or restoration. The amount of time and money necessary is considerable, and each step of the process presents its own specific idiosyncrasies, especially if you are working with an early series EII as I was.
This means as competent as you may be as an engineer, I would not recommend doing this from home. Initially, the EII I began this project with was basically a doorstopper from a storage unit that you probably couldn't have given away.
The process involved sourcing a working floppy drive, as the one on board was not functional. I then needed blank 5.25″ floppy disks for the Emulator II OS and ordered all the parts necessary for the EMuSer interface build.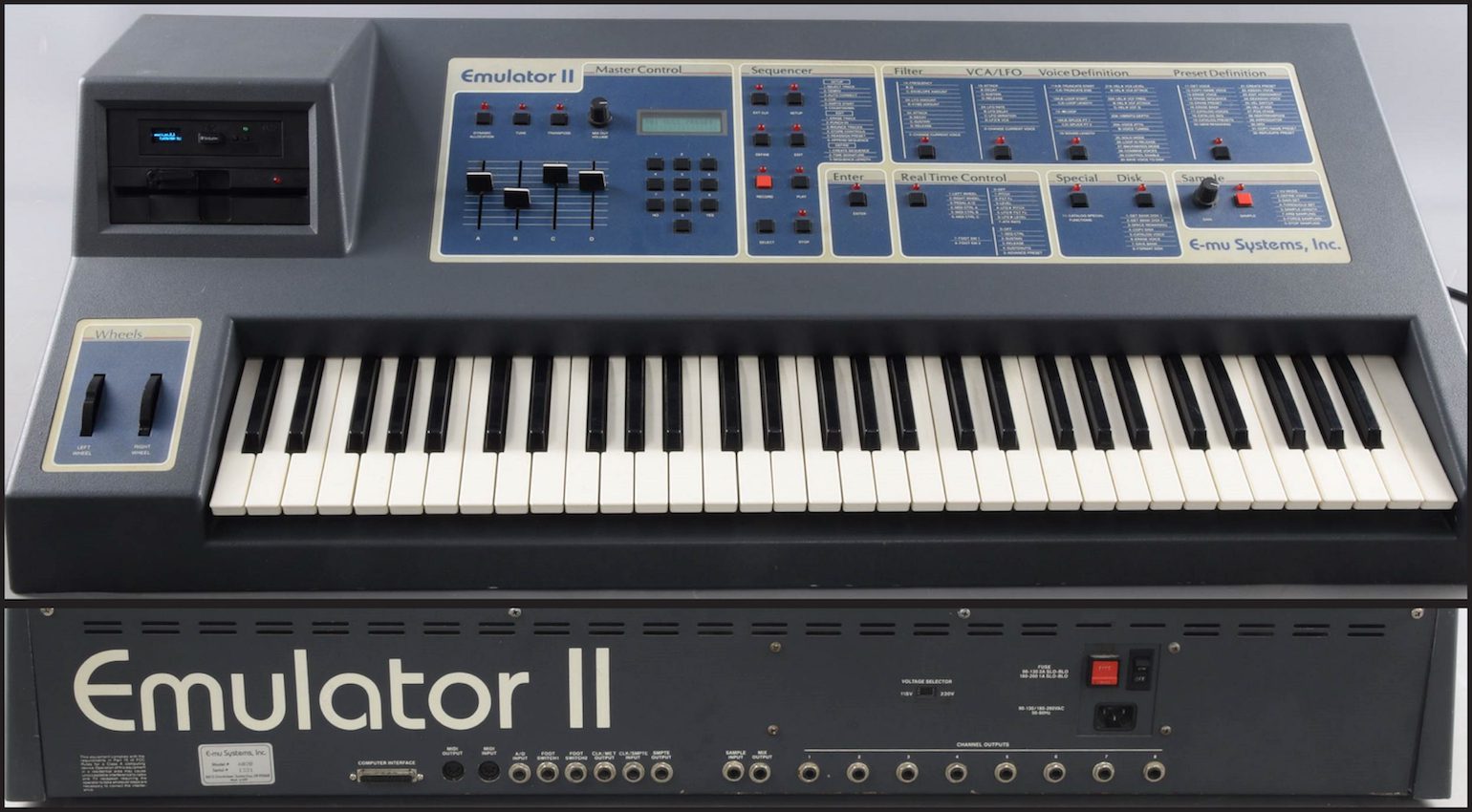 The RS-232 board was then modified and I picked up a 2nd-hand MacBook Air and installed the EII Editor software before shipping that to the engineer for testing. Without a highly competent and experienced engineer with knowledge specific to both analogue and digital musical instruments of this era, I would not have attempted this.
So be sure to work with someone who has restored Emulators before, as this will reduce the time and cost involved. Also, be aware that this is not the only way to bypass the onboard floppy drive for changing patches. There are other options such as floppy drive emulators, but this method allows the most speed and flexibility when it comes to patch management that I found.
The EMuSer interface
Also known as the EmuComBox, the EMuSer is a USB to RS422 adapter, compatible with the E-Mu Emax-I, Emax-II, and Emulator-II samplers and Oberheim DPX-1 sample player. The EMuSer is a simple box that uses a Teensy 2.0 microprocessor board to communicate between the Mac and the Emulator II.
Although the list of parts necessary for EMuSer build is quite lengthy, the parts are all cheap and readily available. For those who enjoy circuit boards and soldering, it is a rather simple build. However, you can have them built for you by Wolfram Niessen, who designed the EII Editor software for Mac OS X.
Alternatively, you can simply purchase the necessary parts and have your engineer complete the build, as I did. The reason I opted for this route is because of the process involved with the RS-232 port conversion which was also done by the engineer. Most Emulator II units out there come standard with an RS422 communication port, so you won't need modifications to make them EMuSer-ready.
Additional mods
Another option that I chose not to pursue, is mounting the EMuSer interface inside the casing of the Emulator II. The end result means your EII will have a USB port on the rear i/o panel. While this may look neat and aesthetically pleasing, I found it to be overkill for the purpose of simply restoring an old EII to its former glory.
It's quite a task to modify the EII's rear casing for housing the USB port, but if you're willing to go the extra mile it may even increase the overall resale value of the instrument. Once your EMuSer build is complete there are some test protocols you can run to ensure everything is fully functional before connecting the Mac.
The Emulator II Editor for Mac OS X
I discovered the EII Editor through a Gearspace forum, and the E-mu user group on Facebook is also highly active and incredibly helpful with information about every aspect of the restoration process.
The software is available directly from Wolfram Niessen in exchange for a donation of 40 Euros. Once installed, the software allows you to easily load patches in a matter of seconds rather than minutes.
Also, there's no risk of data loss from disk degradation you might associate with 5.25″ floppy disks, not to mention the sheer inconvenience. The editor software is compatible with Mac OS X El Capitan 10.11.6 and earlier versions too, so keep this in mind when you set up your Mac.
Any Mac will do, but I chose an older series MacBook Air for its mobility, in case you need to rearrange your studio setup, which happens more often than not.
Emulator II resources:
Videos:
*Note: This article contains advertising links that help us finance our site. Don't worry: the price for you always stays the same! If you purchase something through these links, we receive a small commission. Thank you for your support!
Image Sources:
The E-me Emulator II, an inspiring instrument with a timeless sound. : Sphere Music
The EMuSer connects the Emulator II to a modern studio.: EMXP/eBay
tal_sampler_pluginboutique (1): Plugin Boutique
pb: Plugin Boutique
emulator_ii_v_ui_pluginboutique_(1) (1): Plugin Boutique