LinnDrum: Software tools to get THE 80s drum sound
From EPROM emulation plug-ins to sample packs, here are the best LinnDrum alternatives
In the 1980s, LinnDrum was plastered all over many hits of the decade; you'll have heard one hundreds of times. But what is a LinnDrum and how can you get that sound today? We take a deep dive into the history of this legendary unit and review some modern recreations.
The LinnDrum: Real Drums at Your Fingertips
The first "drum machines" first started appearing as early as the 1950s. Revered oddities such as the Chamberlain Rhythmate and Wurlitzer Sideman led the way and were quickly usurped by much more portable and compact units from Japan.
Look at many of those early drum machines and you'll find synthetic sounds and preset rhythms. The sound of many of these machines has become legendary, with machines like the CR-78 becoming famous. We all know and love the professional machines that followed and the dance and hip-hop world wouldn't be the same without the TR-909 and TR-808.
But none of those machines sounded much like acoustic drums and few offered the programming facilities required to replicate authentic playing patterns. That was until 1979 when Roger Linn debuted the Linn LM-1, the original Linn Drum. For the first time, actual samples of real drums stored digitally on EPROM chips gave truly realistic drum sounds. Coupled with a comprehensive sequencer and individual audio outputs for each sound, the Linn Drum put "Real Drums at Your Fingertips".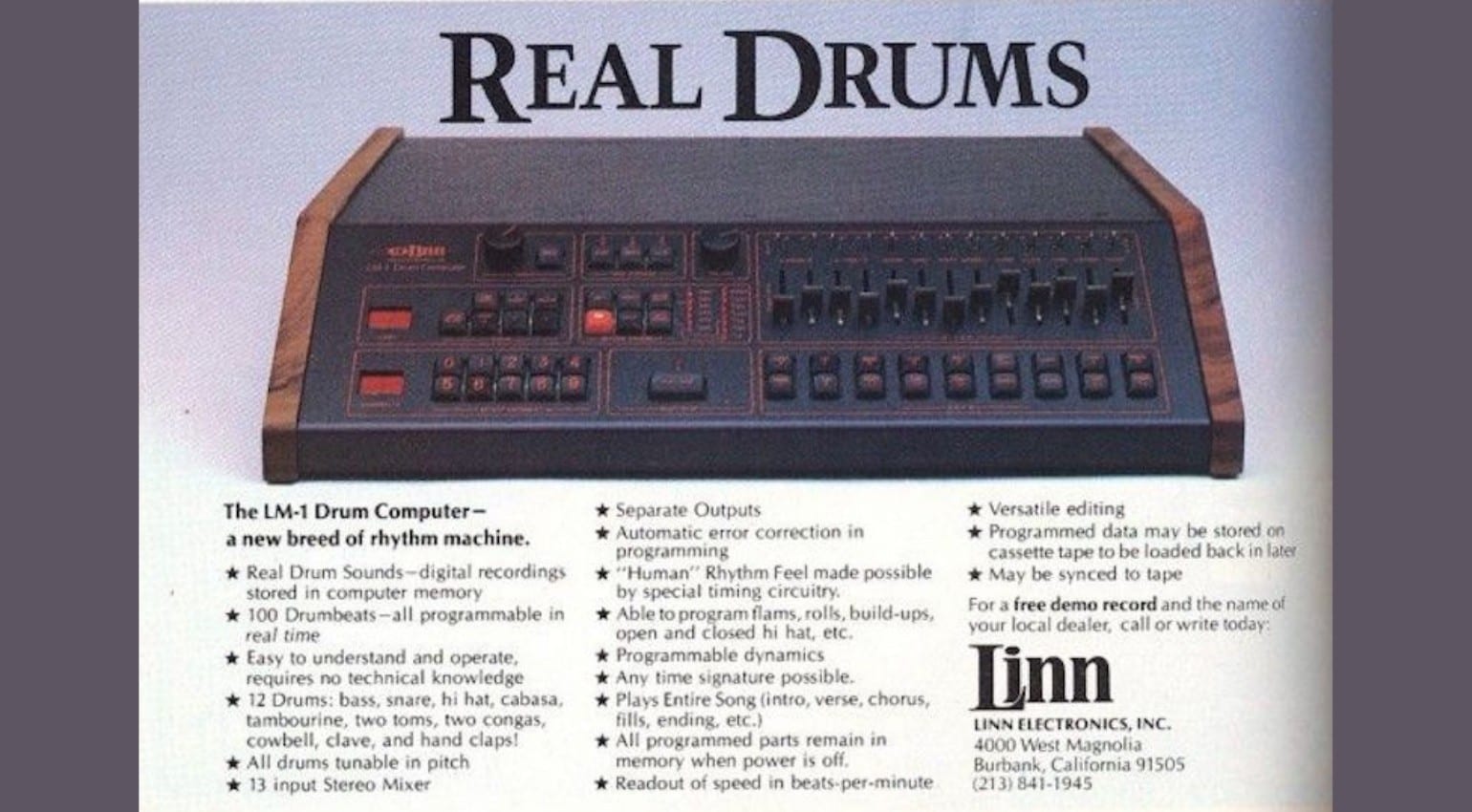 The Sound of The 80s
The original LM-1 soon became the sound of the 1980s. A very early unit found its way onto the score of John Carpenter's "Escape From New York". Meanwhile in the UK, The Human League were topping the charts to an LM-1 backbeat. The Purple One himself adopted the LM-1 as a signature sound, and you'll hear the LM-1 daubed across Prince's hits such as "When Doves Cry" and "Kiss".
A slightly more affordable machine appeared in 1982 called the LinnDrum (sometimes referred to as the LM-1). The LinnDrum now added cymbals and sold in much greater numbers compared to the expensive and rarified LM-1. Despite its huge popularity, however, the Linn Drum and Linn Electronics didn't survive the decade.  So why are we still talking about the Linn Drum? For me, it's all about the sound. Back then, drum sounds were a relatively low sample rate and very short in duration. The idea was that users would couple the Linn Drum to external processors to add ambience, for example. But LinnDrum's character has left an unmistakable imprint on classic records. If you want your rhythm tracks to beat with the neon heart of the 80s, then you need some Linn Drum action!
Getting The Sound
So how do you get that Linn Drum sound in your current music production workflow? You could, of course, buy an original LinnDrum. If you don't have £3000 or more for a working vintage unit, there are some excellent alternatives to get you that Linn Drum sound at wallet-friendly prices!
Ableton Drum Machines by Puremagnetik
Do you use Ableton Live? If so, you're in for a treat with the "Drum Machines" pack created by Ableton content developers Puremagnetik. Drum Machines is a free download if you're a user of Ableton Live Suite 9 or above. Drum Machines includes Ableton drum racks loaded with the sounds of essentially vintage drum machines. Of interest to us here though is the "LD Classic" Kit.
As you might expect, the LD Classic drum rack is based on the LinnDrum and absolutely nails that classic sound. You have full control over individual drum levels, pitch, and additional parameters to allow you to tailor the tonality perfectly. If you're an Abelton user, the Drum Machines pack is a complete no-brainer. In fact, it was deemed good enough that when Prince's original backing group "The Revolution" toured recently, they used the LD Classic drum rack to recreate those classic LM-1 tones.
Alyjames Lab VProm
If you're looking for the last word in sonic authenticity, then the Alyjames Lab VProm could well be for you. VProm is way more than a Linn Drum VST; it's a full-on software recreation of the LM-1 circuitry and all its unique quirks. The EPROM sample handling was unique to the LM-1, although EPROMs were used in other gear from the era.
Alyjames Lab's VProm very accurately recreates that playback behaviour. The moment I loaded it up I was immediately taken by how authentic particular sounds came across. The Hi-Hats in VProm are spot on, and as soon as you begin to tune the drum voices, the LM-1 magic shines through. If you're after something that really nails that "When Doves Cry" sidestick sound, this is the tool for the job.
As a bonus, because it's effectively a modelled EPROM player, you can also load EPROM files from other vintage drum machines. For €45 VProm is a bit of a bargain!
Lindrum from Mars
Does your workflow gravitate toward samples rather than VSTs? Perhaps you're a DAWless musician or just prefer to use one-shot samples? In which case, Samples from Mars' "Lindrum from Mars" sample pack may be for you. A substantial sample pack comprising beautifully recorded and processed one-hit samples. Obviously, this approach has limitations: you won't get the same interactive feel with the drum sounds as a dedicated emulator. Loading the samples into Ableton drum racks I found they sounded really good, but perhaps lacked the authentic grit of the Alyjames VProm.
With that said, for just $29 this is another bargain offering and absolutely cannot be faulted at $29.
Drumkito – LinnDrum Sample Pack
The lovely people over at Drumkito offer loads of free sample packs, including a LinnDrum sample pack. Now, if I'm being totally honest, this is the least authentic of all the offerings here. To my ears some of the sounds are a bit more TR-707 than LM-1; however, they definitely serve up that 80s drum sound. It's free, it sounds good (if not authentic), and is just the ticket for Synthwave and retro productions. Have you downloaded it yet? What about now?
The Best Approach
So what's the "best" approach to getting the LinnDrum sound? The ultimate approach would be an original machine, in a period analogue studio with a great desk and racks of outboard. But for most of us, the answer will be using some sort of emulation or sample pack. Trying out these different emulations, I was surprised by how different and varied the end results were, both tonally and in vibe and workflow.
For quick results that got me the Linn vibe I was looking for, Ableton's Drum Machine Pack is hard to fault. That's partially down to each sample automatically loading with processing modules tailored to each drum sound. If you don't use Live, Alyjames Lab's astounding VProm nails the hardware quirks and sound of the LM-1.
Lindrum from Mars is hard to fault at the price. Likewise, the Drumkito LinnDrum Sample Pack should be a no-brainer download for anyone interested in exploring the LinnDrum sound. Ultimately, though, Alyjames Lab VProm is the winner for me. It just has that "X factor" to the sound that recalls that original LM-1 magic.
What are your favourite LinnDrum tools and emulations? Let us know in the comments below.
More about the LinnDrum:
Video:
*Note: This article contains promotional links that help us fund our site. Don't worry: the price for you always stays the same! We will receive a small commission if you buy something through these links. We appreciate your support!
Image Sources:
The LinnDrum module in the Drum Machines pack is a good choice for Live users : Ableton
alyjameslab's excellent VProm, an awesome EPROM-level LinnDrum emulation: alyjameslab
Lindrum From Mars sample pack: Samples From Mars
DrumKito's free LinnDrum sampe pack: Drumkito