The Best 808 Alternatives: 5 Ways to get that Classic Sound
Can't get your hands on a real TR-808? Don't sweat it, we're looking at some of the best 808 alternatives with different creative approaches to get that classic sound.
Easily one of the most iconic drum machines ever produced, the Roland TR-808 has had as much of a cultural impact as any musical instrument in history.
The Best 808 Alternatives
From sample packs and software instruments to Eurorack modules, there are many different ways to incorporate authentic 808 sounds into your workflow.
While some will help you relive the creative experience of the TR sequencer, others allow you to focus on each individual sound with more precision.
Roland Cloud TR-808
If you're after an authentic software recreation, it only makes sense to go with the Roland Cloud TR-808. From the sound and interface to the sequencer, each aspect has been developed to preserve the user experience of the original.
An excellent addition, however, is the fact that the sequencer expands to give you a visual overview of the patterns for all drum voices. Also, you have the flexibility to vary the feel with individual shuffle increments per voice.
XLN Audio Addictive Drums
Addictive Drums is one of the most widely used drum production plug-ins available, and with the Reel Machines ADpak you have access to the classic sounds of the LinnDrum, DMX, Simmons ClapTrap, and SDS-V, the 909, and of course, the TR-808.
The interface gives you the ability to mix and match drum voices, and you have the tools to pitch and shape each sound. From pitch envelopes to overhead ambience, saturation to reverb, this is one of the most versatile plug-ins for designing drum sounds.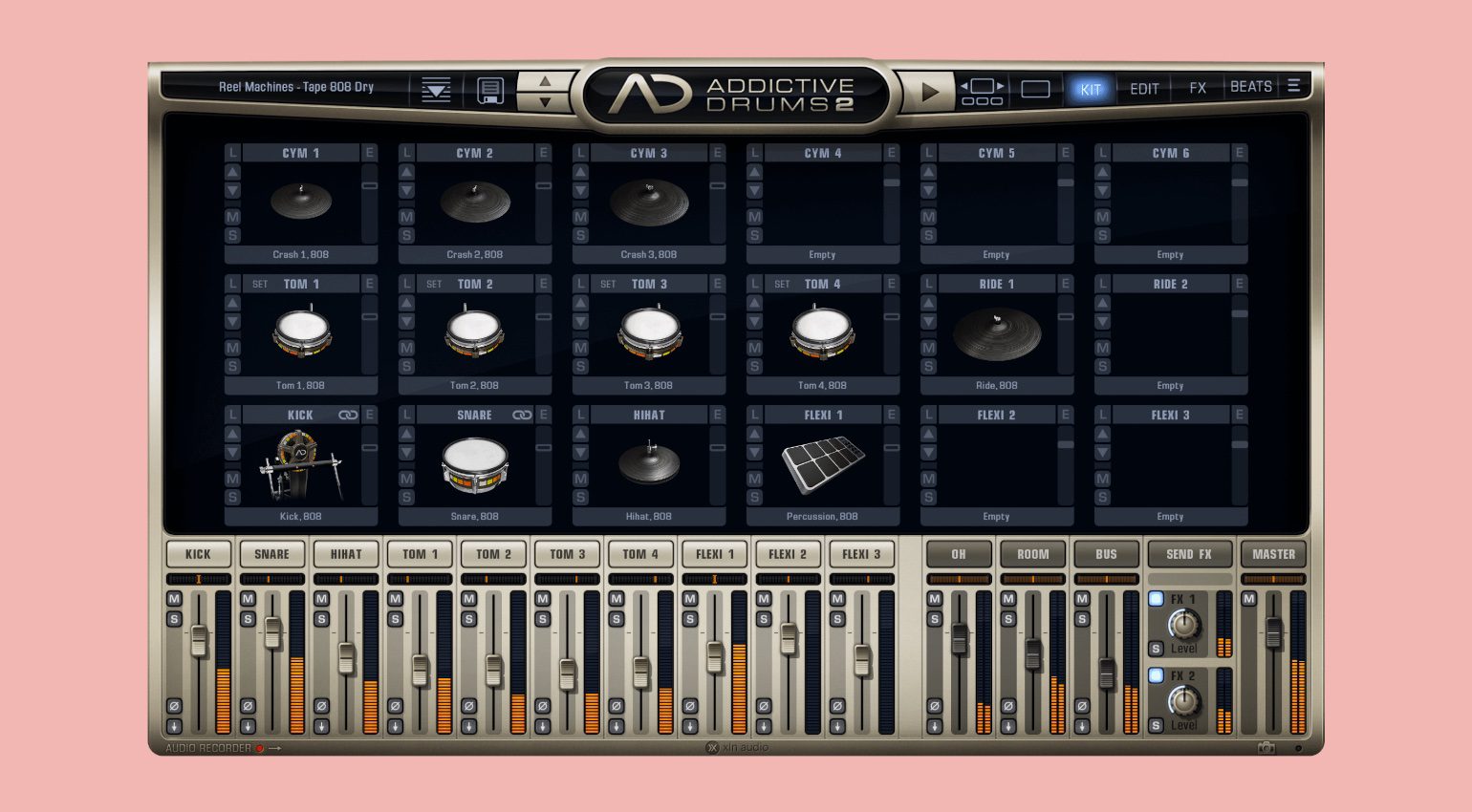 *Note that Reel Machines is an add-on for Addictive Drums 2
Behringer RD-8 MKII
The RD-8 MKII is Behringer's fully analogue recreation of the classic, which mimics every aspect of the original with a few useful improvements. Apart from having multiple outs, you also have trigger outs, USB, Sync, and MIDI I/O.
The Wave Designer adds sound-shaping capabilities and a dual-mode analogue filter, plus the 64-step pattern sequencer has features like poly meter, step repeat, note repeat, real-time triggering, as well as track mute, and solo.
Roland TR-8S
Equipped with the ACB engine and the ability to load your own mono and stereo samples, the TR-8S takes the design of the 808 in a new direction. Rather than simply reliving the glory of the original design, you have a platform to design new drum sounds.
You can create sounds by combining TR sounds and imported samples, plus you have a selection of effects such as delay, reverb, overdrive, and filters to add even more expression to your drum sounds.
Tiptop Audio 808 Modules
If you're a Eurorack user, then you have the option of building your own 808 and selecting each module according to your needs. From the kick drum to the rim shot, hi-hat, and even the cowbell, you have an authentic sound with modular flexibility.
This may not be the most cost-effective 808 solution available, but if you're already hooked on modules you'll be well aware of the spending trap. More than anything though, this gives you a customized solution to suit your particular style of music.
More about 808 Alternatives:
Videos:
*This post contains affiliate links and/or widgets. When you buy a product via our affiliate partner, we receive a small commission that helps support what we do. Don't worry, you pay the same price. Thanks for your support!
Image Sources:
Roland Cloud TR-808: Roland
XLN Audio Addictive Drums: XLN Audio
Behringer RD-8 MKII: Behringer
Roland TR-8S: Roland
Tiptop Audio 808 Modules: TipTop Audio