Modular For Beginners: The Eurorack Starter Kit
As musicians or synth enthusiasts, so many of us would like to get into modular synthesizers. For the uninitiated, however, this can be tricky. To overcome this hurdle, we've put together a guide to modular synths for complete beginners to start the journey with a Eurorack starter kit.
Modular for Beginners – where it began
Let's go back in time to the 1960s; the concept of a synthesiser as an integrated, stand-alone, playable instrument hadn't yet solidified. In those pioneering days, synthesizers were collections of individual devices all designed to do one specific purpose. You need only look at vintage photographs of synth pioneer Wendy Carlos, sitting at her enormous Moog modular synth to see that!
Back then, each manufacturer had its own proprietary format, which meant that modules from competing manufacturers were difficult to integrate. As a result, those early modular systems were usually made up exclusively of one manufacturer's modules.
By the 1970s, integrated synthesisers such as the famous Minimoog had begun to supplant the popularity of modular synthesisers. Modulars began to fade away, perhaps viewed as some quirky relic from history; that is until a German company called Doepfer Musikelektronik breathed new life into the concept…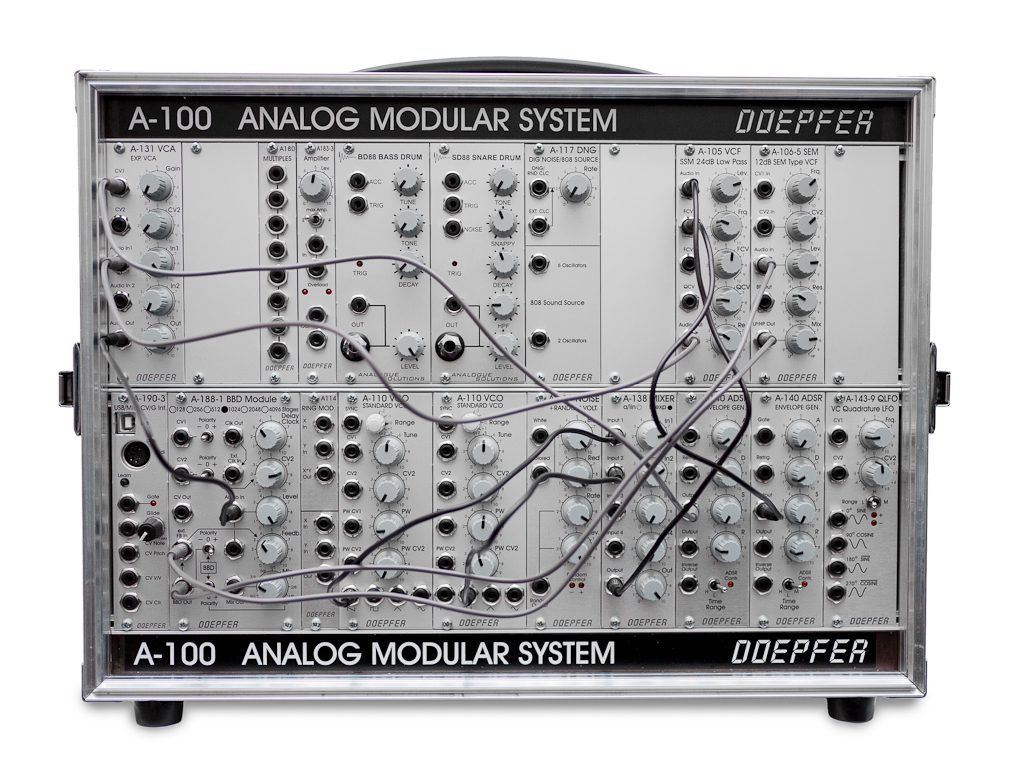 The birth of the Eurorack Standard
In 1996 Doepfer launched their first Eurorack format modular system, the A100. Many boutique manufacturers quickly adopted the standard and by the mid-2000s the modular renaissance was in full swing!
Now, a quarter of a century onwards, you are spoiled for choice with modular synthesiser components. Thanks to that Eurorack standard they'll all play nicely with each other, allowing you to build a truly custom and varied instrument!
The Eurorack Starter Kit: Where to begin?
In this article, we've focussed on giving you the foundations to build your first Eurorack setup. We've deliberately avoided suggesting things such as oscillators, filters, envelopes etc. Why? Because these are all deeply personal choices and part of the journey in building a system that sounds and behaves how you want it to.
There is no right or wrong way to approach building your own modular synth rig. Apart from learning about analogue synthesis, the best place to start is familiarizing yourself with the Eurorack format of modules and casings available and the terminology used.
Here are a few to get you started:
HP: Horizontal Pitch is the measurement standard for Eurorack modular synthesizer components. 1 HP = 0.2″ or 5.08mm
mA: milliampere or milliamps is the standard used to measure current in small electrical circuits like those used in Eurorack components.
V: Voltage is the electromagnetic pressure of a power source expressed as a ratio IE. a power supply with a +12V -12V rating provides a potential difference of 24 volts.
Modules: a neverending story?
Having a goal in mind of what sounds you'd like to create will help you a great deal in terms of the layout and your choice of individual modules. You can also avoid getting caught in a perpetual spending trap by sticking to a fixed budget for a build.
The array of modules available these days is seemingly endless, and each of us has personal preferences. Some like the traditional analogue approach, using VCO, VCF, and VCA modules much like a vintage-style synthesizer you might find on the market. Others are looking to explore granular synthesis, using a more sample-based approach.
Remember that having the largest collection of modules does not in any way guarantee creative productivity. Even some of the most avid collectors like Martin Gore still do most of their songwriting using nothing more than an acoustic guitar.
Eurorack Casing
Unless you're looking to take it on tour, chances are you're after a simple desktop housing that doesn't take up too much space. Make sure you select a case that fits the AC power specifications of your region; keep in mind that each module you buy must meet the spec of your casing.
Doepfer A-100 LC1
The Doepfer A-100 LC1 is a basic-looking 48 HP, 3U wooden box perfect for a desktop synth. It's equipped with an integrated power supply and enough slots for 12 modules on the built-in bus board.
The wood is also untreated, which makes it ready for your own customizations. In addition, this case has an IEC socket on the rear panel, which means slightly less cabling is needed.
Arturia RackBrute 3U
Another decent option is the RackBrute 3U Eurorack casing. Although the power supply is external, this desktop casing will provide power for up to 20 modules with 88 HP of rack space.
The angled design is a nice touch, and you can also mount it onto the MiniBrute to expand on your current synth setup.
cre8audio Nifty Case/Nifty Bundle
Another great option to get you going on your modular journey is the cre8audio Nifty Case/Nifty Bundle. The Nifty Case is a powered, modular case with a built-in two-channel MIDI to CV converter. It's 84HP wide and is a great choice if you just want somewhere to start on your journey.
Additionally, cre8audio also offers the Nifty Bundle, which gives you a couple of fun little modules along with a bag of patch cables, too! For the price, either of these choices makes a great starting point for a beginner modular system.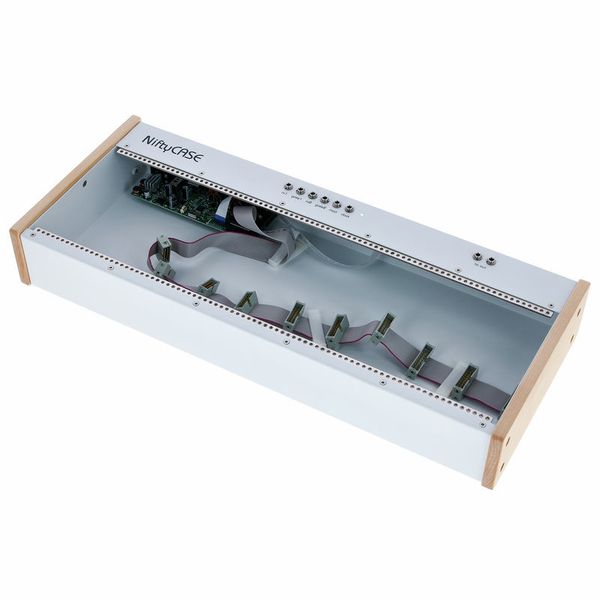 Sequencer / CV MIDI Interface
Now, you need to make a choice! How do you intend to trigger your modules? There are multiple options including triggering your from your DAW, playing in real time with a controller, or using some form of sequencer. In fact, you could choose all three if you so wish!
In Eurorack format, CV sequencers can be pricey and also they tend to be on the larger side, taking up plenty of rack space. Some sequencers are more versatile too, allowing you to sync or control other hardware in your setup over and above CV sequencing.
Let's take a look at some options that are available to you…
Behringer CM1A
The Behringer CM1A is an interface that converts MIDI input from USB or DIN to the CV format used by Eurorack components.
This means you can sequence or control modules from your DAW, trigger them with a keyboard or use external devices like the impressive sequencers you find in Elektron instruments.
Arturia BeatStep Pro
Equipped with two channels of extensive monophonic CV sequencing, the BeatStep Pro is a great option that won't take up any space in your rack. It also has 8 drum gate outs, MIDI, Clock, and USB.
This makes it a great choice as a sequencing brain for basslines and percussion as it will sync with virtually anything, even vintage gear.
Cables
Luckily, CV patch cables aren't as highly monetized as they are in the audiophile domain, so you can never have too many!
Ensure you purchase cables of the correct length because if they are too short, they won't reach the terminals as required. Alternatively, if your patch cables are too long you could become entangled in CV spaghetti, which is no good either.
the sssnake DD1060
These 60cm (23.6 Inches) DD1060 cables will help you create your first modular synth patch. Each set consists of six cables, which are colour coded to avoid any confusion.
Keep in mind the modules you plan on using in your rack, because some components have far more ins and outs than others.
Tiptop Audio Stackcable
Because some parameters such as your filter cutoff frequency deserve more tweakability, Stackcables allow you to split outputs in your CV signal chain.
For instance, you could combine the modulation from an LFO and a pattern sequencer at the same time. With some creative patching, you can really unlock some of the magic of using synth modules.
Mixer
If you're planning on working with multiple sound sources or oscillators you're going to need a mixer! Some sort of mixer is almost a necessity in any modular rig. A mixer can also help you manage your signal levels as attenuation is often essential when stacking signals at the end of the chain.
Mixers can also expand mono signal chains into stereo patches with individual panning on each channel. This becomes even more useful when you expand your system with effects modules.
Doepfer A-138s Mini Stereo Mixer
With four inputs, the Doepfer A-138s should be enough for a basic setup. Each mono input can be panned across the stereo outs which is a useful feature.
Not only does this give you a stereo output, but it also provides two discrete channels with which to separate your sounds when recording. Sounds panned hard left become channel one while those panned hard right are channel two. Also available in the slimmer A-138n, but without panning functionality.
Behringer 305
One with everything, the Behringer 305 combines a mixer, mono EQ, and output stage into a single $80 module. You get four channels of individual panning and attenuation, with a four-band sweepable parametric EQ normalized to channel one.
Although this unit provides an amazing feature set for the price, the design seems a little counterintuitive, especially for a 24 HP module.
Output Stage
The last link in the chain, this module will connect you to your interface, speakers, or headphones. Accurate monitoring is important here, so having some kind of level indication and knobs with decent resolution really helps.
Are you looking for an output stage with balanced outputs? That could be a great feature for going direct to your monitors or a live mixer! Maybe you enjoy a bit of solo DAW-less jamming? In which case, look for a module with a headphone preamp for driving headphones with different impedance ratings.
Intellijel Designs Outs
The Intellijel Outs has all the basic controls you want on a stereo output stage. This includes balanced TRS outs, level indicators, and a quarter-inch headphones input.
The controls are of decent quality and the module itself is only 6 HP, so it won't take up too much space in your rack. The Outs is also designed to link with the Intellijel Mixup module.
Vermona Modular Twin Out
The Vermona Twin Out offers both stereo and dual mono functionality, which is useful for recording purposes. In addition, the outputs are XLR, so it gives your system a slightly more professional feel.
Another nice touch is the level indicators on each of the knobs. The headphones' input is only 3.5mm, but you can't have everything in an 8 HP module.
More about Modular for beginners:
Videos:
Note: This article contains affiliate links that help us fund our site. Don't worry: the price for you always stays the same! If you buy something through these links, we will receive a small commission. Thank you for your support!
Image Sources:
Doepfer_A-100: Wikipedia/Nina Richards
Some Eurorack systems allow you to expand your current setup.: Arturia
Doepfer A-100 LC1 Low Cost Case: Doepfer
Arturia RackBrute 3U: Arturia
Behringer CM1A: Behringer
Arturia BeatStep Pro: Arturia
the sssnake DD1060: Thomann
Tiptop Audio Stackcable: Tiptop Audio
Doepfer A-138n and A-138s mixers: Doepfer
Behringer 305: Behringer
Intellijel Outs: Intellijel
Vermona Twin Out: Vermona