Best DJ Turntables for Spinning and Scratching
Turntables are the essence of DJ-ing! Although digital media players now reign supreme in the DJ booths of most clubs and festivals, many DJs still maintain their vinyl collection and prefer spinning and scratching on real turntables. Here's our list of some of the best DJ turntables available today.
Quick Facts: DJ Turntables
DJ turntables are still an important tool for many DJs. But what makes a good DJ turntable? One indispensable feature is pitch control for manipulating the tempo (BPM) of the playing record. In addition to this, the turntable should start and stop very quickly. Furthermore, when "nudging" and slowing down the record (important to keep the beat), you must be able to maintain full control over the vinyl.
In DJng, it is very important that the record continues to play smoothly after it is held and then released. Good DJ turntables are direct-drive (the motor directly drives the shaft) and maintain the selected RPM very accurately. Some models have a curved tonearm, while others feature a straight one. The shape of the tonearm determines which type of cartridge and needle must be used. Mixing DJs usually prefer turntables with curved tonearms, while scratch DJs often swear by straight arms.
In order for the needle to sit firmly in the groove, you need to be able to precisely adjust the counterweight on the tonearm. "Antiskating" is also important in this context – a counterforce that depends on the tonearm position. For techniques such as scratching, it's essential that the needle doesn't skip! Low frequencies and resonances also shouldn't affect the needle and the tonearm too much.
Good stability is another requirement for a DJ turntable. The feet should have good shock absorption and ideally be height-adjustable. Some DJ turntables offer a built-in phono preamp and thus directly provide a line-level output signal.
Best DJ Turntables (budget class)
Audio-Technica AT-LP120X USB SV
The Audio-Technica AT-LP120X USB offers a lot for its low price. It's available in silver and black and comes complete with a cartridge, cables, and even a dust cover. The turntable can output a line signal in addition to the phono signal. This makes it easy to connect the turntable to a wide variety of mixers and amps. In addition, a USB port further expands the possibilities. The AT-LP120X USB SV makes quick work of digitizing your vinyl collection. This turntable is a good choice for bedroom DJs and vinyl beginners – if you're serious about DJing, it's probably best to invest a bit more.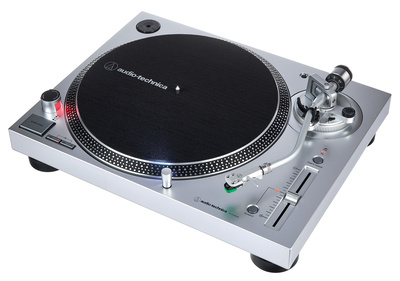 Audio-Technica AT-LP120X USB Silver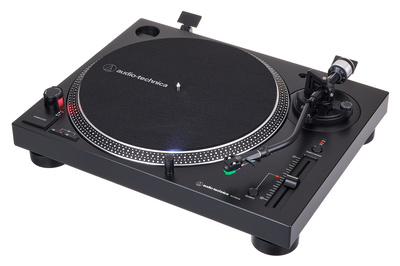 Audio-Technica AT-LP120X USB Black
Pioneer DJ PLX-500
The PLX-500 from Pioneer DJ is a really good turntable in the $350 range with solid workmanship and a convincing sound. It's a great all-rounder with features that rival those of some pro-level decks. The vibration dampening is excellent and the turntable comes with a cartridge and dust cover. An audio interface is also included and makes digitizing your collection a piece of cake.
Numark PT01 Scratch
Portablism is becoming more and more popular! The Numark PT01 Scratch is a very special beast because it's primarily designed for scratching vinyl singles on the go. For about 150 bucks, this portable and battery-powered player makes a great gift for any vinyl enthusiast. It even offers a USB output! If you think portable turntables made of plastic are for amateurs, just keep on reading.
Reloop SPiN
Primarily intended for portablism, the Reloop SPiN is a worthy competitor to the Numark PT01 Scratch. Besides the features needed for scratching on the go (very good tracking, exchangeable crossfader, USB powerbank compatible), there are also some nice features for vinyl lovers.
The SPiN is also an excellent portable record player for singles and LPs. Besides an RCA output, it offers Bluetooth connectivity and can even record directly to USB. The price is a bit higher, but the features speak for themselves.
Best DJ Turntables (medium price range)
Audio-Technica AT-LP140XP
The AT-LP140XP is a very puristic deck by today's standards. The manufacturer has focused on implementing the most important features in high quality at a reasonable price. You get a height-adjustable tonearm, adjustable feet with decent decoupling, and three speeds as well as three pitch ranges.
In addition, the AT-LP140XP can play records backwards. The manufacturer's AT-XP3 cartridge and matching headshell are included, as is a slipmat, dust cover, and RCA cable. The turntable outputs only a phono signal via its gold-plated RCA output, so it's very traditional in this respect, as well.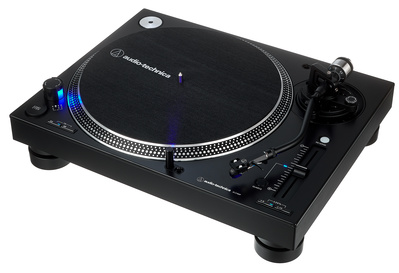 Audio-Technica AT-LP140XP Black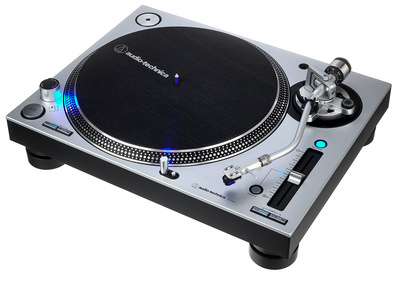 Audio-Technica AT-LP140XP Silver
Reloop RP-7000 MK2
The Reloop RP-7000 MK2 is a DJ turntable in the $600 class that offers great specs and many convincing features. Two start/stop buttons, a strong motor, a wide pitch range, adjustable torque and brake, stable quartz-controlled speed, internal grounding, a reverse button, and more are on the feature list of the RP-7000.
One small drawback is that the turntable comes without a stylus, headshell, single puck, and dust cover, which you'll need to buy separately.
Reloop RP-8000 MK2
The Reloop RP-8000 MK2 builds on the innovative concepts of its predecessor. Besides the robust build quality, quartz-controlled motor, and wide pitch range, the controller features such as eight trigger pads and a built-in Trax encoder are what make this DJ turntable stand out.
This hybrid design is especially interesting for DJs who want to use turntables to control Serato DJ Pro. Another convincing detail of the RP-8000 MK2 is a second independent output.
Best DJ Turntables (Pro Level)
Technics SL-1210 MK7
The Technics SL-1210 needs no introduction – it is by far the most famous (DJ) turntable of all time. Nearly all other decks on this list are inspired by this giant, at least in terms of the design. With the SL-1210 MK7, Technics offers a reissue of the classic with the needs of DJs in mind. And a legend like the SL-1210 doesn't need a complete overhaul, but only a few small tune-ups here and there. The motor control has been improved and the direct drive runs more smoothly.
In addition, the tracking is now even more accurate and the housing is very well shielded against external interference. The extended pitch range and features like reverse play make the SL-1210 MK7 a highly desirable deck – even for owners of the original. And needless to say, the SL-1210 MK7 is also a great choice for playing your vinyl collection at home.
Pioneer DJ PLX-1000
With the PLX-1000, Pioneer DJ offers a turntable that is considered a serious alternative to the classic from Technics. With a robust and heavy chassis, the build quality is spot on. The PLX-1000 offers a high-torque motor, excellent vibration dampening, and an S-shaped tone arm with good isolation. The sound is great, the pitch range is very wide and there's a convenient reset button for the tempo.
Videos about DJ Turntables
This article was originally published in German on bonedo.de.
* This post about DJ turntables contains affiliate links and/or widgets. When you buy a product via our affiliate partner, we receive a small commission that helps support what we do. Don't worry, you pay the same price. Thanks for your support!
Image Sources:
AT-LP120X USB: Remise 3
PLX-500: Remise 3
PT01 Scratch: Remise 3
Reloop SPiN: Remise 3
AT-LP140XP: Remise 3
RP-7000 MKII: Remise 3
RP-8000 MK2: Remise 3
SL-1210 MK7: Remise 3
PLX-1000: Remise 3