Household Names: The Best-Selling Synths Of All Time
What makes a synth a top seller? Here are five great synthesizers that are still raking in the cash after 10-plus years.
Best-Selling Synths
What's the average time a synthesizer stays in production? If I had to guess (and I do, since it's my job), I would say three to five years, conservatively. Whether through lack of sales, technological obsolescence, or retirement due to being replaced by an upgraded version, most synths tend not to stay on shelves for too long. It's a rarity, then, to find one still occupying space on the factory floor after ten years. All this time on the musical instrument store floor translates to consistent sales over time, resulting in lots of money flowing into the manufacturers' coffers. While hard sales data isn't available for most modern instruments, it's safe to say that long sellers are also best sellers.
There are a handful of synthesizers that have been generating income for their makers for more than a decade. They include some you've probably heard of while others may be surprising. Here they are in order of longest-selling first.
Korg MicroKorg
First going on sale in 2002, Korg's eternally popular MicroKorg is the gift that keeps on giving (to Korg). It's the longest of the long-selling synths still on the market and so (at least according to Korg) the best-selling synth of all time. A spinoff of Korg's long-past MS2000, the MicroKorg is the exception to the rule that the cut-down version of an instrument is somehow inferior. A four-voice virtual analogue synth, it's got two oscillators, a multimode 24dB/12dB filter, two LFOs, plus a vocoder, effects, an arpeggiator, and more.
Programming isn't the easiest, given the paucity of controls, but that hasn't stopped people from snapping them up for more than two decades. Korg has released a variety of limited edition versions over the years, which is great news if you don't love the original livery (although I have to say it has grown on me over the decades). You can even get the MicroKorg as a soft synth for your DAW now if you're not into the whole hardware thing.
Here's to another 20 years of the MicroKorg. Long may you and your mini keys reign.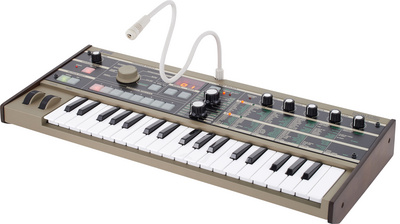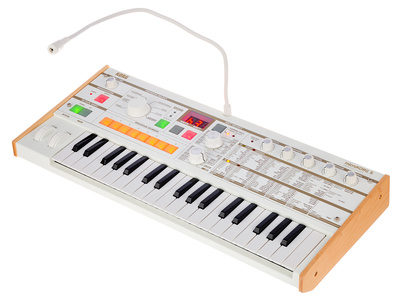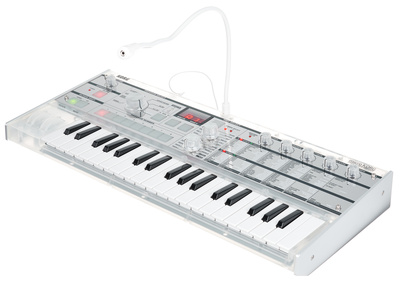 Waldorf Blofeld
Sixteen years ago, Waldorf released the Blofeld Desktop. It managed to encapsulate most of Waldorf's history and DNA, including the Q series, Microwave II and PPG Wave, into a single, affordable unit. A tabletop powerhouse with virtual analogue, wavetable, FM synthesis and sample playback, it's no surprise that this best-selling synth is still in production 16 years later.
Along with the three flexible oscillators, the Blofeld has two multimode, 12dB and 24dB/octave filters (including an emulation of the analogue PPG Wave one), a modulation matrix, and effects. The original Blofeld was white but there's also a black version if white makes you think of kitchen appliances (at least, it does me). It's 16-part multitimbral with 25 voices and if you prefer something with keys, there are white and black keyboard versions too. Waldorf can trend towards the expensive side, but the Blofeld keeps things affordable. No wonder it's so popular.
Novation MiniNova
Another cut-down champ, Novation's MiniNova is the company's UltraNova in a smaller package. While the UltraNova is long gone, the MiniNova keeps on keeping on, with a track record of 11 years now. It sits comfortably alongside Novation's current lineup of Bass Station II (also a long-seller), Peak, and Summit.
Clearly inspired by the MicroKorg, it has precious few knobs but lots going on under the hood. Each of the three oscillators can do virtual analogue, digital waves, and wavetable, while the filter section—two filter blocks with 14 different types ready and willing—is comprehensive and powerful. There's even a vocoder and Antares-style vocal tuning. As you'd expect from Novation, the MiniNova sounds great, with a very electronic patina. It's also a bargain, which surely contributes to it being one of the best-selling synths.
Korg MicroKorg XL+
You'd think that the original MicroKorg would have the mini virtual analogue synth market cornered. If you thought that, though, you'd definitely be wrong. Not only is there still room for the Novation MiniNova (above), Korg has also been cleaning up with the MicroKorg XL+, now 11 years strong.
The oxymoronically named MicroKorg XL+ is a slightly larger sequel to the original MicroKorg, with an MMT/Radius sound engine instead of the MS2000 one (the + part saw it get a new colour scheme and genre-based presets). This makes the XL+ eight-voice polyphonic rather than the original's four. It also has a waveshaper section for extra grit plus a variety of multimode filters, vocoder, effects, and arpeggiator.
Both MicroKorgs are affordable (the original slightly more so) and portable. Ultimately, the one you should get depends on which sound engine you prefer.
Korg MS-20 Mini
Korg certainly seems to know a thing or two about popular synths. Its MS-20 Mini is the third Korg product in our top five. Way to go Korg. It's also the fifth to have a comparatively small footprint. Overall, it looks like small and affordable are good indicators for best-selling synths.
On the market since 2013, the MS-20 Mini helped kick start a number of trends, including a resurgent interest in analogue as well as clones—even sometimes companies cloning themselves, as here. A slightly smaller version of the original, the all-analogue, semi-modular MS-20 Mini has two oscillators, two famously screamy filters (low and high), two envelopes, an extensive patch bay section, and even a pitch-to-CV converter for playing the synth with non-MIDI external instruments. It sounds wonderfully fat and punk and makes a great complement to a smooth, Minimoog-style synth or lush poly.
More Information
Videos
*Note: This article contains promotional links that help us fund our site. Don't worry: the price for you always stays the same! We will receive a small commission if you buy something through these links. We appreciate your support!
Image Sources:
Micro Korg: Wikipedia
Waldorf Blofeld Desktop: Waldorf
Novation Mininova: Novation
Korg MicroKorg XL+: Korg
Korg MS-20 mini: Korg
pb: Plugin Boutique