Novation turns 30: Their 5 best Synths – plus a chance to win!
Novation is turning 30 this year! The manufacturer's synthesizers and controllers have helped to shape 30 years of music making since 1992. To celebrate, Novation is holding a big giveaway event with a chance to win an amazing synth bundle and much more – see below for details. We take the opportunity to look back at 30 years of Novation history and revisit five of the company's most influential synths.
Bass Station (1993)
Needless to say, this list must begin with the original Novation Bass Station. When the tiny monophonic synth came out in 1993, it was one of only a handful of analog synths you could actually buy new, and I think most would agree that it was a ray of light at a time when grey, emotionless workstations reigned supreme. As such, the Bass Station quickly gained a cult following.
If you were producing electronic music in the mid-90s, you simply had to have one. For the Bass Station, Novation took a good look at the architecture of the famous Roland TB-303, and then expanded upon that to make the synth much more versatile. With two digitally controlled analog oscillators, a resonant low pass filter that could be switched from 12 to 24 dB, two ADSR envelopes with auto-glide, and an LFO, the Bass Station delivered all the classic 303-style sounds and then some.
It was later complemented by the Bass Station Rack. Yes, rackmount synths were still a thing back then…
Peak (2017) / Summit (2019)
Let's jump to the present and look at this duo of hybrid synths that represent the current state of the art in Novation's lineup. The Peak is an 8-voice desktop synth, while the Summit has a keyboard, 16 voices, and dual timbrality. Both share a common voice architecture with two digital "New Oxford" FPGA oscillators per voice that deliver classic waveforms and wavetables. There's even a wavetable editor that allows you to draw your own waveshapes or use an audio file as the oscillator waveform. The sound is then shaped by dual analog multimode filters, no less than three analog drive stages, and a good selection of internal FX. Both Peak and Summit are extraordinarily versatile synths with plenty of tweaking opportunities. Now, if only they made a desktop version of the 16-voice Summit!
The Novation Peak and Summit are available at Thomann*.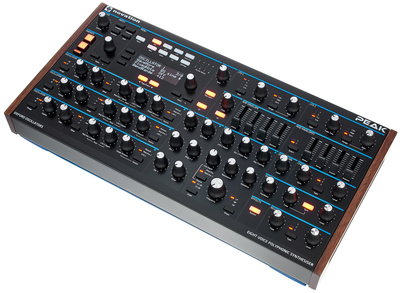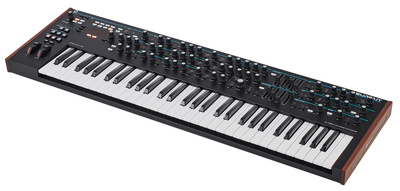 Bass Station II (2013)
When the new wave of inexpensive analog synths gained momentum in the early 2010s, Novation decided to release an updated version of the Bass Station that became an even bigger hit than its predecessor. The Bass Station II, which you can still buy today, builds on the original but adds a sub oscillator, noise, ring modulation, and a multi-mode filter with a dedicated acid mode and filter FM. It's also got built-in analog distortion. Don't let the name fool you: this synth can do much more than bass. It's a very versatile analog monosynth with a huge personality that also shines on soaring leads and gnarly sequences. Novation also did a great job keeping the synth fresh with a series of excellent firmware updates.
The Novation Bass Station II is available at Thomann*.
Supernova (1998)
When virtual-analog synths were all the rage in the late 90s, Novation released the Supernova in rackmount and keyboard variants. And super it was: 16 voices of polyphony (which were later expanded to 20) and three oscillators per voice – those were the ingredients for some incredibly fat and lush sounds. Each voice also offered a multimode filter with overdrive, and there was a massive effect section for additional sonic shaping. The Supernova II later added even more features like FM, ring modulation, and a vocoder. The basic architecture of the Supernova lives on to this day in the Mininova, which was Novation's take on the successful concept and form factor of the Microkorg.
While you'll need to keep an eye on the used market if you want a Supernova, you can still buy the Mininova new from Thomann*.
Circuit Tracks / Circuit Rhythm (2021)
Novation later ventured into the worlds of producing and beatmaking with the successful Launchkey and Launchpad controllers and this duo of grooveboxes. The Circuit Tracks and Circuit Rhythm are both designed to be fun and intuitive, while providing ample opportunities to tweak your sounds and sequences. Circuit Tracks offers two synth tracks, two MIDI tracks for controlling external gear, and four drum tracks. Circuit Rhythm is a sampling groovebox with eight sample tracks. Both feature versatile step sequencers controlled by 32 backlit RGB pads, and eight endless encoders for tweaking. They also have built-in rechargeable batteries, so you can take them on the road for mobile sessions.
The Novation Circuit Tracks and Circuit Rhythm are available at Thomann*.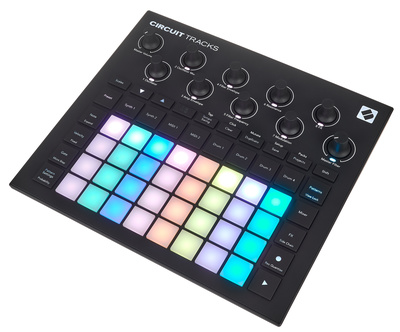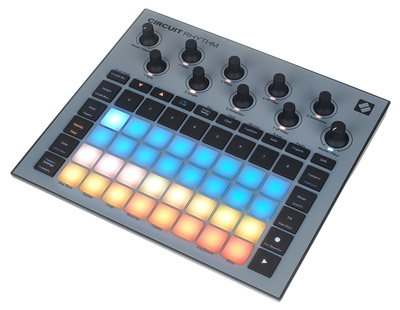 Novation turns 30 – huge giveaway event!
The manufacturer is celebrating its 30th birthday with a big giveaway event that starts today and will continue until Christmas. And you've got the chance to win big: the first prize is a massive bundle that includes no less than eight Novation products, many of which were mentioned above: Circuit Rhythm, Circuit Tracks, FLkey Mini, Launchkey 37, Summit, Peak, Bass Station II, and Launchpad Pro!
That's right, one lucky winner will receive all of those, along with additional new products for three years, a feature on the Novation website, and more. That's by far the biggest prize bundle we've seen in a while!
If you're not the lucky one who wins the bundle, don't worry – there's something for you, too. Over the next weeks, Novation will release 30 exclusive soundpacks for registered owners. Newsletter subscribers also get a chance to grab the Novation Legacy Sample Pack. You don't want to miss this! Check out the Novation website for details on how to participate.
More information about Novation and the giveaways
* This post contains affiliate links and/or widgets. When you buy a product via our affiliate partner, we receive a small commission that helps support what we do. Don't worry, you pay the same price. Thanks for your support!
Image Sources:
Novation Bass Station 1 and 2: Novation
Novation Summit: Novation
Novation Circuit Rhythm: Novation
Novation turns 30: Novation