D'Angelico - News and Rumours
You want all the latest news, rumours and everything else there's to know about D'Angelico? We're happy to oblige: On this page you'll find everything at a glance – and it's always up to date!
19 Jan
·
These three new-for-2021 D'Angelico Guitars models include a solidbody, a semi-hollow, and a hollowbody design.
23 Jun 2020
·
If you're looking for a quality nylon-string acoustic guitar, the D'Angelico Avellino Spruce may be the perfect candidate. The guitar is currently at nearly half price, only while stocks last.
22 Feb 2020
·
If you fancied buying a Bob Weir Bedford last year but couldn't quite stretch to it, the new D'Angelico Bob Weir Premier Bedford model may just satiate all your 'Deadhead' needs!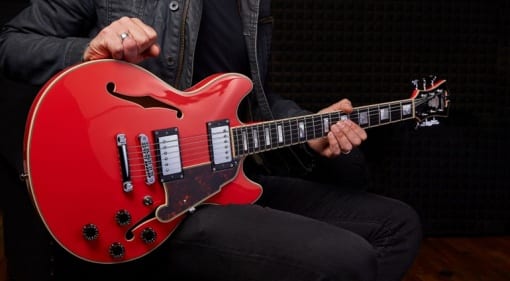 14 Jan 2020
·
D'Angelico has just announced a new smaller semi-hollow double cut design called the Mini DC. Launching during Winter NAMM and now available in both Premier and Excel Series.
31 May 2019
·
D'Angelico's Bob Weir Deluxe Bedford model is the NY-based firm's first solid body signature guitar, and has some nice tonal options thanks to the onboard Blend switch.
22 Jan 2018
·
D'Angelico is often associated with acoustic and semi-acoustic guitars, but the US maker is bringing a new line of solid-bodied electrics to the NAMM show. Can these make inroads in a saturated market?