Best free plug-ins this week: Fracture, Nova and FreqEcho
The free plug-in developers must all be chilling on the beach somewhere – good for them! We don't have any new freeware plug-ins for you this week, so we've compiled a list of three classics that we've never covered before for some reason. Check out these all-time favorites: Fracture, Nova and FreqEcho.
Head over to our archives for many more free plug-ins!
Glitchmachines Fracture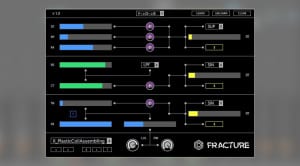 This fantastic effect has been out for a good number of years now, but it's still very much up to date. Fracture adds glitchy artifacts to your drum tracks, synths, sound effects or anything you throw at it. A great way to turn a vanilla groove into something interesting! The magic happens somewhere between a buffer effect, multimode filter, three LFOs and a delay. There's also a randomize function to keep you inspired. Fracture is a must-have for any electronic producer.
Fracture is available for macOS 10.8 or higher and Windows 8 or higher in VST and AU formats (32/64 bit).
Tokyo Dawn Records Nova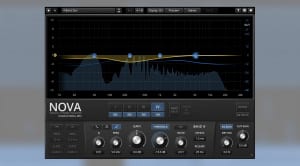 TDR Nova is a parallel dynamic equalizer. Each of its four parametric bands is equipped with a full dynamics section. This means that the amplitude of the signal controls how much equalization is applied in each band. Nova also does frequency selective compression and multi-band compression. With additional high pass and low pass filters and a dry mix knob for parallel processing, Nova is a powerful plug-in and a great free alternative to FabFilter, Infinity EQ and similar EQs.
Nova runs on macOS 10.7 or higher and Windows XP SP2 or higher in VST, VST3, AU and AAXformats.
Valhalla DSP FreqEcho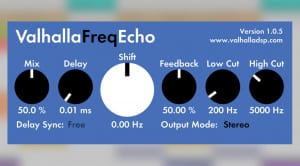 FreqEcho by Valhalla DSP is a trippy combination of an analog echo emulation and a frequency shifter. The delay syncs to the song tempo if desired. In addition to delay, feedback and shift controls, there are low cut and high cut filters for shaping the sound. FreqEcho does anything from chorusing, phasing and flanging to long glissandos and out-of-control echoes. If you're familiar with Valhalla's other plug-ins like the wonderful Supermassive, you know that the quality is top-notch.
FreqEcho is available for macOS 10.8 or higher and Windows 7 or higher in VST, AU and AAX formats.
Videos
Image Sources:
glitchmachines-fracture: Glitchmachines / Gearnews
tokyo-dawn-records-nova: Tokyo Dawn Records / Gearnews
valhalla-freqecho: Valhalla DSP / Gearnews