Best free plug-ins this week: Multiply, Graillon Free and UpStereo
This week's collection of the best free plug-ins brings you three classics. We've got a chorus with a couple of neat extra features, a pitch shifting and correction plug-in, and a stereo enhancer. Check out Multiply, Graillon Free and UpStereo!
Looking for more free plug-ins? Our archive is the place to go!
Acon Digital Multiply
This great free chorus effect has been out for a while, but has recently been upgraded to support VST3 and macOS Catalina. Acon Digital Multiply lets you add up to six additional voices to the original signal, which are processed using a phase randomizing filter to avoid comb filter effects. The pitch and loudness can be modulated. Multiply also offers an integrated equalizer and stereo width control, and there's even a pre-delay for diffuse echo effects.
Multiply is available for Windows 7 or higher and macOS 10.8 or higher in VST, VST3, AU and AAX formats.
Auburn Sounds Graillon 2 (free edition)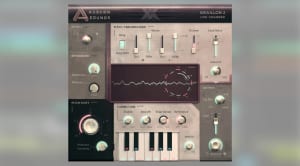 Graillon by Auburn Sounds is a pitch correction, pitch shifting and vocal transformation plug-in. Like many of the developer's plug-ins, it's available in paid and free versions. The free version offers a pitch shifter for transposing voices up or down and a pitch correction module for that popular robotic sound. By investing USD 29 in the full version, you get additional features like pitch-tracking modulation for all sorts of unique vocal effects and transformations.
Graillon 2 is available for Windows, macOS and Linux in VST, AAX, AU and LV2 formats.
QuikQuak Audio UpStereo
UpStereo by QuikQuak Audio is a free stereo enhancer with additional capabilities. The latest version supports multiple plug-in formats in 64 bits and offers several improvements over previous versions. You can adjust the stereo width from mono to normal to wide. UpStereo now also offers four loudness wave shapers, which saturate the mix to give it more perceived loudness, and simple Air and Bass boosters for giving those frequencies a subtle boost.
UpStereo runs on macOS 10.8 or higher and Windows 7 or higher in VST, VST3, AU and AAX formats (64 bit).
Videos
Image Sources:
acon-digital-multiply: Acon Digital / Gearnews
auburn-sounds-graillon-2: Auburn Sounds / Gearnews
quikquak-upstereo: QuikQuak Audio, Gearnews