Buyer's Guide: Best Mid-Range Audio Interfaces 2023
Looking to replace your cheap entry-level audio interface with something a bit more advanced? We've put together a guide to some of the best mid-range audio interfaces for home recording and music production.
When you first get into recording music, a simple, inexpensive USB audio interface with two inputs and two outputs can go a long way. Check out our guide to the best audio interfaces under €200 for some suggestions.
At some point, however, you'll likely find that two channels just don't cut it anymore. Or maybe you want to up your game with more professional-grade preamps and converters. In this guide, we check out some of the best mid-range audio interfaces in a price range of roughly 250 to 1000 euros. Most of them offer at least four inputs and four outputs, which gives you more flexibility for connecting your gear.
Should you buy a USB or Thunderbolt Audio Interface?
To make a long story short: USB, no question. USB 2.0 or 3.0 are the more sensible choice for most applications. Every computer has USB ports, and the advantages of Thunderbolt are only really noticeable in some very specific cases. Meanwhile, most manufacturers offer decent drivers for their USB interfaces, so the performance should be consistently good in this price range.
Whether the interface uses USB 2.0 or USB 3.0 doesn't really matter. The higher bandwidth of USB 3.0 is only really necessary for seriously high channel counts. And while USB 3.0 transmits data faster, it doesn't usually lead to a lower latency – a crucial difference that is unfortunately often confused.
Another advantage of USB is that most current USB interfaces also work with iOS devices. Find out more about audio interfaces for iPad and iPhone here.
Thunderbolt is fantastic, but it mostly exists in the Mac universe – and Macs are much more expensive, just like the interfaces themselves. And you can easily spend €100 or more on cables alone, which are better invested in the interface itself.
But there is one thing that can make Thunderbolt a good choice even for smaller interfaces: It can supply significantly more power, so high-quality interfaces don't need an additional power supply. And that's really cool, especially if you're on the road a lot. The best example of this is the Thunderbolt version of the Universal Audio Apollo Solo TB3.
Mid-Range Audio Interfaces: Microphone Inputs and Preamps
If you need to connect a lot of microphones or instruments, you should make sure that you have enough analog inputs. This way, you don't have to constantly unplug and reconnect stuff and nothing gets in the way of the creative flow.
In order to record vocals or acoustic instruments, you need microphone preamps – and powerful ones at that! There should be at least two of them, so that you can record in stereo. If you want to record a drum set or the whole band, you'll need significantly more preamps – and the microphones themselves! The Focusrite Scarlett 18i20 3rd Gen is a great choice for recording many microphones simultaneously without spending a fortune.
Mid-Range Audio Interfaces: Why You Should Have an ADAT Port
Digital ADAT, AVB, or MADI connections are another important consideration. While you'll mostly be using your interface's analog inputs and outputs for home recording, these connectors make it easy to add additional analog I/O or microphone preamps at a later date. Running out of preamps? Just connect an external 8-way mic preamp and converter like the Focusrite Clarett+ OctoPre to your interface's ADAT port. Similar solutions exist for adding more line inputs and outputs, e.g. the RME ADI-8 QS. Investing in an interface with an ADAT, AVB, or MADI option is a great way to future-proof your studio, with ADAT being the most widespread option.
Mid-Range Audio Interfaces: Instrument Inputs and Combo Jacks
Nearly all mid-range audio interfaces offer so-called instrument or Hi-Z inputs for passive instruments like electric guitars or basses. How many you need depends on how many instruments you want to record at the same time. Many interfaces offer XLR-1/4" combo jacks that let you connect either an XLR microphone or a line-level source or instrument via a 1/4" TRS or TS cable – albeit not simultaneously.
Mid-Range Audio Interfaces: How Many Analog Outputs Do You Need?
We've talked so much about the ins, let's move on to the outs. There should be at least one stereo output, so you can connect your monitor speakers. A headphone amplifier wouldn't be bad either – especially if you need to make acoustic recordings in the monitoring room. All of the interfaces presented in this guide have separate converters for headphones and speakers, so that you can prepare a separate mix for the musician. Two headphone outputs are even better, as is the case with SPL, Focusrite, and Steinberg.
If you want to connect a second pair of speakers, a second pair of line outputs can spare you the investment in a dedicated monitor controller. Some interfaces even have complete monitoring sections with buttons for speaker selection, talkback, and other functions. Additional outputs (and inputs!) are also needed to send signals to analog outboard gear for processing. The same applies to surround setups: A 5.1 setup requires six outputs for monitoring alone.
Direct Monitoring and DSP effects
If you want to record, you have to be able to hear yourself. This is called monitoring. And if the signal you're recording has to go through the computer first before you can hear it, there is usually an unpleasant delay. This latency can really get in the way of a good recording – to the point where singing or playing becomes impossible. For this reason, all of the interfaces on this list offer hardware-based direct monitoring. This means that the signal from the input(s) is routed directly to the speakers or headphones, without passing through the computer.
Some interfaces even offer DSP effects. In contrast to plugins running in your DAW, these effects are processed by the interface itself, which means that you can apply them to your monitor signal with virtually no latency. Want to add some EQ, compressor, and reverb to the voice during recording to give the singer a better feel for their voice? No problem!
And the Winners are: RME, MOTU, Universal Audio
The most important brands in this price segment are without a doubt RME, MOTU, and Universal Audio. All of them are established manufacturers that also make more expensive, professional-grade audio interfaces.
RME and MOTU are compatible with both Mac and Windows machines. With Universal Audio (UA) interfaces, you have to check on a case-by-case basis. The good news is: About €500 can get you a really good mid-range audio interface that's a big step above beginner devices. The bad news: You can no longer blame the interface for a bad sound!
MOTU Ultralite mk5: All-rounder with plenty of I/O
The MOTU Ultralite mk5 offers plenty of connectivity. The preamps are neutral and powerful and the converters are top-notch.
In addition to USB, the MOTU Ultralite mk5 also offers an optical ADAT / TOSLink port, so you can add additional inputs and outputs later. Furthermore, the Ultralite doesn't use one of those dreaded breakout cables, has plenty of hardware controls, and even offers a sophisticated DSP console with effects. The direct competitor from RME in terms of features is the Fireface UCX II, but that interface costs almost twice as much, which is why I haven't included it here.
Universal Audio Apollo Solo with UAD-2
The Universal Audio Apollo Solo comes in USB and Thunderbolt 3 varieties (Caution: the USB version only works with Windows computers!). In addition to being a very good interface in and of itself, it's the most affordable entryway to the UAD 2 ecosystem – a selection of plugins that run on the interface's DSP chip without placing a load on your CPU. While the Apollo Solo's single DSP won't be able to run your entire mix, it's definitely powerful enough for throwing some high-quality effects or amp simulations on a couple of microphones or guitars while tracking. Speaking of microphones, the UA Apollo Solo also offers a pair of excellent preamps.
While some other manufacturers offer significantly more I/O for the price, you won't get the proprietary UAD-2 effects, which are only available from Universal Audio. Thanks to the Thunderbolt 3 port, the TB3 version runs on bus power, which is extremely convenient for travel. The USB version, however, does require an external power supply.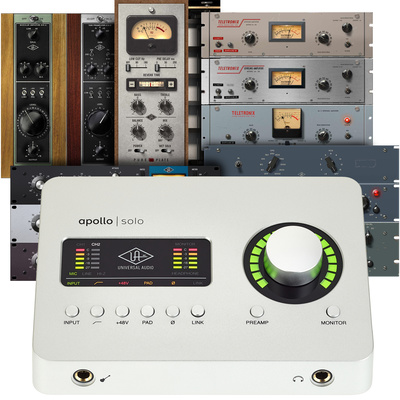 Universal Audio Apollo Solo USB Heritage Ed.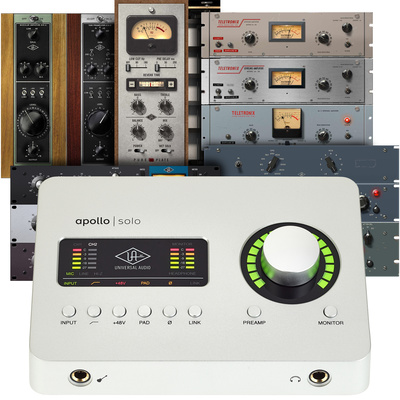 Universal Audio Apollo Solo TB3 Heritage Ed.
RME Babyface Pro FS: Stable and fast Drivers
We've already mentioned RME a few times, so it goes without saying that something from this manufacturer must appear in this overview. Unfortunately, RME interfaces aren't cheap: the compact Babyface Pro FS desktop audio interface with four analog inputs and outputs is the only one that fits in the price range we've set for this article. Like all RME interfaces, it comes with first-class converters and drivers. RME also has a reputation for providing long-term support for its hardware. The newer Babyfaces have built-in connectors for the analog I/O; only the MIDI ports are still on a breakout cable. You also get an ADAT port for future expansion. Other highly recommended mid-range audio interfaces from RME are the Fireface UCX II and Fireface 802 FS, but both of them are well above the price limit.
Focusrite: Lots of Choices and Affordable Prices
Focusrite offers one of the biggest selections of audio interfaces in the entry-level and mid-range segments. If you're looking for a mid-range audio interface with plenty of analog I/O, this is probably the way to go. One popular and affordable option is the Scarlett 18i20, which offers eight microphone inputs with preamps for just under €500. Keep in mind, though, that the smaller interfaces of the Scarlett series have just been updated, so a 4th-generation Scarlett 18i20 could be around the corner.
One step above the Scarlett is the Clarett+ 8Pre audio interface from Focusrite's mid-range Clarett series. At a street price of about €800, it boasts eight Clarett preamps, which are based on the classic ISA110. Both have many hardware controls but are otherwise quite straightforward, so they're perfect for bands and owners of small studios.
If you only need two preamps and are looking for a more compact interface with an ADAT expansion option, the Clarett+ 2Pre is a good choice for under €400.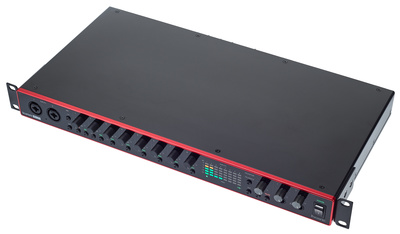 Focusrite Scarlett 18i20 3rd Gen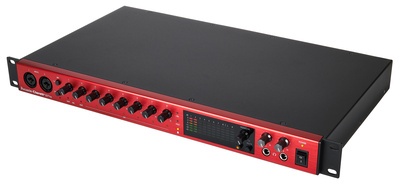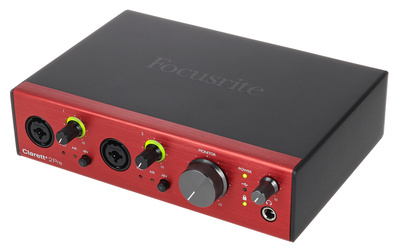 SSL 12
Although SSL is without a doubt one of the biggest names in analog recording gear, the manufacturer is still relatively new to the USB audio interface market. SSL recently introduced the SSL 12 – a well-equipped mid-range desktop audio interface with four preamps, a very well laid-out monitoring and talkback section, and an ADAT input for expansion.
More about Audio Interfaces
Videos about the Best Mid-Range Audio Interfaces
Note: This article was originally published in German on bonedo.de.
Note: This post contains affiliate links and/or widgets. When you buy a product via our affiliate partner, we receive a small commission that helps support what we do. Don't worry, you pay the same price. Thanks for your support!
Image Sources:
MOTU Ultralite mk5: MOTU
Universal Audio Apollo Solo: Universal Audio
RME Babyface Pro FS: RME
Focusrite Clarett+ 8Pre: Focusrite
SSL 12: SSL