Top 5 Audio Interfaces for 2016
This has been quite a year already of newly released or updated audio interfaces. Tremendous advancements in quality, connectivity, feature-for-pound, and mobile use have made choosing the right audio interface similar to that of a small child standing in a candy shop. So here are my Top 5 audio interfaces recommendations, selected from the new releases this year. I'm confident that there is a solution for your own scenario here which won't disappoint, but I'm still waiting for the ultimate device…
In no particular order:
Focusrite Red 4Pre
In Focusrite's own words the Red 4Pre  "is the best interface they have ever built". It is probably the one product here that combines so many technologies in one tidy unit, and is built to very high specifications. This is the first product of it's kind to bridge the gap between Thunderbolt connectivity and AoIP via Dante networking. It also supports Pro Tools HD direct connectivity, and with dual Thunderbolt ports it's virtually got all bases covered. High-quality is the name of the game here, with 4 of the latest and greatest pre-amps from Focusrite's Red range, along with their highest spec converters to date (which I can vouch for sounding phenomenal). The user interface and software is easy to use and flexible, my only wish would be to host some more detailed mixing features with greater on-board DSP power. However this is a small pick at what is sure to be one of this years most exciting product releases.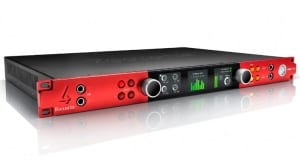 For more information, visit the Focusrite Red 4Pre webpage, or read my post on Gearnews from it's initial announcement back in March.
Prices for the Focusrite Red 4Pre are around 2,087.79 GBP.
MOTU Ultralite AVB
Following in the footsteps of their 1248 1U interface, the Ultralite AVB is a more compact and affordable solution. This smaller offering released earlier this year has 2 mic pre-amps, several line level I/O connections, and optical ADAT expansion bringing the total channel count to 18 in and out. I've included this product in the list as a representative of another AoIP protocol, which in this case is AVB. Whilst this might not be everyone's first choice, it has allowed MOTU to develop the device to host its own web page for remote control rather than a piece of software. This means the unit, with it's rather extensive DSP engine can be remotely operated, even via wifi.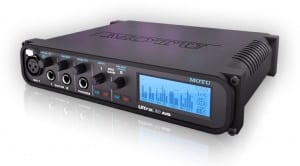 For more information, visit MOTU's webpage.
Prices for the MOTU Ultralite AVB are around 549.99 GBP.
Universal Audio Apollo Twin (USB)
Universal Audio Apollo interfaces are well established as being some of the highest quality audio interfaces available which boast on-board DSP processing. Their plugins are generally regarded as some of the best money can buy – with fantastic emulations of well respected analogue audio hardware. The on-board DSP in these devices coupled with their own 'Console' software, enable you to record with a selection of modelled pre-amps, or even entire channel strips in realtime. This year saw the introduction of a USB3 version strictly for Windows users to join the party. It's just a shame that the USB version isn't cross-platform compatible.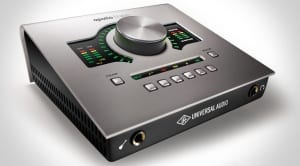 For more information, visit the Universal Audio Apollo Twin USB webpage, or check out my news item on Gearnews when the Windows version was finally announced.
Prices for the UAD Apollo Twin USB are around 672.21 GBP.
Antelope Orion Studio
Antelope have been developing high-end studio products for many years now, with their dedicated master clocks being hailed as some of the most accurate. They have actually released a whole new line of interfaces this year, with the Orion being the middle ground option from their audio interface range. Check out the news we posted about the Zen Tour interfaces here. The notable difference with most Antelope products is their attempt to always offer something more than the competition. In this case, the Orion has an impressive channel count thanks to it's dual optical ADAT connections, and is rare in offering both USB and Thunderbolt connectivity. The new control software with this product is potentially the most flexible of all the interfaces available today, even allowing you to track inside your DAW a processed and unprocessed signal for the same input. There is a surprising amount of DSP power inside the Orion, which I applaud as I don't believe the days of external DSP are over yet.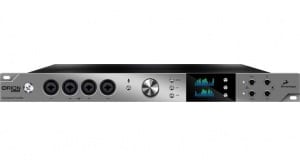 Check out the Antelope Orion Studio webpage.
Prices for the Antelope Orion Studio are around 2,219.29 GBP.
RME MADIface Pro
Lastly, but certainly not least, is RME's MADIface Pro. I would never hesitate to recommend any of RME's latest products due to their quality control and reliability of their products. The Germans have been building successful interfaces for years now, and their knowledge of the technicalities involved is what you are buying into here. I used a Babyface Pro at the beginning of the year which is where this MADIface Pro is taken from, with the change of the optical ADAT I/O to optical MADI I/O. This gives you the same high quality analogue 4 in, 4 out with 64 channels of MADI, making this the highest channel count in the smallest form factor on our list. The latest TotalMix software is amongst the most powerful and easiest to use compared with any other interface.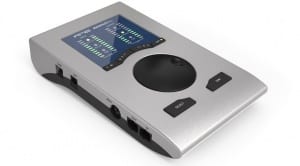 See RME's MADIface Pro webpage here.
Prices for the RME MADIface Pro haven't been officially announced yet, but early predictions place it around 900 GBP + VAT. This seems like quite a lot however, as the Babyface Pro is around 553.08 GBP.
But what about…?
I'd also like to make a note, that there are some other really strong contenders that haven't made the cut here. This is partly because I was trying to offer something for everyone across a range of budgets, and limit it to current 2016 releases. If budget isn't an issue for you, then don't forget to look at the new Apogee Symphony I/O MkII, or at the other extreme there's the Apogee ONE, which now includes a cheaper MAC only version. The ONE is great value for money when you consider it offers a high quality built-in mic and is ideal for mobile connectivity. See my previous news items about each of these interfaces here:
Apogee Symphony I/O MkII
Apogee ONE for Mac
There was also the danger of the entire list being nothing but Focusrite units, as their new 2016 products are some of the best sounding devices I have heard. The Clarett range have the same pre-amps as found in the Red 4Pre mentioned above, and have Thunderbolt connectivity for extremely low latency. The Clarett 2Pre and 4Pre are surprisingly portable considering the quality of pre-amps and converters on offer. My reasons for not including these units in the list (besides avoiding a 'Top 5 Focusrite interfaces'), is the software which is very easy to use, but limited on functions compared to the likes of RME's TotalMix, and the lack of dual Thunderbolt ports for daisy-chaining devices.
The Ultimate Audio Interface?
As someone who works in both live sound and the recording world, I'm not 100% sold on any solution myself. I believe that I'm not alone in this changing market, and I meet more people working in both live sound and the studio everyday. What's more, live sound consoles such as the Behringer X32 have brought the cost of digital consoles down to a level which is affordable by an individual and comparable to some the interfaces mentioned above. Often equipped with a USB or Dante connection, these obviously also make great interfaces. Unless of course, you are concerned about portability or choice of sample rate, as all the budget digital mixing solutions I am familiar with are set to 48kHz sample rate – and won't support anything else. So many will quite rightly point out that these mixers can't really be classified as audio interfaces. I'm also not going to recommend the X32, as I'm a fan of Soundcraft's new Si Impact which is a very similar spec, but with more features and higher quality for not that much more money. I would just like to see the incorporation of DAW remote control and switchable sample rates.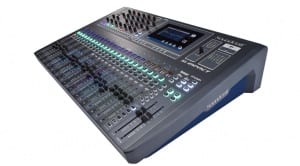 Continuing the idea of this concept to have a device that meets the needs of a high quality interface with a portable mixing solution, there are some signs of this evolving already. In fact, the MOTU Ultralite mentioned above, and the MOTU 1248 released before 2016 are nearly there. I'm just slightly disappointed in their choice of AVB as the best protocol for AoIP. Another device that's built around a similar concept is the brand new Tascam US2020. I just can't recommend it, because I haven't used or seen one in action yet. It also doesn't support any expandable I/O or other AoIP service. Either way, I find these types of products really exciting and hopefully one day there will be an all-singing, all-dancing product that is perhaps a 1U rack unit with an optional hardware controller for some real faders. Mackie were nearly there with the DL32R and the Axis system, but I don't think the pre-amps are sufficient for studio recording, and the built-in effects for live sound aren't great, not to mention the lack of supported sample rates.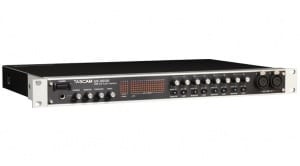 Image Sources:
Focusrite Red 4Pre Interface: uk.focusrite.com
MOTU Ultralite AVB Interface: motu.com
UAD Apollo Twin USB: uaudio.com
Antelope Orion Studio Interface: vintageking.com
RME MADIface Pro Interface: rme-audio.de
Soundcraft Si Impact Mixing Console: soundcraft.com
Tascam US2020: tascam.com