The best audio interfaces under €200 – Great sound on a Budget!
Need an audio interface, but don't want to spend a fortune? Check out our list of the best audio interfaces under €200! We've picked five budget audio interfaces that offer everything you need to record your own music, podcasts, and more.
What's the best audio interface?
With so many options out there, choosing the right audio interface for home recording can be confusing. But don't worry – you don't have to break the bank to get decent recording quality anymore. These days, even some of the cheapest interfaces offer sample rates of up to 192 kHz. But there are a couple of things to keep in mind.
Some of the most affordable audio interfaces offer just one microphone input, sometimes with a second input for instrument and/or line signals. While this may seem like an ideal setup for singer/songwriters, I'd advise against it if at all possible. Sooner or later, you're inevitably going to find yourself in a situation where you need to record two microphones at the same time. Interfaces with two microphone inputs and preamps offer much more versatility for a wider variety of recording situations.
Monitoring is another key factor that can greatly affect your workflow. While nearly all audio interfaces now offer direct monitoring (meaning that you can hear yourself without any latency while recording), the way it's implemented varies between manufacturers. Some interfaces offer convenient blend knobs for adjusting the balance between your input signals and the backing tracks from your DAW, while others require you to use a software mixer to make these adjustments. So it's best to think about what you prefer before you choose an audio interface.
Compatibility and software
If you're going to be using your interface with your iPad, iPhone, or another mobile device, it's a good idea to check for compatibility. While most, if not all, current interfaces work on Macs and Windows PCs straight out of the box, that's not always the case for tablets and smartphones. Check that your interface supports the devices you're going to be using it with, and how it'll be powered (a separate power supply is often required).
Lastly, take a look at the software packages that come bundled with the interfaces. While most manufacturers throw in at least an entry-level version of a DAW such as Ableton Live Lite, some interfaces come with extensive collections of software instruments and effect plugins. If you're just starting out, a decent-sized software package can go a long way!
So, without further ado, here's our list of the best audio interfaces under €200.
Focusrite Scarlett 2i2
The various models of the Focusrite Scarlett range have been making lists of the best audio interfaces for a long time, and there's a reason for that. All models feature high-quality converters that run at up to 192 kHz / 24 bit. You also get Scarlett microphone preamps with phantom power and an Air mode that emulates the Focusrite ISA preamp, as well as easy direct monitoring at the push of a button. The 3rd-generation Scarlett interfaces use USB-C and are bus-powered. The most popular model, the Scarlett 2i2*, offers two combo inputs for microphones, guitars, or line-level sources, two line outputs, and a headphone output. Focusrite even throws in the Hitmaker Expansion – a large plugin collection designed to get you started right away. A tried-and-true solution for any small studio – you just can't go wrong with a Scarlett.
Behringer U-Phoria UMC202HD
If you're on a tight budget, the Behringer U-Phoria UMC HD series is a good option. Despite their unbelievably low price, these USB 2.0 interfaces convert at up to 192 kHz / 24 bit. The UMC202HD* gets you two combo inputs with MIDAS-designed preamps for mic, instrument, and line signals. A Direct Monitoring button ensures that you can hear yourself without any latency while recording. The UMC202HD also has a stereo line output and a headphone output. If you need more inputs and/or outputs, check out the UMC204HD and UMC404HD, both of which are also under €200.
Universal Audio Volt 2
The inexpensive UA Volt series is an excellent choice if you don't want to spend a ton of money, but still want the audio quality and professional features Universal Audio is known for. While they don't offer all the bells and whistles of the manufacturer's pro-level Apollo series, the Volt interfaces have everything you need to capture vocals, guitars, and everything else in pristine quality. The Volt 2* offers two high-quality microphone preamps with a Vintage mode inspired by the legendary UA 610. Both inputs can also take instrument or line-level signals. You also get phantom power, direct monitoring, a pair of line outputs, and MIDI. That Universal Audio sound has never been more affordable.
Arturia MiniFuse 2
The Arturia MiniFuse series was designed as a more affordable alternative to the manufacturer's excellent AudioFuse interfaces, and it has a lot going for it. In addition to two mic/inst/line inputs, the MiniFuse 2* offers direct monitoring with a mix knob for blending the input signals and the playback from your DAW. There's also a Direct Mono knob that ensures that mono sources are always in the center of the stereo image while monitoring. The MiniFuse 2 also offers MIDI, and there's an extra USB-A port that lets you connect an additional device such as a controller directly to the interface. Great idea!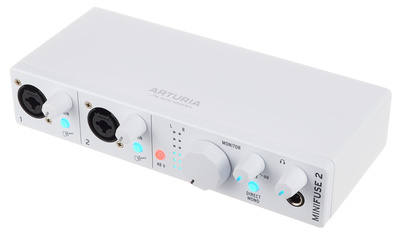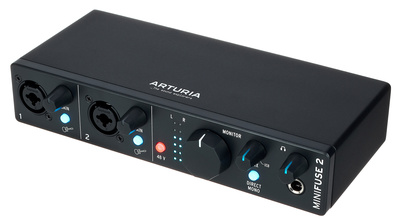 SSL 2
Solid State Logic (SSL) is another legendary manufacturer of high-end studio gear that recently ventured into more affordable options for home recording and small studios. Not too long ago, the idea of being able to purchase a genuine piece of SSL hardware for less than 200 bucks would've seemed like wishful thinking. Not anymore!
In addition to XLR-1/4" combo inputs and mic preamps, each of the two input channels of the SSL 2* offers a "4K" switch that emulates the characteristic sound of the SSL 4000 console. You also get two line outputs, a headphone output, and a Monitor Mix knob for adjusting the balance between the direct monitoring signal and the backing tracks from your DAW. While it's the most expensive interface covered here, the SSL 2 puts SSL right on the list of the best audio interfaces under €200 – who would've thought?
Videos about audio interfaces
* This post contains affiliate links and/or widgets. When you buy a product via our affiliate partner, we receive a small commission that helps support what we do. Don't worry, you pay the same price. Thanks for your support!
Image Sources:
Focusrite Scarlett 2i2: Focusrite
Behringer UMC202HD: Behringer
Universal Audio Volt 2: Universal Audio
Arturia MiniFuse 2: Arturia
SSL 2: SSL