The Arturia MiniFuse 4 audio interface is now available
To round off an eventful night, Arturia has announced that the MiniFuse 4 USB-C audio interface is finally available. Originally announced alongside the MiniFuse 1 and 2 last year, the MiniFuse 4 offers two additional inputs and outputs, as well as some other extras.
Like the MiniFuse 1 and 2, the Arturia MiniFuse 4 is a bus-powered USB-C audio interface. In addition to two microphone inputs with preamps on the front side, it offers an extra pair of line inputs on the back. There are also four outputs compared to just two on the smaller models. The MiniFuse 4 also adds a second headphone output with independent volume control, which is great for podcasting, among other things. You also get MIDI In/Out and the option to power the interface using a power adapter instead of the USB-C connection. And like most Arturia audio interfaces, it also works as a USB hub with two USB-A connectors for your controllers or other gear. I always thought that was a genius idea.
You can order the Arturia MiniFuse 4 from Thomann* for €219. It should ship within a few weeks.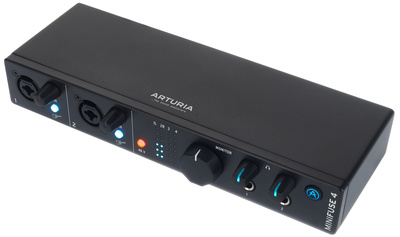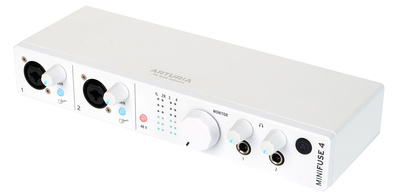 Arturia MiniFuse audio interfaces (original article from 28 September 2021)
All three new Arturia MiniFuse interfaces are available in black or white. They all offer a USB-C connection and are compatible with macOS and Windows. The free Control Centre app provides access to all settings and firmware updates.
The interfaces run on USB-C bus power. The MiniFuse 4 also offers a connection for an optional DC power supply. Arturia is known for providing a USB hub on its interfaces, and the new MiniFuse series are no exception. The MiniFuse 1 and 2 each have one USB-A port for connecting MIDI controllers or other devices, while the MiniFuse 4 offers two.
Another feature is especially useful for podcasting and streaming: All three MiniFuse interfaces offer a virtual loopback channel, which is great for recording phone calls or gaming audio, for example.
The included software package features Ableton Live Lite, Arturia Analog Lab Intro, Arturia FX, Native Instruments Guitar Rig 6 LE and free 3-month subscriptions to Auto-Tune Unlimited and Splice.
MiniFuse 1, MiniFuse 2 and MiniFuse 4
Now, lets talk about the differences, which lie mainly in the input/output configuration. The MiniFuse 1 offers a single XLR-1/4" combo jack for microphone, instrument or line signals. The MiniFuse 2 has two of these, while the MiniFuse 2 offers two 1/4" line inputs in addition to two XLR-1/4" combo jacks. All MiniFuse interfaces offer phantom power for powering your condenser microphones.
The MiniFuse 1 and MiniFuse 2 each offer two line outputs, while the MiniFuse 4 has four. The top-of-the-line interface also adds a second headphone output, while the two entry-level models only offer one.
The MiniFuse 1 doesn't offer MIDI. The MiniFuse 2 and MiniFuse 4 each offer MIDI In/Out on traditional 5-pin DIN connectors.
Prices and availability
The Arturia MiniFuse 1, MiniFuse 2, and MiniFuse 4 are available at Thomann*.
More information about Arturia
Videos
* This post contains affiliate links and/or widgets. When you buy a product via our affiliate partner, we receive a small commission that helps support what we do. Don't worry, you pay the same price. Thanks for your support!
Image Sources:
Arturia MiniFuse 1, MiniFuse 2 and MiniFuse 4: Arturia
MiniFuse 1: Arturia
MiniFuse 2: Arturia
MiniFuse 4: Arturia