Arturia Minifuse Recording Pack: A complete budget recording bundle
The Arturia Minifuse Recording Pack is a complete solution for recording on a budget. With the Minifuse 2 interface, the CM1 microphone, the HF1 headphones, and a range of software to get you started,
What's included in the Arturia Minifuse Recording Pack?
MiniFuse 2 – Audio Interface
The MiniFuse 2 is a compact and bus-powered 24-bit 192 kHz audio interface with 2 XLR combo inputs which can be switched between mic preamps and instrument inputs. It also provides a headphones output with direct monitoring as well as MIDI I/O.
CM1 – Condenser Microphone
With the CM1, Arturia has designed a simple but effective cardioid condenser microphone that includes both a shockmount and pop filter to avoid sibilance, plosives, and other incidental noise. Phantom power is required, which is provided by the MiniFuse 2.
The HF1 closed-back headphones are designed for monitoring while you record, but you can also use them for mixing, production, DJing, or just listening to your favourite artists.
A minijack adapter is also included in the bundle, and a 3-meter XLR mic lead.
In addition, there range of included software such as Analog Lab Intro, Ableton Live Lite, and Native Instruments GUITAR RIG 6 LE.
You also get a range of Arturia's effects plug-ins like Rev PLATE-140, Pre 1973, Delay TAPE-201, Chorus JUN-6, as well as 3-month subscriptions for Auto-Tune Unlimited and the Splice Creator Plan.
Overall this looks like a great solution for beginners, whether you're interested in music production or streaming and content creation.
Pricing and availability:
The MiniFuse Recording pack is now available from Thomann.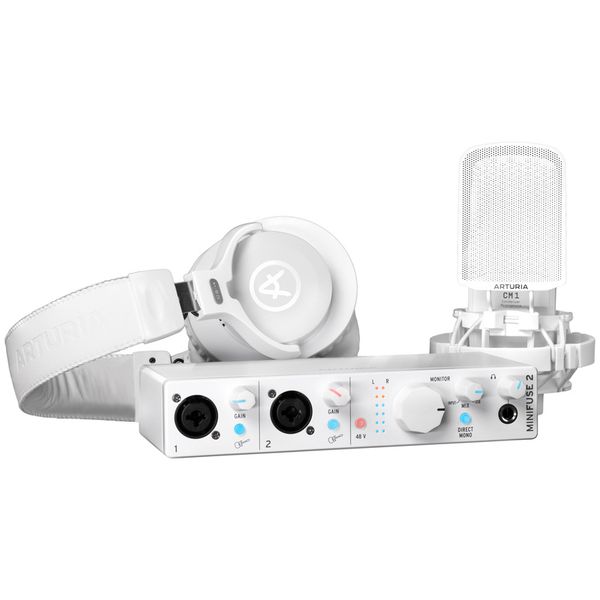 Arturia Minifuse Recording Pack (White)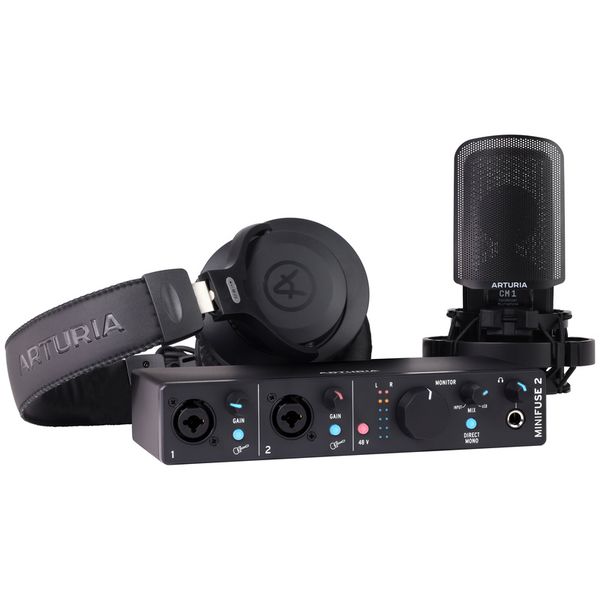 Arturia Minifuse Recording Pack (Black)
More about Arturia Minifuse Recording Pack:
Video:
*This post contains affiliate links and/or widgets. When you buy a product via our affiliate partner, we receive a small commission that helps support what we do. Don't worry, you pay the same price. Thanks for your support!
Image Sources:
The Minifuse Recording Pack is available in both black and white.: Arturia
arturia-minifuse-recording-pack-white-widget: Thomann
arturia-minifuse-recording-pack-black-widget: Thomann