7 Guitar Effects Pedals you need to know
There are thousands of effects pedals out there – but a few of them are true classics. Just like the Stratocaster or Les Paul or the famous Fender Twin or Marshall Plexi amps, some pedals have achieved truly legendary status. In this article, we introduce you to seven guitar effects pedals that you should definitely know.
Cry Baby Wah Pedal
In 1966, the legendary Thomas Organ/Vox Cry Baby hit the market, and icons like Jimi Hendrix, Eric Clapton, and Jimmy Page made it famous. Jim Dunlop secured the naming rights in the early 1980s and ever since then, the original wah pedal has been manufactured under the name Dunlop Cry Baby. In the extended Cry Baby family, Dunlop now offers various custom wah and signature models in addition to the standard GCB95 model.
Cry Baby Playlist:
Jimi Hendrix: Voodoo Child
Jimi Hendrix: All Along The Watchtower (solo in the middle part)
Ibanez

Tube Screamer

This little green box is one of the most frequently copied distortion generators of all time. When the TS-808 with its characteristic square metal footswitch first saw the light of day in 1979, it was one of the first distortion pedals to deliver relatively light and harmonic-sounding distortion. Stevie Ray Vaughan loved the Tube Screamer and often had two of them in use, which he often connected in series for more violent sounds.

The Tube Screamer also lends itself very well to driving an already distorted amp a little further into the higher distortion range, a popular technique among some players of heavier styles, whom you might not immediately associate with the subtle overdrive of the Tube Screamer. Furthermore, the overdrive works very well as a lead boost.
Digitech

Whammy Pedal

The red Whammy pedal was a true showstopper when Digitech launched it in the 1990s: a pitch shifter and harmonizer whose effect was controllable by a pedal in real-time. The Whammy pedal lends itself to some very wacky effects and one of its chief protagonists was Tom Morello, who used it to record several famous guitar solos. Other iconic guitarists who have played the red pedal are Steve Vai, Joe Satriani, and even Jack White, who used it for the bass sound in the verse on "Seven Nation Army".

Whammy Pedal Playlist:
Rage Against The Machine: Killing In The Name (Solo)
Audioslave: Like A Stone (Solo)
Electro Harmonix Big Muff
The Big Muff is a distortion pedal launched by Electro Harmonix under the direction of mastermind Mike Matthews in 1970. At that time, there were no high-gain amps, and "real" distortion was only possible by cranking the amps of that time to extremely high volumes. The Big Muff arrived just in time and provided authentic sawtooth distortion that wasn't achievable with an amp alone.
First and foremost, the Big Muff's generous sustain makes it a preferred choice for solos. To this day, there are many incarnations of this legendary pedal, which is still manufactured by Electro Harmonix. Many modeling multi-effects also emulate its sound. Stylistically, the use of this distortion pedal is very broad, as evidenced by the list of its users, including guitar greats such as Carlos Santana, The Edge, Jack White, Dan Auerbach (Black Keys), and David Gilmour.
Big Muff Playlist:
Pink Floyd: Comfortably Numb (Solo)
Boss CE-1 Chorus
In 1975, the Japanese manufacturer Boss released the JC-120 amp. The transistor combo quickly became very popular, in part thanks to its built-in chorus/vibrato effect. Consequently, the manufacturer pulled the effect circuitry from the JC-120 and brought it to market one year later as the first stand-alone chorus pedal under the name CE-1.
It was a big beast that you could switch from chorus to vibrato with a touch of the foot. The warm-sounding modulation sound of this pedal became the blueprint for many devices from the same manufacturer and, of course, for countless replicas by other pedal makers. The original was used by many guitarists on stage and in the studio. Among others, Andy Summers, John Frusciante, and Metallica spiced up their clean sounds with it.
CE-1 Playlist:
Metallica: Nothing Else Matters
Electro Harmonix Memory Man
Another pedal legend from Electro Harmonix is the Memory Man, a delay effect pedal based on a so-called bucket brigade device (BBD). When it came out in 1976, it was the first delay effect in a pedal format. The original model was a pure echo effect with three controls and a maximum delay time of 300 ms.
Later, Electro Harmonix decided to enrich the echo sound with chorus and vibrato, resulting in the popular Deluxe Memory Man. This pedal is capable of a maximum delay time of 550 ms and is all over on older recordings by U2. The Edge is known to have used two Memory Man pedals in parallel, which he sent to two Vox AC30s with different settings.
Memory Man Playlist:
MXR Phase 90
Another true classic modulation effect is the Phase 90 by the American manufacturer MXR – and not just because its sound is very easy to adjust with just a single knob. Phase 90 pedals from the first production era in the 1970s that bear the company's cursive logo are very high up on the wish lists of vintage gear aficionados and fetch astronomical prices on the used market. The Phase 90 comes in different models and there are also various reissues. David Gilmour and Eddie Van Halen are probably the most famous players to record with this orange phaser pedal.
Phase 90 Playlist:
Pink Floyd: Shine On You Crazy Diamond
Van Halen: Ain't Talkin' Bout Love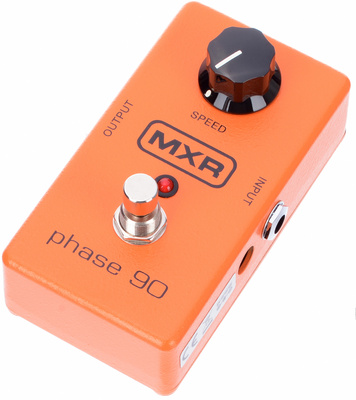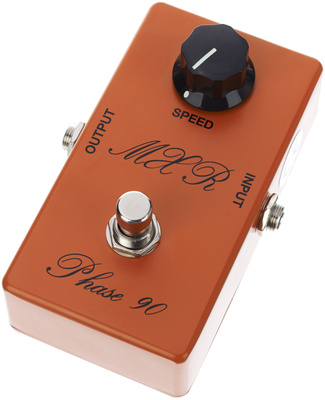 MXR 1974 Vintage Phase 90
More about Guitar Effects Pedals
This article was originally published in German on bonedo.de.
* This post contains affiliate links and/or widgets. When you buy a product via our affiliate partner, we receive a small commission that helps support what we do. Don't worry, you pay the same price. Thanks for your support!
Image Sources:
Dunlop Cry Baby Wah Pedal: Bonedo
Ibanez Tube Screamer TS808DX: Bonedo
Digitech Whammy 4: Bonedo
Electro Harmonix Green Russian Big Muff: Bonedo
Boss CE-1: Bonedo
Electro Harmonix Deluxe Memory: Bonedo
MXR Phase 90: Bonedo