The Best Budget FX Pedals Under €50 – Bargain Stompboxes for all!
The Best Budget FX Pedals Under €50
So, you've got your guitar, your amp. Is there something missing from your inventory? There are hundreds of pedals on the market. It is hard to know where to look, and how much to spend. Don't worry though! If you're buying for yourself or a loved one, here are the best budget FX pedals under €50.
Effects pedals can reform and refine your tone. Need a bit more fuzz in your life? Perhaps you need some delay for your solos? Guitar pedals give you what you need to complete your sound. If this is your first pedal, or another to add to your board of dreams, stick around…
Harley Benton Mini Stomp Fuzzy Logic
Let's start with this mini fuzzy logic pedal from Harley Benton. Pocket sized, so will fit nicely into your gig bag on the way to band practice. For an authentic sound, this pedal takes inspiration from other, more expensive fuzz pedals designed to make you sound like Hendrix.
A true bypass when switched off reduces signal interference. When you're rocking out, you'll be able to control the volume and overall fuzz from this pedal. A solid metal chassis ensures durability; feel free to stamp on and off all night long.
TC Electronic – The Prophet Digital Delay
A delay pedal is the perfect tool to change your sound from sitting room to stadium. Once you've honed your skills with this pedal, a new era of playing will begin.
Three controls allow you to adjust the time, mix and delay repeats which can be up to 1300ms of delay time. So if you want the full Pink Floyd or just some added echo you're all set. The true bypass means you won't suffer from parasitic signal loss when bypassed.
With the added benefit of battery-powered operation, why not play anywhere…anywhere…anywhere…
Behringer DR600 Digital Reverb
Next up, a personal recommendation for a great budget reverb pedal. Welcome appointments include:
Spring
Plate
Hall
Gate
Room
These different types of reverb will set you up for any occasion, from surf guitar crashes to stadium-size spaces. All of the reverb types can be adjusted for intensity and time. Great value, whether you're adding this to your existing pedal board, or plugging it into your practice amp.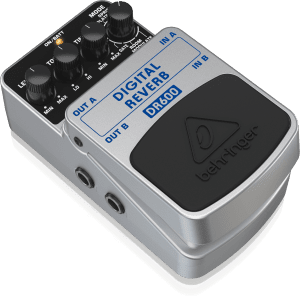 Behringer FX600
Concluding our list of the best budget FX pedals under €50 is this digital multi-fx from Behringer. If, like me, you want a taste of everything without the hassle then this is the pedal to go for.
One pedal gives you access to flanger, chorus, phaser, delay and tremolo, effects, all inside this petite package. 24-bit processing means it sounds much better than you'd expect for the money, too!
Finally, don't forget to buy some patch cables, if you're running more than one pedal! This six-pack of patch leads from Thomann represents great value for money.
Image Sources:
Harley Benton Mini Stomp Fuzzy Logic: Thomann
The Prophet Digital Delay: Thomann
DR600_P0597_Left_XL: Behringer
Behringer FX600: Behringer