The Best Value Tube Guitar Amps – 5 amps for all budgets and tones
Five tube amps you should check out if you are looking for value for money
The Best Value Tube Guitar Amps is our guide to five guitar amps that should be on your radar. Each offers guitarists great tones, flexibility and value for money. A good tube amp will be a core part of your tone, so buying a decent one will pay dividends. 
The Best Value Tube Guitar Amps
The world of guitar tube amps is pretty crowded these days. Many manufacturers offer modern-day recreations of vintage classics, hybrid designs with even-more functionality than ever before and handy onboard technology to help you capture those sounds live on in the recording studio.
Which ones should you look at and what should you look for? This will depend a lot on the situations where you require an amp. There are now tube amps perfect for home use, studio work and gigging. How flexible does your amp need to be for your use and where will you be using it?
Plus, are you looking for simplicity, or do you need all the bells and whistles?
I'm a firm believer in 'less is more ' and getting to know your gear. This won't work for everyone though, as some players have complex setups that require channel switching, MIDI control and multiple gain stages, etc
In this article, we shall check out some of the key tube amps that give musicians value for money and are a great starting point for what is out there. It is not definitive, as we could be here all year looking. What it does offer though, are some solid choices you should know about.
Fender 65 Twin Reverb
This Fender 65 Twin Reverb is a modern-day recreation of a '60s tube amp that has been a firm favourite of guitarists for many years.  This 85-watt combo is ideal for players that gig and record. It is a 2 x 12 loaded with a pair of 12″ Jensen C12K 8 ohm speakers, which means it is quite heavy, but if you want a great tone, then it is worth its weight in gold.
Key features are the onboard spring reverb, vibrato and twin channels.
Vintage Vibrato
This two-channel combo has a normal channel with Volume, Treble, Middle and Bass. This is paired with a vibrato channel with controls for  Volume, Treble, Middle, Bass and Reverb plus Speed and Intensity for the vibrato and a Bright switch for each channel.
With a set of tilt-back legs that allow you to aim it upwards towards your ear, this somewhat large amp is a glorious sounding thing and a great platform for pedals.
This is a stone-cold classic tube amp and will no doubt last you for your lifetime. If you want that classic Fender tone, then here is where you should start looking. Original vintage amps nowadays are very expensive, and also cost a lot of money to maintain. This modern-day American-made amp will serve you well and I highly suspect you will have a huge smile on your face when you crank it up.
MSRP – USD 1949/GBP 1845 *
Friedman JJ-Junior Head
Next up is the Friedman JJ-Junior Head and this 20-watt head is a beast. It is also feature-packed for what is a relatively simple tube amp and has some great features for anyone wanting to use it at home, in the studio or for playing live. Dave Friedman designs a great tube amp and this collaboration with Jerry Cantrell of Alice in Chains fame should certainly be on your radar.
Recording Made Easy
Don't be fooled by that simple front panel as this amp head is full of great tube tones. I also love that it comes with both a speaker-simulated XLR output and an internal load for noiseless playing and recording.
They also have the ultra-transparent buffered effects loop, plus Clean and Dirty channels that are both super flexible. Friedman amps are built like tanks and this little amp head should last you a lifetime. If you prefer combos, then you are in luck as they also do it as a 1×12 * loaded with single 12″ Celestion 16 Ohm G12M.
MSRP – GBP 1777 *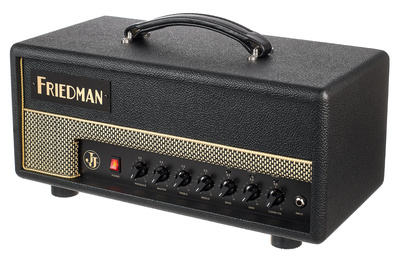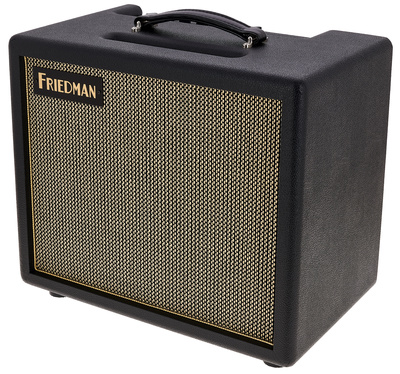 Orange Dual Terror Head
Another small head and this time it is the Orange Dual Terror Head an amp that every guitarist should try at least once in their lives. Offerings two channels and rated a 30-watt output. These amps are an absolute blast to play through loud at gigs. It is a real 'grab and go' amp, designed to make gigging easy and fun.
British Tone
These are dirty little amps, with a really tasty British amp tone that makes you want to play loud. They do clean to crunch and take effect pedals really well. Again, the amp's designer Ade Emsley knows how to build an amp that makes guitars sound great. I would say it is a no bells and whistles, get down the pub and start rocking out kind of amp, with plenty of 'attitude'.
Plus, they are flexible as have a rear-mounted 4 Valve/2 Valve switch and Full/Half Power mode that drops output power down to 15 or 7 watts.
Which is what makes it a glorious amp to play through. I've played many a gig through one of these and they just work.
MSRP – GBP 754 *
Revv G20 Amp Head
The Revv G20  is a compact amp with plenty of gain and modern features. These amp heads will do 20-watt or 4 watt output, and have built-in Two Notes Reactive Load with Virtual Cabinets.
Modern Flexible Design
There is a clean channel and a somewhat spectacular high gain channel, both are very tasty. It has a Reactive Load Direct Mode, plus a Pre & Post-Switch that selects whether the power amplifier is in the signal chain. The Reactive Load automatically engages when a speaker is not detected to preserve the amp and stop it from getting damaged.
It is also fully programmable and recallable via MIDI, making it a very capable modern tube amp.
These are super flexible little amps and it is crammed full of great features for modern guitarists. Perfect for gigging, recording and integrating into more complex setups.
MSRP – GBP 1299 *
Laney Supergroup LA30BL
Finally, the Laney Supergroup LA30BL is a 30-watt head packed with classic amp tones. It is based on a prototype from 1968 that had the same preamp circuit as the much larger LA100BL.
Vintage Tones
It offers a wonderful clean uncompressed tube amp tone, just at more manageable volumes. They make great pedal platforms as well. If you want a classic British amp tone, for rocking out with, then these should be on your list.
The four inputs can be jumpered, and this is where you can have a lot of fun and start experimenting. They may look like a simple amp, and that really is the strong point of this all-tube amp head. No fuss, just great tones and perfect for rocking out with. A very dynamic amp that rewards players with some solid tones.
MSRP – GBP 763 *
* This post contains affiliate links and/or widgets. When you buy a product via our affiliate partner, we receive a small commission that helps support what we do. Don't worry, you pay the same price. Thanks for your support!
Image Sources:
65 Twin Reverb: Thomann
JJ-Junior Head: Thomann
Orange Dual Terror Head: Thomann
Revv G20: Thomann
Supergroup LA30BL: Thomann