Best Earplugs for Musicians: How to prevent Hearing Loss
As a musician, your ears are your most valuable asset. That's why earplugs for musicians are such a hot topic. If you want to preserve your hearing, the right ear protection for rehearsals and gigs makes all the difference. In this article, we'll cover the most important questions you might have about hearing protection and earplugs for musicians.
Needless to say, the best way to prevent tinnitus and loss of hearing is to give your ears a rest. However, that's not always possible for musicians. To protect your ears during loud rehearsals and on stage, a good set of earplugs for musicians is highly recommended.
Many musicians and singers fear that they won't be able to properly control their instrument or voice while wearing earplugs, as even the smallest change in hearing affects the perception of the timbre and sounds produced. Some also feel detached from their fellow musicians. And these fears should be taken seriously! That's why it's so important to find the type of ear protection that works best for you, personally.
The best Earplugs for Musicians
When it comes to hearing protection and earplugs for musicians, a solution that works for everyone doesn't exist, unfortunately. Many musicians decide on a case-by-case basis how to protect their ears from too much noise – always looking for the middle ground between being able to hear everything clearly and protecting their ears. The good news is that the various types of hearing protection and earplugs for musicians have evolved in recent years so that it's possible to maintain a well-balanced sound at a reduced volume and good speech intelligibility.
What types of Earplugs for Musicians are there?
Generally speaking, there are three types of earplugs, with custom-molded ones being the best solution for musicians. That said, the best protection is the kind you wear regularly!
1. Standard Earplugs
These earplugs are made of soft foam that can be moldable or non-moldable.
Without filter: These include the generic, often yellow earplugs sold at drugstores and pharmacies. They make everything quieter, but don't sound very good because the frequency spectrum is distorted. High frequencies are attenuated more than low frequencies, which leads to a muffled sound.
Recommended products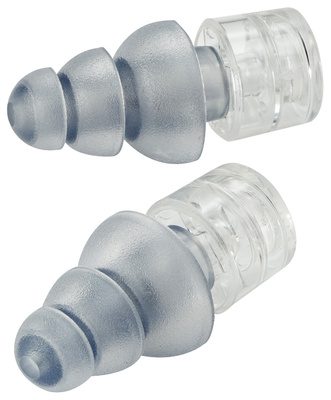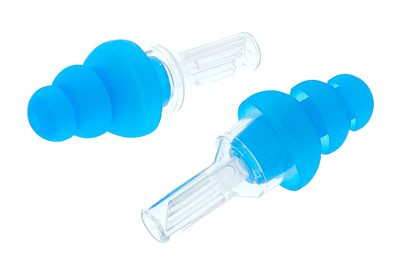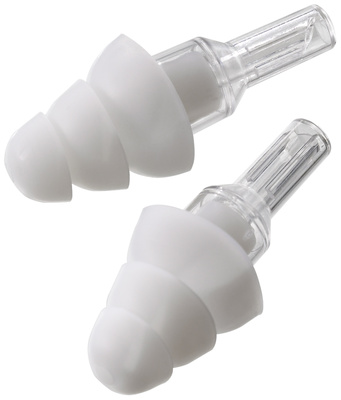 With filter: For occasional use, this type of earplug can be quite suitable for musicians. However, they often don't fit perfectly because they're not custom-made for your ears.
Recommended products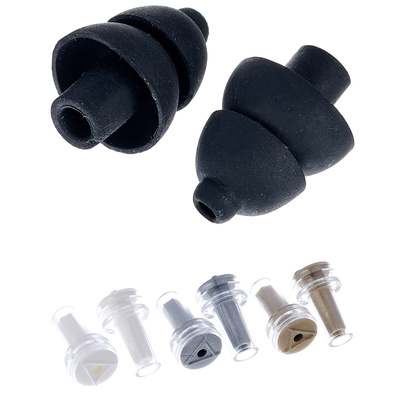 Alpine MusicSafe Pro - Black Edition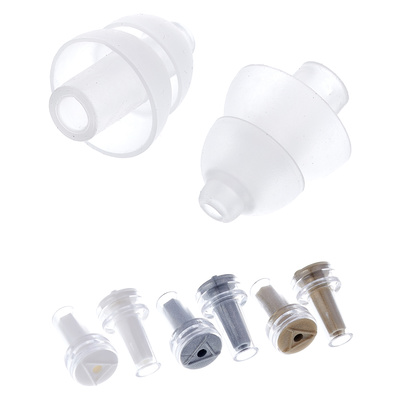 Alpine MusicSafe Pro - Clear
2. Custom Earplugs for Musicians
Custom-molded earplugs for musicians are made of vulcanized silicone or acrylic in various degrees of hardness. Although available from different suppliers, they're often referred to as "Elacin". Elacin is a Dutch company that first developed this type of hearing protection, initially had a patent on it, and now manufactures it for many other brands, as well.
Without filter: While molded earplugs without filters aren't ideal for musicians, they're very good at reducing ambient noise and can help with noise-related sleep problems, for example.
With filter: For musicians, custom-molded earplugs with filters are the best choice. They combine long-lasting wearing comfort and a perfect fit with a good sound that preserves the frequency content of the music.
Recommended Products
Elacin ER09 / ER15 / ER25 (hearing care professional of your choice)
3. In-Ear Monitoring
Wearing the monitors in the ear has the great advantage that you can control the overall volume that reaches your ear. In addition, the stage environment will be quieter overall because external monitors are no longer needed and the amps can be turned down. Last but not least: you can hear yourself well, no matter where you are on stage.
Where to buy Custom Earplugs for Musicians
The simple answer is: From a hearing care professional or online music store. While hearing protection may seem a little cheaper online, you'll need to send in an ear impression, for which you'll have to make an appointment with a hearing care professional anyway. All things considered, the price is usually about the same. If you add in future adjustments in case the hearing protection doesn't fit properly, booking the entire package with a hearing aid specialist can be a pretty good deal.
How to find a good Hearing Care Professional
As always, the best way is through word of mouth. Ask your musician friends or check some social media groups for your area. And of course, an online search is always a good option.
How to get Custom Earplugs for Musicians
To find out how to get your own custom-made earplugs, we spoke with Philipp Rombkowsky, who runs his family's hearing aid business in Hamburg, Germany in the third generation. Here's how it works, step by step.
Step 1 – Consultation and Ear Impression
The first appointment with the hearing care technician takes about 30 to 45 minutes and includes a detailed consultation and an impression of the ear. It's completely safe and the material used (silicone) is similar to a dental impression. After closing the ear canal with cotton wool to protect the eardrum, the technician applies the molding material to the ear. After a short while, the material hardens and the positive impression of the ear can be removed.
For singers, it's essential that the impression is taken dynamically. This means that you chew and move your jaw joint during the impression. This is important because when you sing, your jaw constantly moves and the shape of your ear canal changes slightly as a result. Earplugs based on a static mold may not fit properly and can even fall out of the ear when you sing. Make sure the earplugs fit well while speaking and singing and aren't displaced by the movement of your jaw.
Another decision you'll need to make at this point is your preferred color. The selection ranges from clear/transparent to various skin tones to all kinds of colors.
Step 2 – Production of the Earplugs
Your ear mold then gets sent off to an otoplastics lab, where your individual earplugs are produced. Depending on the lab, this process can take from about 7 to 10 days to a few weeks.
Step 3 – Fitting the Earplugs
During your second appointment, the hearing care professional will fit your earplugs and instruct you on how to use them, as well as how to clean and care for them. In case of ear protection required by law for certain professions, a function test is also performed to ensure they meet the applicable standards (though this doesn't usually apply to earplugs for musicians).
Step 4 – Getting used to wearing Earplugs
Chances are that you proudly wear your new earplugs at your next band rehearsal, only to be disillusioned after a short while. Even with custom-molded earplugs, the feeling of playing music can be quite different. But don't despair – this is normal! Philip Rombkowsky points out that making music with earplugs must be practiced. Don't give up and give yourself a week or two to get used to wearing earplugs. And be sure to check your new earplugs for an exact fit and so-called acoustic leaks, as well as the appropriate filter strength. Your hearing care professional may even give you a selection of different filters to try out.
Occlusion effect – do I hear myself differently with Earplugs?
The term occlusion refers to the effect that you perceive your own voice differently while wearing earplugs. When you speak or sing, sound enters your ear canal via the jaw joint. These sound waves normally exit through the open ear. If the ear canal is obstructed by earplugs, they reach the eardrum instead, which is why they're perceived more strongly. The occlusion effect is most noticeable when wearing cheap foam earplugs. The filters of custom-molded earplugs can compensate for this phenomenon. Some custom-made ear protectors also have small holes to provide additional permeability.
Sound Demo
The Elacin website has a very good sound demo that lets you compare various types of earplugs.
Which filters are available for earplugs for musicians?
Filters for earplugs for musicians are commonly offered in three different strengths:
9 dB (suitable for singers, according to Philip Rombkowsky)
15 dB
25 dB
High-quality, custom-made earplugs for musicians attenuate all frequencies evenly across a frequency range from about 125 Hz to 8000 Hz. This ensures that the entire sound spectrum is preserved, albeit at a lower volume.
Caring for Earplugs
If you want your earplugs to last a long time, make sure to give them the care they need. To clean them, remove the filters and rinse the earplugs under running water. Elacin recommends cleaning them with a damp cloth, drying them with a soft cloth, and using cleaning tablets from time to time. Your hearing care professional may also provide you with a cleaning kit.
How long do earplugs for musicians last?
Our ear canals change throughout our lives. The cartilage tissue grows as we age. If you gain or lose weight or undergo orthodontic treatment, the inside of your ears can also change. That's why earplugs – even custom-made ones – don't last forever. Elacin says that its earplugs should last about four years. However, you'll only need to return to your hearing care professional if your hearing protection no longer fits properly or is defective.
More information about Earplugs for Musicians
This article was originally published in German on bonedo.de.
Image Sources:
Custom-molded earplugs for musicians with filters: Bonedo