Best free plug-ins this week: Space Invader, T-De-Esser and PEDALz
There's something for everyone in our weekly collection of free plug-ins. This week, we've got a sick modulated delay, a very useful de-esser and a bunch of distortion pedals in one plug-in. Here's Space Invader, T-De-Esser and PEDALz.
Check out our archives for many more free plug-ins.
Siktone DSP Space Invader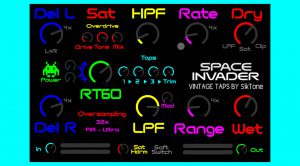 Whoever designed the GUI of this thing must have a great sense of humor. Once you've finished rubbing your eyes, you'll discover that Space Invader is a very nifty serial delay that catapults your audio straight into another dimension. In addition to several delay taps, Space Invader mangles your tracks with multi-mode distortion and saturation, cross time modulation and a bunch of filters. If you love delays that venture off the beaten path, give this one a try.
Space Invader is available for Windows in VST and VST3 formats (64 bit) and for Mac as an AU.
Techivation T-De-Esser
T-De-Esser by Techivation is an easy-to-use de-esser for smoothing out high frequencies. It offers four selectable frequency ranges, as well as intensity and sharpness controls and a main processing knob. The developer says that T-De-Esser's natural sound makes it ideal for removing harshness, managing sibilance and even controlling drum transients. With its streamlined interface, T-De-Esser looks like a quick way to deal with any high frequency problems.
T-De-Esser is available for macOS and Windows in VST and AU formats.
Analog Obsession PEDALz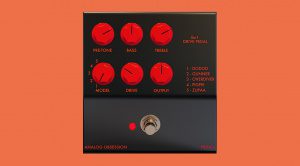 Analog Obsession has taken emulations of five classic overdrive and fuzz pedals and combined them in the PEDALz plug-in. You can choose from the Dodod, Gunner, Overdriver, Pigpie and Zupaa models. In addition to bass and treble controls for the drive circuit, there's a pre tone knob for adjusting the signal before it hits the overdrive. PEDALz is a neat combination of five iconic pedals (including the SD1 and Big Muff) in one convenient plug-in.
PEDALz is available for macOS and Windows in VST, VST3 and AU formats.
Video
Image Sources:
siktone-dsp-space-invader: Siktone DSP
techivation-t-de-esser: Techivation
analog-obsession-pedalz: Analog Obsession