How to find the best MIDI Keyboard Controller
MIDI keyboard controllers are available in all sizes, shapes and price ranges. You can get MIDI keyboards with drum pads, faders, knobs, or for specific DAWs. If you want to get the most out of your MIDI keyboard controller, it's important that you buy one that suits your needs. To help you decide what you really need, we've put together this buyer's guide on MIDI keyboards.
What is a MIDI Keyboard Controller?
A MIDI keyboard controller, also called a controller keyboard or master keyboard, is a keyboard that doesn't have any built-in sounds of its own. Instead, its job is to control other gear such as synthesizers, DAW software, software synths, or even mobile apps using MIDI data. For this purpose, MIDI keyboards often have various programmable controllers besides the actual keyboard, such as rotary knobs, faders, drum pads, and more. The transmission of the control data takes place via traditional 5-pin MIDI jacks or MIDI over USB.
What Features do MIDI Keyboard Controllers offer?
MIDI keyboard controllers are available in a wide variety of configurations. But they all have one thing in common: They have a keyboard that outputs the played notes as MIDI data. Many keyboards also offer knobs, faders, and various function buttons for controlling DAW software, software synths, or other MIDI sound generators. In addition to this, some controllers are equipped with drum pads, arpeggiators, or step sequencers. Certain models offer pre-configured controller assignments for controlling DAWs and software synthesizers.
In what Keyboard Sizes are MIDI Keyboard Controllers available?
MIDI keyboard controllers are available in different sizes. Often the same model is offered in several sizes. The most common keyboard sizes are 25 keys (2 octaves), 49 keys (4 octaves), 61 keys (5 octaves), and 88 keys (piano range, often combined with a hammer action keybed). Keyboards with 37 keys (3 octaves) or 76 keys are slightly less common.
A typical 25-key keyboard with mini (slim) keys is about the size of a sheet of paper, often weighs less than a kilogram, and fits in a backpack – the perfect travel companion. MIDI keyboard controllers with 49 or more keys are bulkier and heavier. If you're looking for a keyboard controller for on the go, the key is to find the right balance between size/weight and the required keyboard size for what you want to play.
Are MIDI Keyboard Controllers with Mini Keys a good Choice?
Besides keyboards with normal-sized keys, many manufacturers now also offer compact MIDI keyboard controllers with slimmer mini keys. If you're used to normal-sized keys, playing on slim keys takes some getting used to. These small keyboards obviously aren't made for playing sophisticated piano parts. But they work well for playing the occasional chord progression or bassline, and they're great for triggering samples and loops.
Which Connectors should a MIDI Keyboard Controller have?
USB MIDI | 5-pin MIDI
As MIDI keyboard controllers do not produce sounds themselves, you won't find any audio outputs on them. Instead, the USB port is by far the most important connector. All modern controllers connect directly to a computer or mobile device via USB. The USB port transmits MIDI data, which means you don't need to purchase a separate MIDI interface for your computer.
Many keyboard controllers also receive power over USB, which eliminates the need for a separate power supply. If a controller is "USB class compliant", this means that it should work with current operating systems without special driver software. Connecting it to a tablet should also work without any issues, but often requires an additional adapter.
While the classic 5-pin MIDI connectors are becoming less common (many inexpensive keyboards now only offer USB), they're still essential for controlling hardware synths directly without a computer. If you want to use your keyboard controller without a computer (e.g. on stage), make sure that it offers a 5-pin MIDI output.
Power supply and other connections
Another thing to keep in mind when using a keyboard controller without a computer is the power supply. Many current MIDI keyboard controllers normally receive power via the USB port. If you don't connect it to a computer, you need to use a USB power supply. Some keyboards also have connectors for separate DC power supplies.
Most keyboard controllers also have a sustain pedal jack. But watch out: Some of the smallest controllers lack it and only give you a sustain button instead, which isn't really a suitable replacement.
Some keyboard controllers offer additional connectors that serve special purposes. For example, the Arturia Keystep series has analog sync inputs and outputs as well as CV/gate outputs for controlling analog synthesizers or modular systems.
MIDI Keyboard Controllers with deep DAW Integration
Some of the most advanced MIDI keyboard controllers support bidirectional communication. This means that they can receive and display information coming from the computer (such as parameter values of a software synthesizer). These controllers often have larger displays and/or LED rings around the knobs in order to show parameter values. This means that you don't have to look at the computer screen as often, which can improve the workflow.
How far this integration goes depends on the keyboard. Manufacturers such as Native Instruments and Nektar offer keyboard controllers that are deeply integrated with current DAWs and software synths over special protocols. This makes a lot of information available directly on the keyboard.
What are the Drum Pads for?
In addition to the keys, many MIDI keyboards offer drum pads, usually in sets of eight (2×4) or 16 (4×4). The pads are always velocity-sensitive and can often also transmit aftertouch data. Many keyboards now offer backlit pads that can be illuminated in various colors (RGB pads), which can help to determine their current status and controller assignment.
Recording drum tracks and triggering samples is obviously their main purpose. But if you dig a little deeper into the configuration, many MIDI keyboards let you do much more with the pads. For example, you can often configure pads to send MIDI CC values or program change commands for switching sounds on connected devices. You can also assign pads to control the mute buttons of your DAW mixer, for example. In clip-based DAWs like Ableton Live, pads are the obvious choice for triggering clips and loops.
Why do you need Faders and Knobs on a MIDI Keyboard Controller?
Many MIDI keyboard controllers offer programmable faders and/or knobs for controlling values in a DAW or software synthesizer. They can usually be assigned to any MIDI CC (control change) number you wish. Faders are great for controlling a DAW mixer, the filters of a software synth, or organ drawbars. If a MIDI keyboard controller offers them, there's often also a button that lets you switch between different fader banks. This way, you can switch between tracks 1-8, 9-16, etc. Knobs, on the other hand, lend themselves to controlling pan or effect send knobs in a DAW mixer, or various parameters of software synths. Some keyboard controllers come with pre-configured assignments (mappings) for controlling specific DAWs or synths.
Controlling a DAW with a MIDI Keyboard
In addition to faders and knobs, many MIDI keyboard controllers have buttons for controlling things like play, stop, record, track selection/arm, cycle/loop, click, and other DAW functions directly from the keyboard. This means that you don't have to reach for the mouse as often, which makes for a smooth workflow.
Some manufacturers offer DAW control features that go far beyond that. For example, the Nektar Panorama series controllers come with special protocols for deep integration into DAWs such as Cubase, Logic, Bitwig Studio, Reason, or Studio One. Likewise, Native Instrument's Komplete Kontrol series directly supports the Komplete bundle and the Maschine software. This lets you operate plugins and software synths without ever reaching for the mouse.
What are Keyboard Zones and what do you need them for?
Some MIDI keyboard controllers offer programmable keyboard zones. These allow you to split the keyboard into separate MIDI channels for controlling multiple synths at the same time with only one keyboard. Not surprisingly, this feature is most often found on large keyboards. While they don't matter as much in the studio (where the DAW normally handles the distribution of MIDI data), keyboard zones are essential if you want to control several MIDI devices independently on stage.
Each zone can have its own MIDI channel and controller assignments. This ensures that each synth receives the information intended for it. Many current keyboard controllers offer four to eight zones. Large synthesizer workstations (which can also control external gear) often have even more.
Keytars and other exotic Keyboard Controllers
Some keyboard controllers are custom-made for very special purposes. For example, the cross between keyboard and guitar = Keytar! Keytars allow keyboard players to move around freely and perform at the edge of the stage like guitarists. Keytars were popularized in the 1980s by icons like Jan Hammer, Herbie Hancock, and Stevie Wonder.
Keytars are usually played with the right hand. The left hand operates several controllers on the "neck" of the keyboard. Often there is at least one ribbon controller, which lends itself to guitar-like bendings. Keytars have always been a niche product, but a few manufacturers still make them.
The Alesis Vortex Wireless 2 is currently the only pure MIDI controller keyboard in a keytar format. It comes with a wireless MIDI connection for ultimate mobility. The Vortex Wireless 2 also has a unique accelerometer that lets you send controller data by tilting the keyboard.
Other current keytars like the Roland AX-Edge and the Korg RK-100S 2 aren't pure MIDI controllers, as they have built-in sound engines. However, you can still use them to control other synths via MIDI.
MPE Keyboard Controllers
Another special form are multi-dimensional keyboard controllers that open up new possibilities for expressive sound shaping. The idea here is to offer a level of expressiveness not possible on a conventional keyboard. For example, these controllers might let you slide your fingers up and down on the "keys" to control sound changes. Through polyphonic aftertouch, the keyboard transmits pressure data for each individual key. These keyboard controllers often use the MIDI MPE standard (MIDI Polyphonic Expression). It must therefore also be supported by the synths you'd like to control.
The ROLI Seaboard series, the Haken Continuum Fingerboard and the Expressive E Osmose are examples that fall into this exotic category. The Keith McMillan K-Board also has sensors that evaluate the vertical position of the fingers on the keys.
Checklist for buying a MIDI keyboard controller
What size keyboard do I need?
Will the keyboard be transported a lot or used stationary?
Do I need programmable controls like faders and knobs to control parameters in a DAW or software synthesizer?
Are drum pads necessary?
Do I need a conventional 5-pin MIDI output in addition to the USB port?
Do I need a keyboard with deep software integration with a specific DAW?
Should the keyboard offer multiple programmable keyboard zones to control multiple MIDI devices simultaneously?
What's my budget?
MIDI Keyboards in various price ranges: Our recommendations
Entry level / portable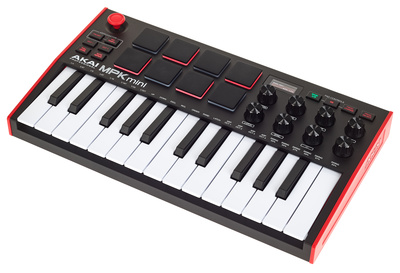 AKAI Professional MPK Mini MK3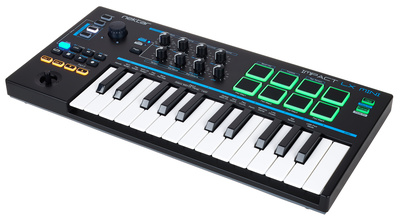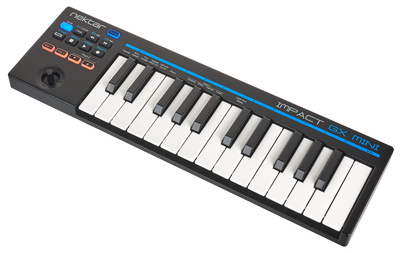 Mid-size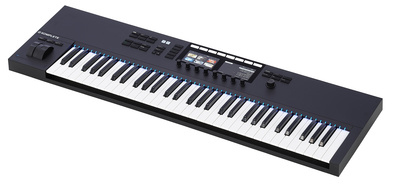 Native Instruments Komplete Kontrol S61 MK2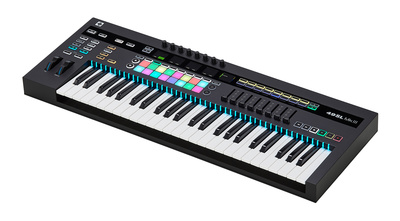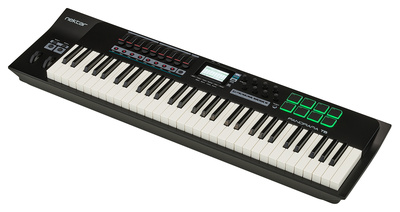 Professional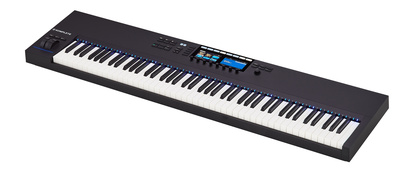 Native Instruments Komplete Kontrol S88 MK2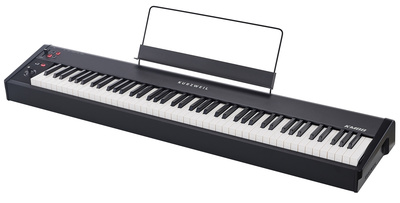 This post was originally published in German on bonedo.de.
* This post contains affiliate links and/or widgets. When you buy a product via our affiliate partner, we receive a small commission that helps support what we do. Don't worry, you pay the same price. Thanks for your support!
Image Sources:
NI Komplete Kontrol S88 MK2: Thomann
Nektar Impact LX Mini: Thomann
Swissonic EasyKey 61: Thomann
M-Audio Oxygen Pro 49: Thomann
MIDI Keyboard Controllers are often available in several different sizes, like the Nektar Impact LX+ family: Bonedo
Keyboard Controllers with mini keys like the AKAI MPK mini mk3 are easy to take anywhere: Thomann
The NI Komplete Kontrol A49 only offers USB ...: Thomann
... while the Komplete Kontrol S49 also has 5-pin MIDI: Thomann
USB-C and MIDI ports on a Roland A-88 mkII: Thomann
The Arturia KeyStep Pro offers CV/Gate outputs for controlling analog synths: Thomann
Drum pads originated on samplers like the AKAI MPC series: Bonedo
Arturia Keylab 49 mkII: Thomann
Novation Launchkey mk3: Thomann
M-Audio Oxygen Pro 49: Thomann
Even the tiny M-Audio Oxygen Pro Mini offers a good selection of faders, knobs, and pads: M-Audio
The Nektar Panorama series offers deep DAW integration: Nektar
A special feature of the NI Komplete Kontrol S series:: Bonedo
The "Light Guide" can illuminate keyboard zones to display information: Bonedo
The Nektar Panorama P4/P6 offers a motorized fader: Bonedo
Large master keyboards like the Roland A-88 mkII ...: Thomann
... and the Studiologic SL-88 Grand often offer several keyboard zones.: Thomann
Stevie Wonder is a well-known keytar user: Thrillist
Alesis Vortex Wireless 2: Bonedo
Roland AX-Edge: Bonedo
Korg RK-100S 2: Bonedo
ROLI Seaboard Rise: Bonedo
The "keys" send multi-dimensional information: Bonedo