13 Results for "keyboard controller"
After 13 years, AKAI has decided that it was time to refresh the compact LPK25 and LPD8 controllers with a new keyboard, new pads, and a new look.
The Cre8audio NiftyKEYZ is a USB/MIDI keyboard controller with space for 112 HP worth of Eurorack modules and up to four voices. Pretty nifty indeed!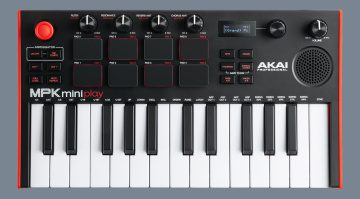 AKAI has announced the upgraded MPK mini Play mk3. The tiny USB keyboard controller features 25 mini keys, 8 pads and 128 internal sounds for sessions on the go.
The new Nektar Impact LX Mini is a 25-key USB keyboard controller that packs many useful features for controlling your DAW and software synths.
The new Nektar Impact GXP49 and GXP61 USB/MIDI keyboard controllers offer deep DAW integration and many intuitive performance features.
Nektar expands its range of entry-level keyboard controllers with the SE61. The new keyboard pairs 61 full-size keys with clever DAW control features.
M-Audio has unveiled the Oxygen MKV. The granddaddy of USB keyboard controllers now offers many features of the higher-end Oxygen Pro. Here's what's new.
Alesis has introduced new Q series USB keyboard controllers. The Q49 MKII and Q88 MKII are joined by the Qmini, which looks quite familiar.