AKAI Professional updates the LPK25 and LPD8 mini controllers
AKAI Professional has updated the LPK25 and LPD8 USB MIDI controllers. The tiny keyboard and the pad controller have received a new, modern look. But there are some changes under the hood, as well.
AKAI updates the LPK25 and LPD8
The LPK25 and LPD8 came out no less than 13 years ago, so it was about time for a refresh. The concept remains the same: Tiny USB MIDI controllers that fit into your backpack and are perfect for sessions on the go. Both controllers have received facelifts and a new look that's more in line with the manufacturer's other current products, such as the MPK mini Mk3. In addition to this, AKAI has taken the opportunity to make some changes to the hardware.
AKAI LPK25
Like the previous version, the newly refreshed AKAI Professional LPK25 offers 25 velocity-sensitive mini keys. But the keybed is now the same as the one used in the MPK mini Mk3, which should improve the playability. The rest remains pretty much the same. To the left of the keys are six buttons for octaves, sustain, extended functions, and the arpeggiator. The arpeggiator has received a new swing parameter, which is adjustable in five steps. The LPK25 is configured via a free software editor and can store up to eight presets.
AKAI LPD8
Instead of the predecessor's monochrome pads, the new LPD8 offers eight backlit RGB pads. According to AKAI, they're the same heavy-duty pads used in the MPC X. In addition to MIDI notes, they can transmit MIDI CC events and program changes. The eight rotary knobs are useful for controlling plugin parameters and software instruments. The LPD8 is also configured using a free software editor. It can store up to four presets.
Prices and availability
The AKAI LPK25 and LPD8 are now ready to order from Thomann* for €59 each. Deliveries should begin within the next couple of weeks.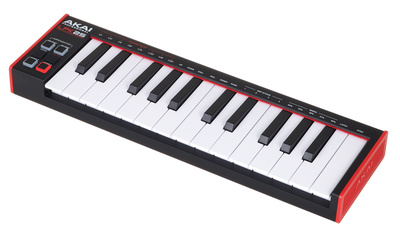 AKAI Professional LPK25 MKII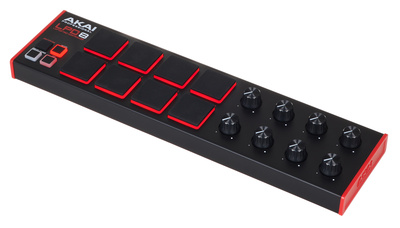 AKAI Professional LPD8 MKII
More information about the AKAI LPK25 and LPD8
Videos
* This post contains affiliate links and/or widgets. When you buy a product via our affiliate partner, we receive a small commission that helps support what we do. Don't worry, you pay the same price. Thanks for your support!
Image Sources:
LPK25: AKAI Professional
LPD8: AKAI Professional