Analogue Consoles: Do we still need them?
No matter which avenue of modern audio production you work in, the necessity for analogue consoles has diminished almost completely. With even the top engineers who are themselves console owners working predominantly in the box, it has become increasingly difficult to justify an expense that simply does not guarantee better results.
That being said, there are still many instances where console sensibilities are at play in studios on a daily basis. Moreover, manufacturers continue to develop solutions for giving you "that console sound" whilst using a DAW system. It is these options that are more tangible for us as musicians, due to the ease at which one can combine hardware and software.
Analogue Console Workflow
Interestingly enough, the aspect I found most compelling about working with consoles was not the sound at all. In my opinion, this is largely dependent on other factors.
However, the creative workflow and approach to signal processing that comes into play when using a console is something that can be applied to any recording or production setup, no matter your budget constraints.
While some parts of console workflow speed up the process and expand the routing capabilities, the approach is different for every user. The amount of times I've seen engineers spend most of the session editing in Pro Tools using nothing but a mouse is simply astounding and this made very little sense to me.
Instead, there are ways to incorporate console workflow into your setup that are not only practical, but can make a massive difference to the audio you are working with. While the monitoring and talkback circuits of consoles might not be as important to home users, there are a few pieces of hardware that can be added to your studio in key areas to great effect.
Channel Strips – Add some front-end flavour!
We have discussed console channel strips before, like the famous Neve 1073, but there are many others that will help you process your vocals and instruments on the way in without the $3000 price tag.
Traditionally, channel strips consisted of a mic preamp or DI, a compressor, a parametric EQ section, and an expander/gate. High-end consoles also have the option to flip the signal path and change the order of these components in the chain, which is a feature you can find in some designs.
ART Pro Channel II
The Pro Channel II is a great entry-level channel strip and an extremely versatile recording front end for your setup. As far as features go, there's very little it doesn't do. From powering low-output dynamic mics – like the ones used in podcasting – to extensive gain control and EQ.
It even has metering and additional insert points! My only critique is that the front panel might be a little overwhelming for beginners and especially considering that this is "set and forget" type of gear.
SPL Track One MkII
Another multipurpose tool is the Track One MkII from SPL. Although the compressor and de-esser may be simple, it makes up for it in the EQ and metering department. Like most things from SPL, the layout and interface is easy to understand and use.
In addition, these units are stereo-linkable, and you can even install an optional AD converter module if you wish. Overall, it's a decent option for the price, and the EQ's Air band feature is a really useful addition for vocals.
Tegeler Audio Manufaktur VTRC Recording Channel
Tegeler's VTRC Recording Channel combines a mic preamp and compressor with a Pultec-style EQ, using both tube and optical circuitry. This unit may be rather large, but the features are cleverly put together to expand the creative possibilities rather than just looking good on paper.
What's interesting is that you can not only change the order of the EQ and compressor, but you can even bypass both the tube and optical circuits individually.
Analogue Summing – The secret to "console sound"?
If you frequent recording forums and hang out with audio nerds, then you'll have heard the buzz around the concept of "analogue summing". Put simply, it's the concept of combining multiple audio streams using analogue circuitry; in other words the opposite of using a digital algorithm in your DAW.
Does it make your mixes sound better? It's a subject open for debate, for sure; however, if the proliferation of standalone hardware summing mixers is anything to go by, it's certainly an area enjoying a lot of attention right now.
What to look for in a summing converter
Analogue summing comes with a very important caveat: The quality of this process is hugely dependent on the level of DA conversion you're running and this requires a multichannel converter. If you don't have high-end converters then you're wasting your time and money that could be put to better use elsewhere.
However, if you are looking to get into summing, the ability to monitor and process even 8 channels in the analogue domain can be extremely illuminating. You can develop an understanding of the relationship between digital and analogue signals and how they translate onto other playback systems.
SPL MixDream XP
The MixDream XP is the stripped-down version of the larger SPL Mixdream, but it still has the same summing stages. It's a simple and affordable 16-channel summing solution that offers expandability through additional units for sub-mixes.
Sure, it might not have metering or inserts, but if you're metering within your DAW you might not need this. When combined with a decent multichannel converter and patch bay, this is a worthy entry point into analogue summing.
Rupert Neve Designs 5057 Orbit
Slightly more sophisticated than it may appear at first glance, the 5057 Orbit is a 16-channel summing mixer with some useful capabilities. Apart from the coveted RND Silk circuit, it also gives you the ability to trim the left or right channel of your mix individually, which is very useful.
In addition, you can expand your summing setup with multiple Orbit mixers or other members of the RND summing family such as the 5059 Satellite and the 5060 Centerpiece.
Dangerous Music 2-Bus+
The 2-Bus+ from Dangerous Music is the standard in high-end summing. It gives you the flexibility of D-SUB or XLR connectivity for its 16 channels as well as master insert points for additional processing. The difference with the 2-Bus+ though is the extensive bus processing features.
You get two stereo pairs of processing on channels 13-14 and 15-16, as well as the master bus controls. This includes harmonic stimulation, parallel limiting, and transformer saturation on the master.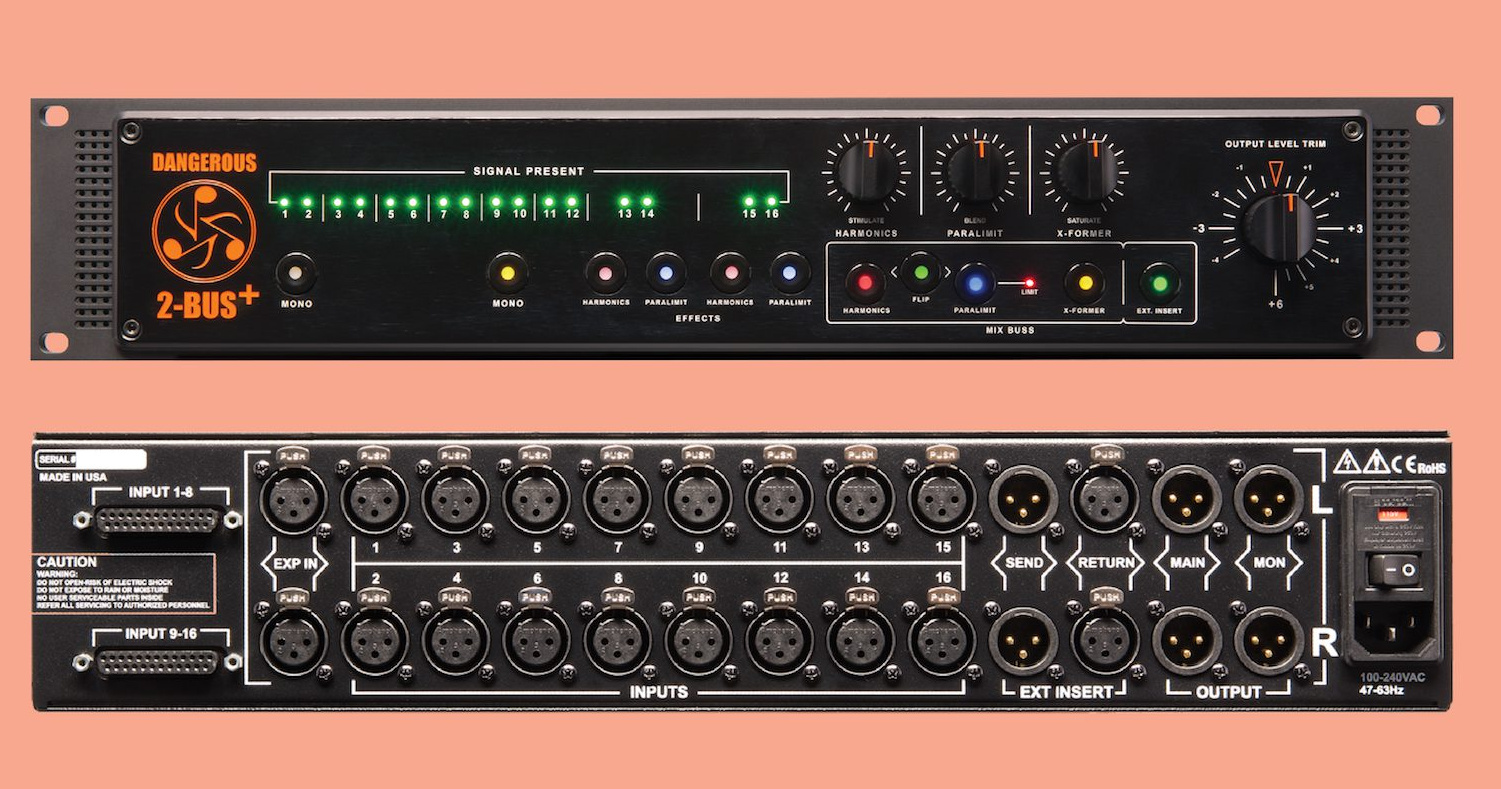 Bus Processing
We've touched on SSL bus compressors and stereo compressors, but there is more to bus processing than just compression. If you work in the box, hardware processing your stereo master out can be an absolute gamechanger.
The linear, two-dimensional quality of working exclusively in a DAW system is only one way of doing things, and sometimes all the plug-ins in the world can't bring a mix to life.
These hardware units are designed to do exactly that. From warmth, saturation, and stereo imaging – you generally get what you pay for here.
SSL Fusion
The Fusion is one of SSL's relatively newer units, and like the Bus+, it's aimed at offering analogue warmth to in-the-box users. For its price, this is one of the best processors on the market, with applications that go far beyond master bus processing.
The unit is comprised of SSL's harmonic drive, the Violet EQ section, a high-frequency compressor (which also has LMC mode), and a stereo imaging section. However, the main attraction is certainly the mid-side matrix, which opens up new avenues when combined with other gear.
Empirical Labs Fatso – EL7X
The Fatso EL7X from Empirical Labs is another incredibly versatile processor. The front panel may look rather basic, but the Fatso operates in dual mono or stereo-linked mode, with sidechain circuits on each channel.
You can also add a threshold control to the circuit by simply placing an attenuator (or gain control) between the unbalanced output and the sidechain input. The Fatso has 4 different compressor modes and a saturation circuit, so you can use it at almost any stage of the recording process.
Rupert Neve Designs MBC Master Buss Converter
The MBC represents a move in a new direction for Rupert Neve Designs. As a master bus processor, you have the best of everything in one unit. The limiter functions in both dual mono or stereo, and you have a transformer circuit and a choice of two Silk circuits.
Most importantly though, the MBC gives you a high-end DA conversion stage to ensure all the analogue goodness stays in once you finalize your mix.
Patch Bays
Whether your approach is old-school or high-tech, nothing says "console workflow" quite like a patch bay. Obviously, this requires you to have quite an arsenal of hardware in the first place, but there are options to suit any setup and budget.
The greatest thing about centralized patching is not having to reach behind each individual piece of gear whenever you wish to alter the signal chain.
While some of us enjoy that part of the process, there are solutions available that not only save time – the also open up new creative avenues.
Millenium PB16 XLR In/Out
If you need a basic solution for connecting up loose pieces of gear around your studio, then the Millenium PB16 XLR In/Out could be exactly what you're after.
With eight male and eight female XLR ports on both front and back, it should give you enough connectivity to take care of the units you use regularly in your setup. The PB16 is passive and can also be useful in live sound environments or in your rehearsal space.
Neutrik NPPA-TT-SD25
For the more extensive setups, the Neutrik NPPA-TT-SD25 bantam patch bay is a permanent solution for your outboard gear. The 48 points are half normalized and divided across the 12 D-SUB connectors on the rear.
It's a passive unit, but it offers five different settings including half normalled bottom, half normalled top, full normalled, parallel, and isolated. In addition, the materials are extremely high quality, hence the hefty price tag.
Flock Audio Patch LT
The Patch LT is Flock Audio's entry-level software-controlled patching solution. Yes, a digitally controlled patch bay with 100% pure analogue signal path. No more patch lead entanglements or taking photos of your patch configurations for recall, you can control and save it all from the software app.
As you can imagine, technology like this does not come cheap, especially when combined with high-grade audio parts.
More about analogue consoles:
Videos:
Note: This article contains affiliate links that help us fund our site. Don't worry: the price for you always stays the same! If you buy something through these links, we will receive a small commission. Thank you for your support!
Image Sources:
ART Pro Channel II: ART
SPL Track One: SPL
Tegeler Audio Manufaktur VTRC Recording Channel: Tegeler Audio Manufaktur
SPL MixDream XP: SPL
Rupert Neve Designs 5057 Orbit: Rupert Neve Designs
Print: Dangerous Music
SSL Fusion: SSL
Empirical Labs Fatso EL7X: Empirical Labs
Rupert Neve Designs MBC Master Buss Converter: Rupert Neve Designs
Millenium PB16 XLR In/Out: Thomann
Neutrik NPPA-TT-SD25: Thomann
Flock Audio Patch LT: Flock Audio