Classic Gear: Roland Juno-106
The Roland Juno-106 is a fantastic analogue poly with a wide sweet spot – but buying a vintage one can also be a big commitment.
Roland Juno-106
Roland was firing on all cylinders in the early 1980s. Its Jupiter-8 was a crowning success and had become something of a studio standard. To appeal to the regular gigging musician, the Japanese musical instrument company launched the Juno line in 1982. A series of affordable analogue polys, they were simpler affairs than the flagship Jupiter but no less sonically rich. They would go on to have a massive impact on music, not only at the time but for the next 40 years.
After the one-two punch of the Juno-6 and 60 (the difference was essentially programmability), Roland launched the most successful of the series in 1984. Dubbed Juno-106, it would be the company's best-selling synthesizer until the arrival of the digital D-50 in 1987.
Synthesis Architecture of the Roland Juno-106
On paper, the Juno-106 doesn't look like much. A single – and very stable – DCO with stackable sawtooth and square waves heads into a 24dB/octave resonant filter and then on through a chorus. There's a single envelope, LFO with naught but a triangle wave, and a nonresonant highpass filter (more on this in a minute). There are a few other goodies, like a square wave sub-oscillator and performance modulation section, and surprisingly decent MIDI specs for 1984, but really, the six-voice 106 is simplicity itself.
Why then does it remain such a sought-after synthesizer? The answer is the sound. Clean, musical, and with a sweet spot so wide you could fly an Imperial Star Destroyer through it, the 106 sounds incredible in pretty much any situation, from synth-pop to dance music. There's a reason Vangelis had not one but two of them in his late-1980s rig. It's just that gorgeous.
All Hail The Roland Juno-106 Highpass Filter
Despite the similarities to the Juno-6/60 in architecture, the 106 has a distinctly different sound. It's fuller with more of a bass presence. This is probably why dance music producers love it so much whereas the 6 and 60 tend to get snapped up by indie bands. This is all due to the highpass circuit. While the 6 and 60 have three HP slider positions, the 106 has four. The lowest notch, marked 0, actually applies a small bass boost at around 70Hz, adding weight to the overall sound. For the straight signal, move the slider to position 1.
My Roland Juno-106 Part One: The 1990s
As a dance music producer in the early 1990s, I naturally gravitated towards the Juno-106. It was on so many of the house and techno records I loved. A friend had a Juno-60 and while it was gorgeous (and I often borrowed it) the 106 was my pride and joy, especially for basslines. It was so easy to dial in solid, usable sounds quickly.
Here comes the sad part. In 2001, I became a victim of the dot-com bubble, losing my job as an online journalist. As unemployment stretched on, I found myself in need of cash for rent. This, coupled with a turn towards in-the-box music production, led to me selling my beloved 106. I only hope that its new owner loved it as much as I did.
My Roland Juno-106 Part Two: Refurbishing A Classic
Fast-forward 20 years or so. By the late 2010s, I was living in Japan and taking advantage of the cheap synthesizers that were to be had in the country. As an English teacher, I was certainly not making the big bucks but if I narrowed my search down to units in need of repair, some great instruments were in reach.
One day, while checking Yahoo Auctions while on break (Japan doesn't really do eBay), I found a 106 that fit the bill. It was going to need a lot of work, that was clear, but if I did the repairs largely myself I felt it would be worth it. I started bidding and actually won. I was the proud owner of a Roland Juno-106. Again.
It was indeed a lot of work, so much so that I had to spread it out over the course of half a year. There were basic things like internal battery replacement and key cleaning. There was a dead key as well, which turned out to be a broken trace on the keyboard PCB. The tact switches under the buttons all needed to be replaced and I refurbished the tops of the buttons as well. The sliders were gummy and coarse and had to be completely rebuilt, which took ages. The only thing I couldn't repair was the divot in the front panel where it looks like someone dropped something heavy on it.
Roland Juno-106 And The Voice Chips
Of course, there were also the voice chips to take care of. The six proprietary chips inside the 106 – one for each voice – were originally coated in epoxy at the factory. Over time, this corrodes and renders the chips useless. You can either clean up the existing chips or get replacement clones. I opted to send my boards out rather than attempt the cleaning myself.
Now, two decades after I sold my original, I have a working 106. It still needs the occasional loving touch, however. The output switch is crackly, for one, and needs to be replaced at some point, but overall it sounds just as sweet as it did the day it rolled off the factory line.
Roland Juno-106 Problems
The Roland Juno-106 is a beautiful machine. However, it's also four decades old, and that means it's prone to problems. All vintage synths have issues but the 106 seems particularly prone to issues. There are the failing voice chips, which I mentioned above. This is not an if but a when. They will eventually fail. It's just a matter of time. The VCF/VCA chips are also known to go belly up, as is the analogue chorus circuit. Then there are the known power supply issues.
My advice: don't buy a 106 unless you're prepared to deal with maintenance issues. It will fail, and continue to fail in a variety of ways, for as long as you own it. Unless you're rich, you may want to bone up on your soldering skills. In my opinion, it's worth it. Just go in knowing you're buying a money pit. A gorgeous money pit but a money pit nonetheless.
Modern Roland Juno-106 Alternatives
If this all sounds like too much hassle, there are plenty of modern recreations of the Roland Juno-106 to fill that polyphonic void in your soul. Roland offers a number of versions, including the Juno-X, a digital synth with models of both the 106 and 60 plus a new Juno engine inside, as well as the JU-06A Boutique sound module, also with both the 106 and 60.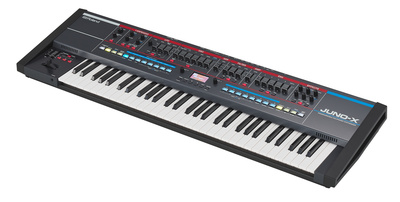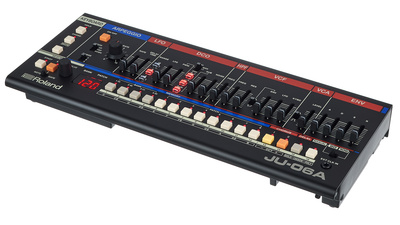 Behringer hasn't cloned the 106 as of yet but the company does offer the Deepmind series of synthesizers. These started as 106 recreations but evolved into their own thing. Meanwhile, the Dreadbox Nymphes offers a great desktop module Juno recreation, well worth looking into if you prefer analogue to digital.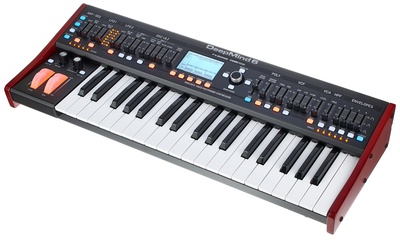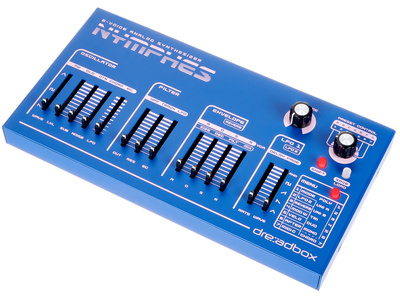 Lastly, there are plenty of software versions of the 106 available if you want to stay in the box.
More about Roland and synthesizers:
Videos:
*Note: This article contains promotional links that help us fund our site. Don't worry: the price for you always stays the same! We will receive a small commission if you buy something through these links. We appreciate your support!
Image Sources:
Roland Juno-106: Amazona
Roland Juno-106 refurbished sliders and buttons.: Adam Douglas
Roland Juno-106 all finished.: Adam Douglas
Roland Juno-106 bad voice chips: Adam Douglas
Roland Juno-106: Doctor Mix / Youtube