Buyer's Guide: How to Find the Best Digital Piano
What's the best digital piano? Many modern digital pianos come very close to the real thing in terms of sound and feel. In addition, they offer several advantages, such as adjustable volume and the ability to practice with headphones. But choosing the digital piano that best suits your needs and budget can be complicated. In this article, we shed some light on the topic and tell you what to look for to find the best instrument for you.
When you hear the term "digital piano", chances are that you think of a large, bulky instrument that looks similar to an acoustic piano and takes up just as much space in your home. But besides stationary home pianos, most manufacturers now offer compact and portable alternatives that you can easily take on stage for your next gig. So depending on what you want to use it for, the answer to the question which digital piano is best for you could be very different.
In this article, we offer a brief overview of the various types of instruments available, so you can find the best digital piano for you.
Digital pianos: What you need to know in a nutshell
Unlike acoustic pianos, digital pianos produce sounds by electronic means. Most commonly, they use pre-recorded samples of high-quality acoustic uprights and grand pianos, which are then played back through loudspeakers as you play on the keyboard. The more complex the sampling (e.g. by sampling individual notes at many different volumes), the more faithfully the sound of the acoustic instrument is reproduced. Some higher-end models combine samples with DSP-based physical modeling in order to reproduce the intricate resonances and details of an acoustic piano.
Many digital pianos take up much less space and are easier to transport than their acoustic counterparts. In addition, they're easier to maintain and never need to be tuned. They can be adjusted in volume, and you can play through headphones in total silence if needed. They are also usually far less expensive to buy new than an acoustic piano.
The most important features include a weighted hammer action keyboard, a good-sounding and powerful speaker system, and – obviously – high-quality piano and grand piano sounds. How well these three components work together defines the overall sound and feel of the instrument.
What should you look for to find the best digital piano?
For an authentic piano experience, three factors are essential: the keyboard, the speaker system, and the quality of the piano samples. If one of these criteria doesn't live up to the expectations, the instrument cannot convincingly replace an acoustic piano. So it goes without saying that these three core features should be your main concern when shopping for a digital piano – long before any additional features.
Beyond this, many digital pianos offer add-ons such as additional non-piano sounds, built-in effects, MIDI and/or audio recorders, or even an automatic accompaniment function (arranger). Depending on how you use the instrument, these can help with practicing and composing. However, not everybody needs them and the demands vary widely, which is why you should ask yourself if you really need these features for what you want to do.
What are the most important features of a  digital piano?
In a nutshell, this is what most users expect from a digital piano:
It should replace an acoustic piano where it is too heavy, too big, too loud, or too expensive.
It should convey as authentic a "piano feeling" as possible.
Depending on the application, the instrument should be portable, so that it can be taken to gigs or rehearsals.
And last but not least, it should be easy on the savings account.
Most people don't expect an excessively long list of features from a digital piano as long as it handles these core tasks convincingly. Nevertheless, there are digital pianos whose range of functions goes well beyond these basics.
What are the different types of digital pianos?
You have a choice of a variety of different form factors:
Digital home pianos – the traditional choice
The so-called home piano offers a traditional, piano-like design and a permanently mounted, usually wooden stand/base with integrated pedals. It is the obvious direct replacement for an acoustic piano at home or for example in music schools. As a "musical piece of furniture", this type of digital piano is quite large and heavy and not designed to be hauled around frequently.
Some manufacturers offer home pianos that also sit on a fixed wooden stand, but are built slimmer and less bulky than the classic variants. These are often characterized by a sleek, modern design. Their smaller footprint makes them ideal for small apartments or anywhere else where the piano shouldn't take up too much space.
Portable digital pianos – the versatile option
Lightweight, portable digital pianos are very versatile. Even though they offer hammer-action keys just like their home piano counterparts, they're much smaller and lighter and you can simply pack them into a case like a keyboard and take them with you. This makes them a flexible solution if you use the piano both at home and on the road.
While many compact instruments can easily be placed on a conventional (albeit sturdy) keyboard stand, most are also available with optional bolt-on subframes and pedal units. This effectively turns these instruments into compact home pianos.
What is the difference between a digital piano and a stage piano?
Portable digital pianos are also sometimes referred to as stage pianos. This makes sense because you can absolutely use them on stage. Strictly speaking, however, professional stage pianos are in a separate category of instruments.
Stage pianos are designed exclusively for use on stage. That's why they don't usually have built-in loudspeakers, as they're almost always connected to a PA system. Instead, they come with a range of sounds and features specifically aimed at gigging keyboard players. In addition to piano sounds, most stage pianos will also have high-quality electric piano sounds such as Rhodes, Wurlitzer, and Clavinet, along with various additional sounds typically required for a gig. There's also usually an easily accessible effects section. The user interface allows for quick adjustments on stage.
If all you want is a good-sounding replacement for an acoustic piano for practicing at home, a professional stage piano is probably way more than you need – and you'd need to invest in a separate set of speakers.
Ultralight digital pianos
A small subgroup of compact digital pianos are the ultralight digital pianos. These are extremely light and portable, but there are some drawbacks. Most importantly, they do not offer a hammer action keyboard. Instead, they have semi-weighted keys like those used on keyboards and synths.
Due to their lack of properly weighted keys, these instruments aren't really suitable as a replacement for the piano at home. They're also not ideal for practice, because their playing feel is very different from that of an acoustic piano. However, they can be an alternative for pianists who travel a lot and are looking for a lightweight solution for on the road – if they can live with a lower-quality keyboard. Some can even run on batteries!
Home digital pianos – our recommendations
Yamaha YDP-165 Arius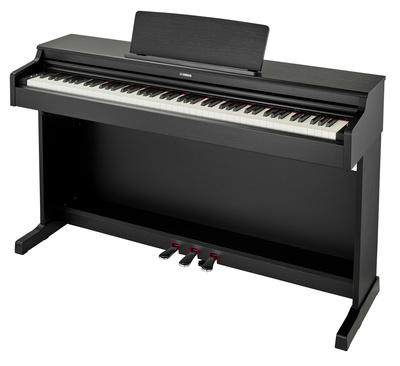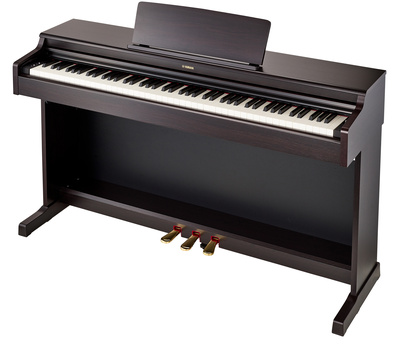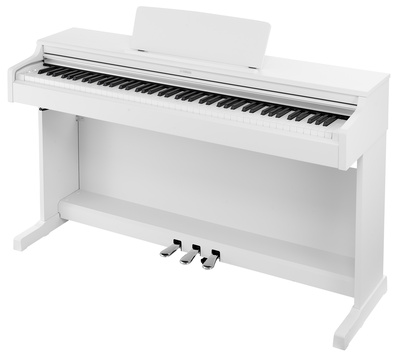 Kawai CN201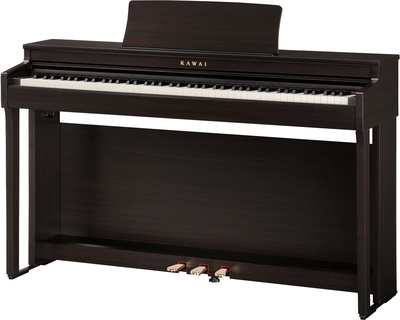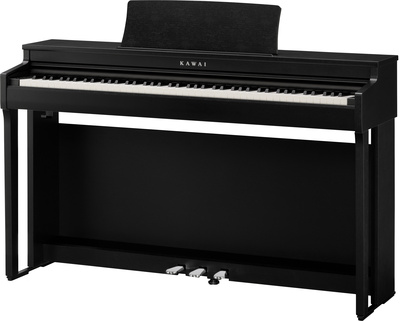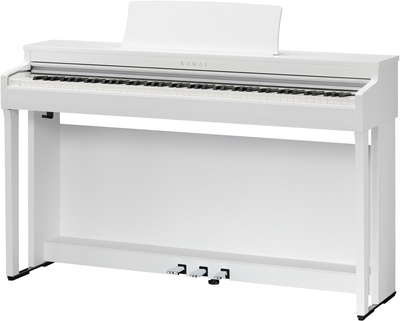 Roland F107
Portable digital pianos – our recommendations
Yamaha P-125A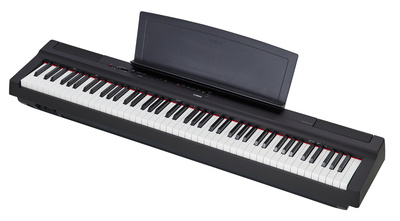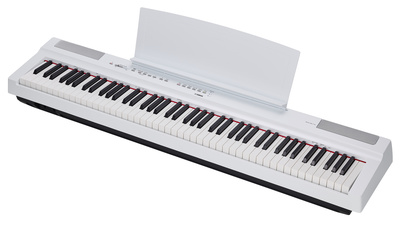 Roland FP-30X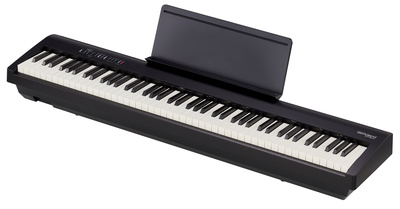 Kawai ES120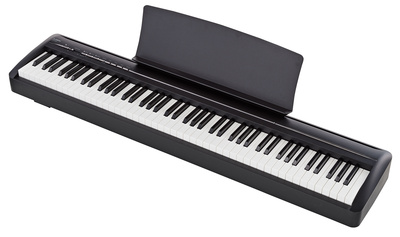 Casio Privia PX-S3100
Ultralight digital pianos – our recommendations
Thomann SP-120
Yamaha NP-32 Piaggero
More information
Videos
Note: This article was originally published in German on bonedo.de.
* This post contains affiliate links and/or widgets. When you buy a product via our affiliate partner, we receive a small commission that helps support what we do. Don't worry, you pay the same price. Thanks for your support!
Image Sources:
Digital home pianos like the Yamaha CLP-745 have a traditional look and feel: Yamaha
The Korg C1 Air is an example of a slim, compact digital piano: Korg
Portable digital pianos like the Kawai ES120 are the most versatile: Bonedo
The Kawai CA79 is a digital home piano: Thomann
The Yamaha YDP-165 is another example of a home piano: Yamaha
The Roland FP-60X is a compact, portable digital piano: Thomann
The KPD-90 is an optional stand ...: Thomann
... that turns the FP-60X into a home piano: Thomann
Ultralight digital pianos auch as the Thomann SP-120 have semi-weighted keys: Thomann