Best free plug-ins this week: Filterstep, Echobox D7 and MERICA
Does it feel like the time is passing more slowly in quarantine? Anyway, it's Sunday again, and that means: more free plug-ins to keep you happy and inspired. We've got a cool animated filter, a stompbox delay emulation and an American console EQ. Check out Filterstep, Echobox D7 and MERICA.
You can find a huge collection of freeware plug-ins in our archives.
And here's our list of free and discounted stuff to keep you happy in self-isolation.
Audiomodern Filterstep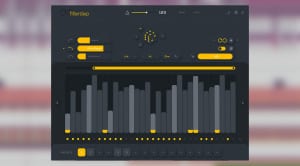 Audiomodern is best known for rhythmic effects like Playbeat, and the developer's newest freeware plug-in is no exception. Filterstep is a resonant multi-mode filter paired with a modulation sequencer. You can create rhythmic filter grooves with up to 32 steps. The sequencer syncs to the host tempo and offers various play modes, including forward, backward, and ping-pong. There's also a random pattern generator, and infinity mode, which creates a new pattern on every repeat. Neat!
Filterstep is available for macOS, Windows, and iOS.
Download Filterstep for macOS and Windows here
Download Filterstep for iOS from the App Store
Sender Spike Echobox D7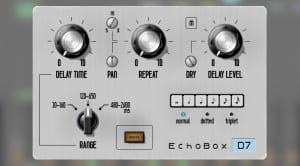 After several EQs and compressors like SN-01G, SN-04G and SN-05G, Sender Spike returns with an emulation of a stompbox delay. The developer says that it's modeled after a rare Japanese stompbox, which in itself is an emulation of a famous tape delay. Don't expect a clean sound from Echobox D7; this plug-in is all about "nasty and dirty" echos, Sender Spike says. The delay time ranges from 30 to 2600 ms and syncs to the host tempo, and the feedback can be driven to self-oscillation.
Echobox D7 is a VST plug-in for Windows.
Analog Obsession MERICA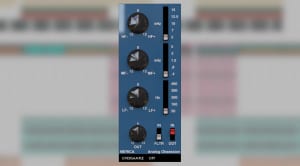 Only a couple of weeks after Lovend and Transature, Analog Obsession has released MERICA. The freeware plug-in is an emulation of the API 550A console equalizer. As such, it features high and low shelving bands and a peaking mid band with proportional Q. All three bands offer five selectable frequencies. There's also a constant HP and LP filter, as well as an output level control. Consider supporting the developer on Patreon, as Analog Obsession keeps releasing great free plug-ins!
MERICA is available for Windows and macOS in VST, VST3 and AU formats.
Videos
Image Sources:
audiomodern-filterstep: Audiomodern / Gearnews
sender-spike-echobox-d7: Sender Spike / Gearnews
analog-obsession-merica: Analog Obsession MERICA