Best free plug-ins this week: CollaB3, Squeezer and Modul 8
Welcome to the Easter Sunday edition of our list of the best free plug-ins! This week, we've got an extra special treat for you: a full-blown Hammond B3 emulation! Also included: a colourful compressor and a dual-LFO Japanese stompbox chorus. Here's CollaB3, Squeezer and Modul 8.
Many more free plug-ins are waiting for you in our archives!
And here's a list of free and discounted music content to keep you happy during self-isolation.
Sampleson CollaB3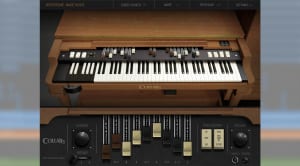 This remarkable freebie is a collaboration by Sampleson, Librewave, LalalandSynth and Studio427 Audio. CollaB3 is an emulation of the legendary Hammond B3 organ using spectral modeling technology. It offers one  drawbar set and the Hammond's characteristic percussion register. A leakage control lets you dial in that authentic vintage sound. The plug-in also includes chorus and reverb effects, and even a rotary speaker emulation. Don't miss this awesome free organ!
CollaB3 is available for Windows (32/64 bit) and macOS in VST, AU and stand-alone formats.
Martin Zuther Squeezer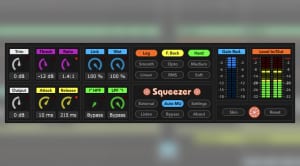 The developer says that he created Squeezer to learn all about compression. The result is a colourful compressor plug-in with an impressive list of features. Squeezer offers optical and FET detectors, peak and RMS sensing, hard, medium and soft knee, and feed-forward and feed-back designs. There's also an external sidechain input with HP and LP filters, and Squeezer is capable of parallel compression. The controls are stepped, but can also be set to continuous mode. Very nice!
Squeezer runs on Windows (VST2, VST3, stand-alone, 32/64 bit) and Linux (LV2, VST2, stand-alone, 32/64 bit).
Sender Spike Modul 8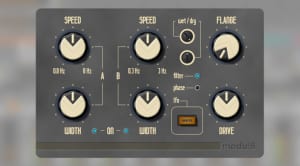 Sender Spike continues his impressive string of releases with Modul 8. Like Echobox D7, Modul 8 is inspired by "Japanese stomp-boxes". The dual-LFO chorus lets you combine two LFOs to create interesting rhythmic modulations, and the LFOs can be muted using a "kill switch". A phase switch lets you invert the phase in one channel for a wide stereo effect. There's also a filter and adjustable drive. This one looks like a versatile and fun chorus plug-in.
Like all Sender Spike plug-ins, Modul 8 is only available as a VST plug-in for Windows.
Video
Image Sources:
sampleson-collab3: Sampleson / Gearnews
martin-zuther-squeezer: Martin Zuther / Gearnews
sender-spike-modul8: Sender Spike / Gearnews