Supermassive, 303 Deluxe, COMPER: Free Plugins of the Week
ValhallaDSP Supermassive is a fantastic free reverb plugin that's just gotten even better! Our collection of the best free plugins also includes a nice TB-303 emulation by Infected Sounds and an excellent serial compressor by Analog Obsession.
ValhallaDSP Supermassive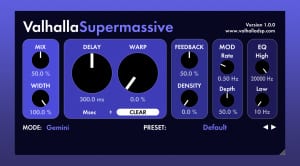 ValhallaDSP has just released version 2.5 of the awesome Supermassive reverb. Designed for endless, luscious, harmonic clouds of reverb and otherworldly soundscapes, Supermassive now features no less than 18 different reverb modes. The two new ones are Scorpio, which features a high echo density, cross-channel feedback, and filtering, and Libra with a long decay and lush modulation. It's always great to see free plugins being updated, and this one's an especially nice surprise.
Supermassive is available for macOS (Intel/M1) and Windows in VST, VST3, AU, and AAX formats.
Infected Sounds 303 Deluxe
It's not like the world really needed another 303 emulation (the last one we featured was less than a month ago), but 303 Deluxe by Infected Sounds has got some interesting features going for it. It expands on the original with three separate envelopes for filter, pitch, and amp, several different filter modes, and even a vowel filter. Noise, EQ, distortion, and a selection of effects like chorus, reverb, and delay are also included. Get your acid fix with 303 Deluxe!
303 Deluxe is a VST/VST3 plugin for Windows (32/64 bit).
Analog Obsession COMPER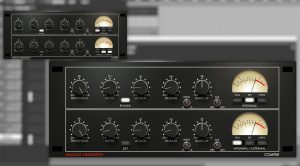 COMPER by Analog Obsession is two compressors in one – and then some! The difference between the otherwise identical top and bottom sections is that the top compressor has no external sidechain input, while the bottom one does. Each compressor works in VCA, FET, or OPTO mode, or all at the same time! This allows you to get really creative with compression – you can basically mix and match the modes as you please and run signals through any combination you could possibly think of.
COMPER is available for macOS and Windows in VST3, AU, and AAX formats.
You'll find many more free plugins in our huge archive!
Videos about Supermassive and other free plugins
Image Sources:
valhalla-supermassive: ValhallaDSP
infected-sounds-303-deluxe: Infected Sounds
analog-obsession-comper: Analog Obsession