TAL-Reverb-4, Dirty Filter Plus, Littl3-P: Free Plugins of the Week
TAL-Reverb-4 is one of the most popular freeware reverbs, and it just got a big update! This week's collection of the best free plugins also brings you an emulation of the Moog Little Phatty and a dual filter with plenty of distortion.
TAL Software TAL-Reverb-4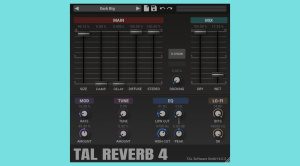 TAL-Reverb-4 has been making lists of the best free reverb plugins for years. So it's great news indeed that the developer has just given the classic a big update! Besides a wonderful new GUI, TAL-Reverb-4 has received a new tune control for shimmering reverbs, a dampener, and ducking. They've also improved the overall quality of the reverb, so it doesn't take a scientist to predict that TAL-Reverb-4 will remain a freeware favorite for years to come.
TAL-Reverb-4 is available for macOS 10.9 or higher (including M1), Windows 7 or higher, and Linux in VST, VST3, AU, AAX, and CLAP formats.
Bedroom Producers Blog Dirty Filter Plus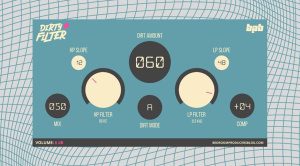 Here's another great update. Dirty Filter Plus by Bedroom Producers Blog improves upon the original by adding four distinct distortion modes. In addition to tube distortion, you can now choose from acid-style distortion, lo-fi dust, and bitcrushing. Besides the new distortion modes, BPB has added separate slope controls for the high-pass and low-pass filters. Moreover, the GUI is now resizable. A very cool and versatile filter plugin that's just gotten even better!
Dirty Filter Plus is available for macOS and Windows in VST, VST3, and AU formats.
Infected Sounds Littl3-P
While the Little Phatty never reached the popularity of other Moog synths (mainly due to its lack of knobs), it paved the way for modern classics like the Sub 37. Infected Sounds Littl3-P is an emulation of the Little Phatty with a knob-laden GUI, three LFOs, an additional envelope, built-in effects, additional filter modes, an 8-voice unison engine, and other improvements. The software synth comes with 100 presets to jump-start your creativity. Great stuff!
Littl3-P is a VST/VST3 plugin for Windows.
Looking for more free plugins? Check out our huge archive!
Videos about TAL-Reverb-4 and other free plugins
Image Sources:
tal-reverb-4: TAL Software
bedroom-producers-blog-dirty-filter-2: Bedroom Producers Blog
infected-sounds-littl3-p: Infected Sounds