Top 7 Free Reverbs: The best freeware plug-ins that sound as good as hardware
No matter what style of music you play or produce, reverb is an infinitely useful tool for any number of applications. Whether you need to add a little space to a dry track or throw on something to take your song into the experimental abyss, there are multiple amazing freeware options.
With reverb being such a polarizing topic, I've tried to narrow down this list based on quality of sound and versatility. All of the selections here are multi-dimensional, and yes, there are some amazing niche freeware reverb plug-ins that easily could have made the cut. But I wanted pare the list down to plug-ins that are versatile in offering options that appeal to any style – even if some of them are a little… off the wall!
Variety of Sound Epicverb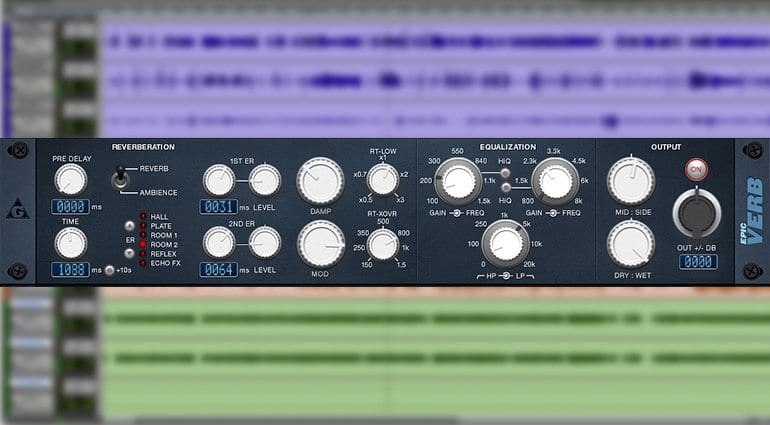 For years this has been a go-to freeware reverb for many. It has a plethora of settings available, from small plates to the most cavernous spaces you can imagine. It has a full-featured EQ section as well, so you can manipulate the reverb sound completely without using additional plug-ins.
It's got an awesome control over the ambience, killing the decay and making it useful for lead guitars and drum effects. But beyond all of this, it just sounds great. It's easy to dial in and any reverb sound you can imagine is inside. It stacks well, and even the presets are useful. Variety of Sound checks off another success with Epicverb.
Semantic Audio Safe Reverb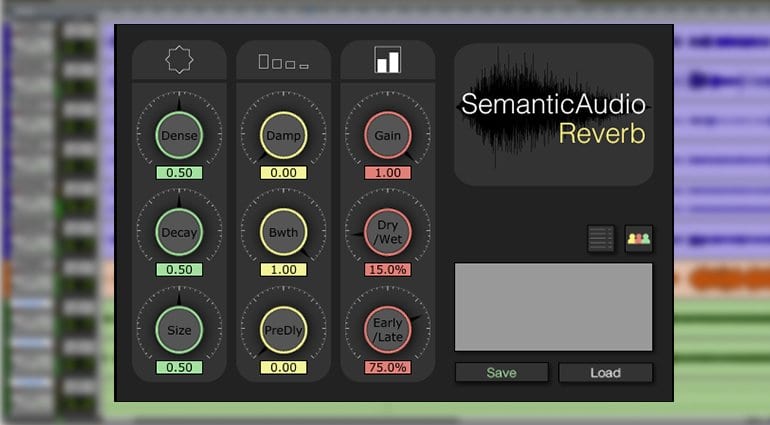 Semantic is one of the better players in the freeware space, and their take on reverb is a useful and toneful tool. Its most unique feature, and one that no other reverb I've found offers is a text box that lets you type in keywords to get whatever sound you need. Warm? Dull? Bright? Dark? Just type in the vibe you're looking for and the parameters will shift accordingly. It doesn't offer much by way of EQ, but this is a non-issue. It's versatile, sounds great, and is extremely easy to dial in – search feature aside.
Togu Audio Line – TAL Reverb 4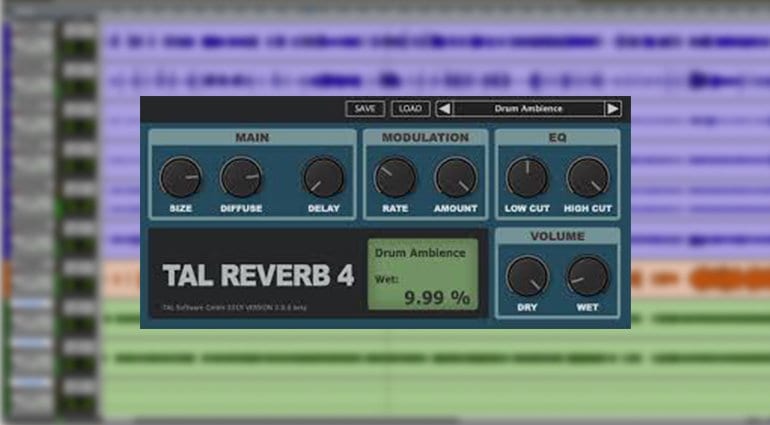 Through a few iterations Togu Audio Line has been creating their vision of reverb, and the most recent development doesn't disappoint. The TAL can do the normal spring thing, but it thrives in a different space. The coolest feature is the ability to add in modulation. It works as a thickener, adding in a tasty sounding chorus that seems to not only add width, but really makes things "bigger".
It's great on clean guitars and adds a lot of depth to solos. It's a reverb that is meant to be dialed in with feel, not numbers. A simple control scheme augments its ease of use, but keep it on the busses because it can only work with stereo sources – its only drawback.
Michael Willis Dragonfly Reverb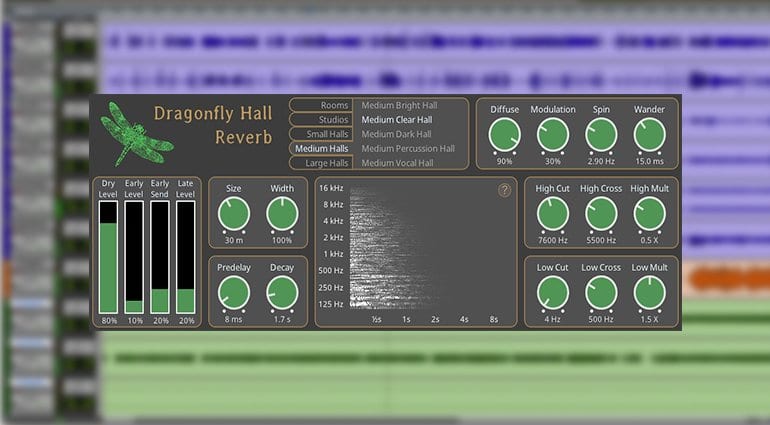 Based on a tried and true reverb algorithm, the Dragonfly offers two of the most useful types of reverbs – room and hall – with various sizes of each. The plug-in comes with a versatile but straightforward GUI. and it provides visualization of frequency via spectrogram for fine-tuning of the space.
There are controls over the high and low frequencies, with three settings for each. You can also add in modulation via various parameters and there are a number of ways to dial in the level. It's available for Windows, Mac, and Linux systems.
Voxengo Oldskool Verb

There are some controls and sounds you can't access unless you pay, but the free version comes with a varied set of many different reverb settings. It's not really trying to break the mold, but provides a number of great sounding reverbs that work well in a mix – regardless of the source.
The controls are straight-forward, with five modes and a 3-band EQ. It doesn't offer many off-the-wall sounds, but it can do small spaces to cavernous sounds and comes on-board with 18 presets. And while it doesn't get really too weird, it's a very solid choice if you're looking to add a little realistic digital space in your mix. It sounds best on tracks with a lighter attack, so vocals, piano, pads, as it doesn't work with transients amazingly.
Denis Tihanov Oril River
The Oril River has gained a positive reputation in the electronic music world, with its host of controls that offer manipulation over pretty much every parameter of the sound. Though it can, this one might not be a go-to for standard spring or plate sounds but it's great if you're looking for just a little something special. It does modulation sounds really well, and sounds great on guitars and keyboards. It's available for PC and Mac.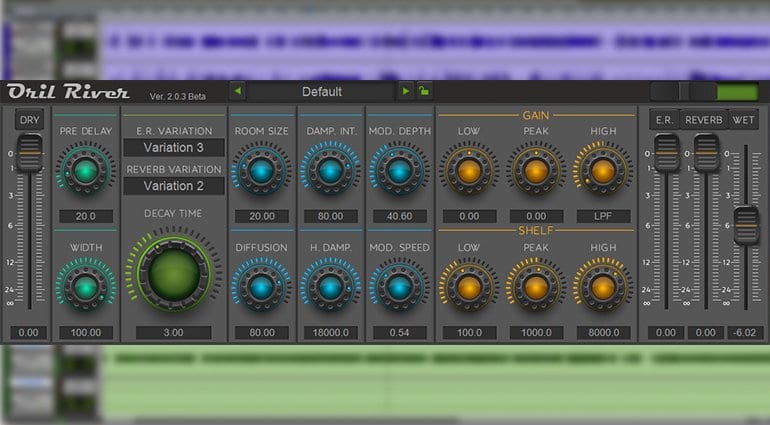 Martin Eastwood Audio MVerb
The MVerb is a solid choice if you're looking for a more traditional sound, as it sports all of the controls you need to get good and wet. Though it doesn't really have an EQ section, this is a non-factor in the digital world. Everything from small springs to cupboards to caverns come inside and it's a low resource alternative to traditional stock reverbs.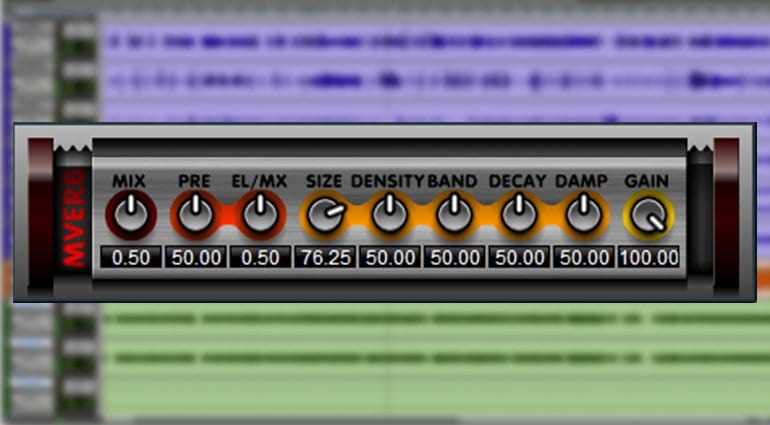 Image Sources:
Variety of Sound Epicverb plug-in: Variety of Sound
Semantic Audio Safe Reverb plug-in GUI: Semantic Audio
Togu Audio Tal4 Free Reverb Plug-in: Togu Audio
Michael Willis Dragonfly Hall Reverb: Michael Willis
Voxengo OldskoolVerb Free Reverb Plug-in: Voxengo
Denis Tihanov Oril River free reverb plug-in: Denis Tihanov
Martin Eastwood Audio Mverb free reverb plug-in: Martin Eastwood