Best free plug-ins this week: RF-AB303, FrankCS, Comp 76
In this week's collection of the best free plug-ins, we check out RF-AB303, a gnarly TB-303 emulation by Ronan Fed. Also in the news: Analog Obsession introduces the FrankCS channel strip and Fazertone emulates a legendary compressor pedal.
You'll find hundreds of free plug-ins in our huge archive!
Ronan Fed RF-AB303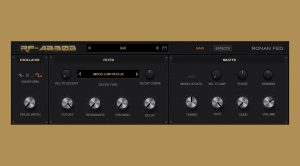 While Ronan Fed's RF-AB303 is far from being the first software emulation of the TB-303, this one brings the sound of the legendary bass line synthesizer to your DAW absolutely free! It's got everything a 303 needs, and then some: Sawtooth and square waveforms, an aggressive filter that even offers several modes, a decay envelope, accent, and slide. In addition to this, Ronan Fed has added a bunch of effects like distortion, compression, delay, and reverb. Free acid for your DAW!
RF-AB303 is available in VST and VST3 formats for Windows.
Analog Obsession FrankCS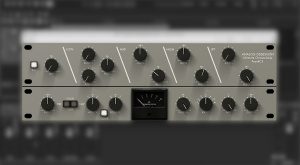 Analog Obsession has expanded the unique Frank equalizer and turned it into a complete channel strip. In addition to the EQ, which combines characteristics of several famous hardware equalizers, FrankCS includes two custom preamps with gain compensation and a versatile compressor section. Both the preamp and the compressor offer a choice of tube and solid-state characteristics. The EQ and compressor can be bypassed separately. That's a lot of analog-style processing power!
FrankCS is available for macOS and Windows in VST, VST3, and AU formats.
Fazertone Comp 76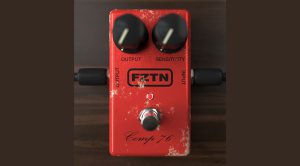 After The Klone and Phaser 74, Fazertone is back with another neural-network-based emulation of a famous effect pedal. The GUI gives it away: Comp 76 is of course modeled after the MXR Dyna Comp. Like the original, the plug-in offers just two knobs: Output and Sensitivity. This simplicity paired with a great sound is what made the pedal famous, and now you can enjoy it in your DAW. The developer says that high sensitivity settings produce long sustains with strong attacks.
Comp 76 is available for macOS and Windows in VST3 and AU formats.
And if you prefer hardware, the modern version of the Dyna Comp is available at Thomann*.
Videos about free plug-ins
* This post contains affiliate links and/or widgets. When you buy a product via our affiliate partner, we receive a small commission that helps support what we do. Don't worry, you pay the same price. Thanks for your support!
Image Sources:
ronan-fed-rf-ab303: Ronan Fed
analog-obsession-frankcs: Analog Obsession
fazertone-comp-76: Fazertone