Top 7 Free Amp Sims: The best freeware virtual guitar amp plug-ins
Although guitar simulation plug-ins, or amp sims, have been around for a while, it seems like only recently that they have gotten to the point where you want them printed to the final tracks on your record – and not just used for demo tracks.
It used to take a lot of tweaking and fine-tuning to get tracks involving amp sims to sit right in a mix, and even then you might still have had reservations on whether or not it was good enough to make the final cut. But the technology has progressed in fantastic ways thanks to companies like the ones on this list, but also the ones that are innovating digital guitar sounds on the live market like the ever-popular Kemper, Line 6, Headrush and Fractal Audio brands.
It was tough to narrow this list down. There are so many spectacular amp sims out now as freeware, offering every guitarist access to some legendary sounds without budget getting in the way. Here are seven freeware amp sims that sound as good as the real thing.
Native Instruments Guitar Rig 5 Player
It's a stripped down version of the paid one, but includes all of the sound quality, just with fewer options of cabinets, pedals, etc. The interface is a simple to navigate, intuitive GUI.
You get one amp and one cabinet choice with the free version, as well as access to a few guitar pedals. The guitar pedal options are pretty robust, with a Tubescreamer, a few delays, and other gain-related options like noise gating, compression, and a number of ways to shape your sound with EQ.
NI has provided a solid simulation starter pack, hoping to get you hooked enough to buy the full version. It might just work.
IK Multimedia Amplitube
Amplitube was one of the first guitar sims to really push the boundaries of what you can do without a real amp, and IK Multimedia has vastly expanded the platform since then. It's why we've often written about Amplitube on Gearnews. Included in the free version of Amplitube is Cab Room, a virtual recording space where you can swap out different cabinets and microphones. You also get four amps, a host of different pedals, three mics, among a few other goodies.
It's a little gimmicky, but for good reason: IK Multimedia provides you with a bunch of solid options in the hopes that you'll like the tones so much that you'll want to pay for more.
LePou Plug-in Suite
No matter what flavor of amp you're looking for, LePou has it. They built their legacy on HyBrit – their Marshall emulation – and branched out with free variations of Soldano, Mesa Boogie, 5150, and more as they have been one of the foremost innovators in the freeware amp sim market for years.
Their site is no longer active, but the downloadable files can be found through a simple search. It might take some digging to get them all, but for their sound quality it's highly worth it.
All of their creations can be run in mono or stereo and feature various ways to shape and control your tone on each head. They work with any type of impulse/cabinet loader so the ways that you can mix and match your tones are virtually endless.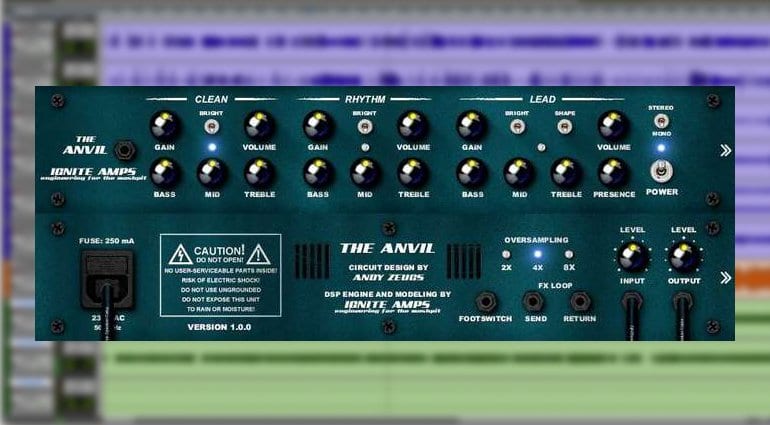 Ignite Amps
The only company on this list that offers software and hardware, Ignite's amp simulation lineup features a number of different styles of amplifiers designed specifically for heavier styles.
Anvil might be their most infamous offering, as it is a full featured 3-channel (clean, rhythm, and lead) head that just rips with high gain sounds. It can do a great scooped metal sound, reminiscent of some of the most beloved tube amps in the heavy music world.
Emissary is a next-gen type of amp sim, sonically and graphically resembling a real tube stack in a way that is so realistic it's scary. It models EL34, 6L6, and KT88 tubes with selectable power tubes and mono or stereo output.
The NRR-1 is based on a "famous boutique amplifier" from 1988 – my guess is it's Ignite's recreation of the Soldano SLO100 – which at that time was a boutique amp (widely available in the meantime). It also features 3 channels of clean, rhythm, and lead mayhem coming loaded with all of the appointments of the other amps.
Though their lineup is obviously meant to cater to the heaviest of the heavy, the simulations also feature sparkling clean and drive channels that can find a home on recordings of any genre. All amps feature mono or stereo support, 64-bit floating bit depth, and up to 8x oversampling capability. Their software suite also includes a number of impulse responses and cab loaders, as well as guitar pedals.
Their plug-ins are available for Windows and Mac formats.
Kuassa Ampilfikation Lite
Kuassa offers simulations of some of the most classic amps of all time. Their freebie is their Lite model, an amp whose tone sits somewhere between a Marshall and a Peavey. It provides great gain for harder rock styles, but also cleans up nicely. It really shines in its articulation and response, and when you're playing it you almost forget that it's digital, as it nails the late 70s early 80s thing so well.
Shattered Glass Audio Ace
A standalone vintage amp sim, the Ace is a digital recreation of the venerable all-tube 50's tweed amp. Based on the late 1950's Fender Tweed Champ, an amp that attained a legendary status on some of the greatest recordings of all time.
There are added controls to adjust the amount of feedback, a common mod to the Champ in the amp world. The digital recreation also includes the mod to the real circuit that includes grip stopper resistors.
It comes packaged with an impulse response so you don't have to use a separate IR loader, but it is defeatable and you can use the digital head with whatever type of cabinet responses you like.  The plug-in can also be oversampled up to 8x, and the onboard cabinet emulation offers mono or stereo output.
Voxengo Boogex
Boogex is Voxengo's take on amp simulation, and just like their host of other freeware offerings, it checks all the right boxes. It is built for low and medium-gain sounds, which sets it apart from some of the other options on this list. While it can do higher-gain sounds it gets pretty fizzy and compressed, which might just be exactly what you're looking for!
It comes with a plethora of on-board impulse responses, and it can be used with 3rd party response loaders. With such a solid selection of amps, cabinets, and microphones it's hard to beat this much value in a freeware guitar amp processor.
Image Sources:
guitar rig 5 player: Native Instruments
amplitube free: ik multimedia
lepou plugins: lepou
ignite amps plugins: Ignite amps
kuassa amplification lite: kuassa amplifikation
shattered glass audio ace: shattered glass audio
voxengo boogex: voxengo