Which keyboard stand is best? Our picks of the best stands!
Synthesizers need reliable support. In this article, we're going to check out which keyboard stand is the best choice for your situation.
The X-stand
That stalwart of keyboard carrying, the legend of adjustable support and the icon of fold-away versatility. The humble, everyone's-got-one X-stand; how I hate you. The X-stand is the scraper of shins, the basher of knees, and the breaker of fingers. How, within a moment of adjustment, the whole thing comes crashing down onto your toes. They are never at the right height when seated, precarious when standing and only ever look good on the telly when devoid of cables.
I don't know how the X-stand got to be the most popular, no, that's the wrong word, the most purchased stand on the planet. Its dominance is undeserved. No one who owns one celebrates its existence. We tolerate it because we think it's what we deserve. Well, we don't have to stand for it. Single or double braced, latched or Quik-Loked, with or without the optional second tier, I implore you to choose something else.
So, while the Millenium KS-1001 X-stand at £15.90 is the best-selling keyboard stand at Thomann, you'll thank me if you stay well away from it. That's not to say that it doesn't serve its purpose. The KS-1001 and its double-braced sister, the KD-1010, will support a keyboard at a small selection of heights, and if you're on a tight budget, and need something simple and portable, it may do the job.
But you won't be able to get your knees under it, and unless you have a very specifically sized keyboard, it's not going to rest on those rubber pads. It won't ever be at the perfect height, and at some point, you'll try to adjust it while the keyboards on it with potentially sub-optimal consequences.
However, they are cheap; they fold flat like an ironing board, and many people buy them. So, go on, buy one, I dare you, there are plenty of different brands and versions to choose from.
Fun Generation Universal Stand
So, if X-stands are a death trap, is there an alternative? Good gracious, yes, and it comes from the unlikely named Fun Generation, although there are a few manufacturers of similar ones. It is a little bit more expensive than the X-stand, but it has the ability to function as a satisfyingly useful support for your keyboard, which the X-stand does not.
The Universal Stand is flat-topped and adjustable in almost every respect. It maintains its depth and width regardless of what height you set it to. You can sit down, slide your knees underneath without fear of scraping your shins, and feel comfortable in front of your instrument. Height adjustment takes a little bit longer as you have to adjust each of the four legs individually, but you are never in any danger of dropping the keyboard on yourself. You can also add a second tier without any fear of overburdening the stand or toppling it over.
It's more stable, adjustable, professional, and comfortable. It will take over twice the weight of your X-stand for the huge investment of £33. Millenium and K&M also do more expensive versions of this stand with larger dimensions and more premium materials, so you can choose the perfect one that'll last the life of your synth. It also doesn't even have to hold a keyboard, it's great for laptops, decks and controllers as well.
Don't buy the X-stand, buy one of these and have a much happier life.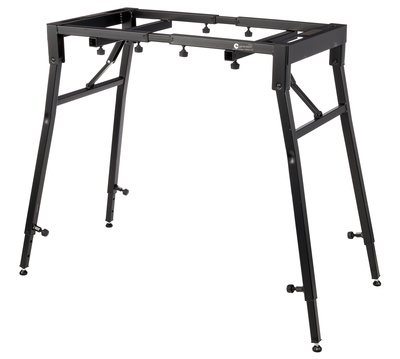 Fun Generation Universal Stand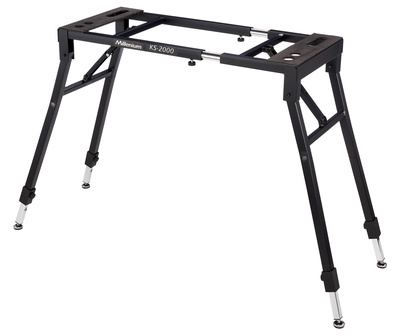 Millenium Laptop Stand
No, wait, this is not about laptops! While this is a great stand for laptops it's an even better stand for small synths, keyboards, drum machines and MIDI controllers. It's perfect for using on a desktop or table to give you a neat 2-tier synthesizer solution.
Place your larger keyboard on the tabletop. Put the Laptop stand behind it and slide it forward. The legs are flat enough to slide a little under your keyboard for fabulous 2-tier action. Then put your second keyboard on the top. It's a massive space saver and brilliantly takes care of smaller synths like the Novation Bass Station II, Behringer MS-1 or Arturia MicroFreak. I've found it ideal for combining the MS-1 with the RD-8 drum machine into a techno-station.
The Millenium Laptop Stand has some height adjustment although it does require you to take it apart and screw it back together again. The top arms are rubberised to prevent slippage and stops on the end to keep your synth secure. Of course you can use it for a laptop but with a couple of these stands you can construct a very space-efficient desktop synth station.
The laptop stand is £12.60 and is available in black or white.
Jaspers A-Frame stands
These stands are expensive. From 3 tiers to 6 tiers, they don't come cheap, but boy, are they worth it. These stands are an investment in your synthesizer environment. The first time you invite one into your studio, they feel quite revolutionary, like you're finally doing this properly.
As your synthesizer collection has grown, there's never enough desk space. You may have four X stands, none of which are at the right height or the same height, which rapidly take up space. A Jaspers stand pulls all the dominating mass of those keyboards into a single manageable space. You'll step back and view your tower of synths in complete awe and realise you could probably fit a drum kit in the space you've reclaimed.
The arms on the stand are all adjustable, so you can place your keyboard at the correct angle for best access and width to support different sizes. Getting those arms right is a bit of a pfaff. It takes a bit of time and effort to set it up, but then this stand is a permanent fixture rather than something you'll want to pack away and take to a gig.
Some people use these stands to feel like Rick Wakeman with all the keyboards ready to play. That's not always the goal here. Especially if you're looking at the five or six-tier versions with the bottom keyboard almost on the floor. If you are using MIDI from a DAW or master controller keyboard, then it might not be necessary to be able to get to all the keyboards. A quick re-arrangement of keyboards can bring the one you want to play into the prime position.
If you've ever had synths leaning up against other gear or stuck on shelves, then a Jaspers stand can store them safely, display them beautifully and bring them back into everyday use.
They are available in different sizes to suit the width of your widest keyboard. A 3-tier stand starts at £185, 4 tiers at £219 and 6 tiers are £322.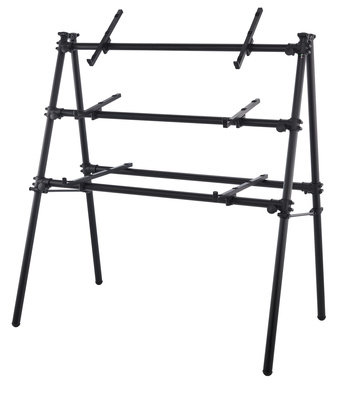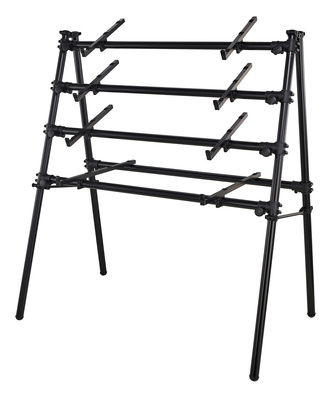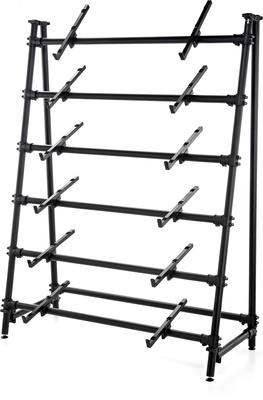 Conclusion
So, in conclusion, then, consider going for something other than the generic X stand. Treat yourself to something better at the job that will help you get on with the music making and performing with the minimum of fuss.
The full range of Keyboard Stands at Thomann
Image Sources:
Millenium X Stand: Millenium
Fun Generation Universal Stand: Fun Generation
Millenium Laptop Stand: Millenium
Jaspers A-Frame stands: Jaspers