The best plug-ins for Auto-Tune effects and pitch correction
There's probably no other studio effect that's as emotionally charged as Auto-Tune. Still, the sound is everywhere. Even if you can't hear it, chances are that most of your favorite tracks from the past couple of decades use Auto-Tune, and this subtle kind of pitch correction is what the effect was originally intended for. In this list, we'd like to give you an overview of current pitch correction plug-ins, whether you're looking for in-your-face, T-Pain-style effects or just need to make a couple of quick adjustments to an otherwise bang-on performance.
Note: This article by Dirk B. first appeared on our German sister site gearnews.de.
The best plug-ins for Auto-Tune effects and pitch correction
If you're on the hunt for that Auto-Tune effect, you now have many alternatives to the original. The effect is so popular that many developers have jumped onto the bandwagon, offering their own interpretations of the effect. Some specialize in drastic pitch quantization with ultra-fast tuning for obvious effects, while others focus on smooth, inaudible adjustments. That's why this list includes a couple of entries that don't necessarily stand for that over-the-top "Cher effect".
Before you buy, it's a good idea to check if your DAW already offers a pitch correction tool in the box. While Ableton Live doesn't have one built in just yet, Logic Pro offers both a pitch correction plug-in and a full-blown Flex Pitch engine, and Cubase Pro has VariAudio. Reaper has ReaTune, FL Studio has Pitcher and Tracktion Waveform Pro even comes with Melodyne Essential and AutoTune Access.
If you don't own the right tool for the job yet and want to unleash your inner T-Pain, take a look at the list below. And since everybody loves free stuff, we've also included a couple of free alternatives, as well as a couple of mobile apps.
Note: This list includes affiliate links to our partner Thomann. If you buy via these links, you pay the same, but we receive a small commission that keeps the lights on in the newsroom and helps us to pay the bills.
Antares Auto-Tune
This list must begin with the OG pitch correction tool, Antares Auto-Tune. This software not only laid the groundwork and helped to shape modern vocal production, it also became eponymous for this type of effect as a whole.
Antares currently offers several versions of Auto-Tune, ranging from a beginner's version (Access) to a full-blown subscription suite (Unlimited). Depending on which version you get, it can be a good idea to add Auto-Key, a plug-in that automatically detects the key and root of the vocal track. This information is then passed on to the actual Auto-Tune plug-in, which takes care of the pitch correction. Auto-Key is included with Auto-Tune Pro and Auto-Tune Unlimited, and Antares just released the free Auto-Key Mobile app for iOS. You'll find an overview of the various versions here. Most Antares Auto-Tune plug-ins are available at Thomann, here's an overview*.
Brainworx bx_crispytuner
This plug-in was originally developed by CrispyAudio and named Crispytune, until Brainworx acquired the company and renamed it bx_crispytuner. In addition to the actual pitch correction tool, the bundle includes bx_crispyscale, which automatically detects the key and root of the material.
One feature that sets bx_crispytuner apart is the live mode, which makes adjustments in real time without any noticeable latency. This makes bx_crispytuner a good choice for live applications.
Waves Tune and Waves Tune Real-Time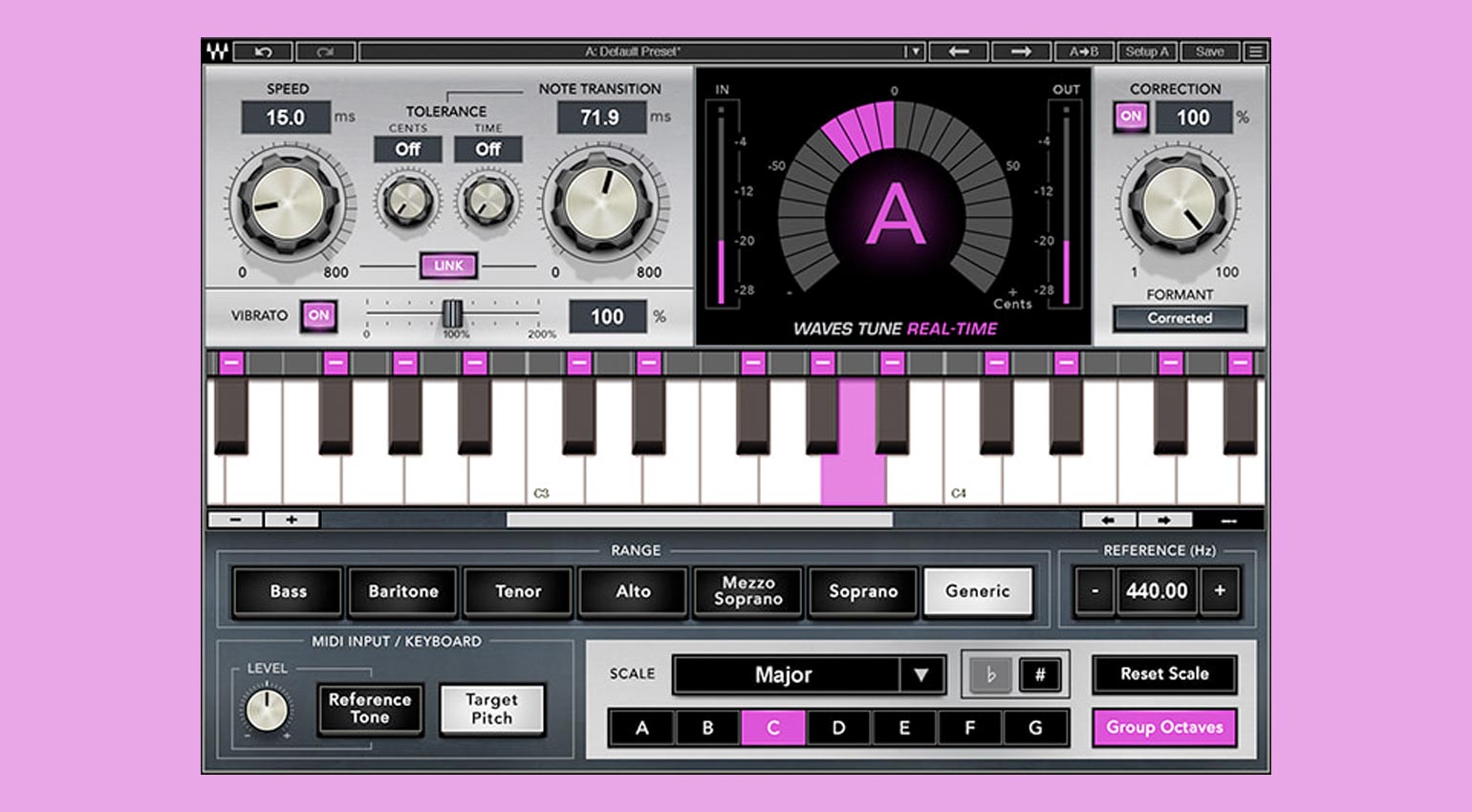 In its extensive catalog, Waves offers no less than three plug-ins for vocal pitch correction. Waves Tune LT is the most basic version, while Waves Tune offers a bit more, such as synthetic vibratos. These two versions are restricted to offline processing. Waves Tune Real-Time is by far the most desirable of the bunch, because it works on real-time audio streams.
If you've set your eyes on one of the Waves plug-ins, be sure to catch one of the manufacturer's many sales. There are frequent opportunities to secure yourself a nice discount.
Waves Tune* and Waves Tune Real-Time* are available from our partner Thomann.
Celemony Melodyne
Melodyne isn't an obvious choice for Cher-style effects, although it can absolutely do that, too, if you push it hard enough. The software operates differently from the plug-ins mentioned above and is more tailored to intricate tasks, such as precise editing of the pitch, pitch deviation, vibrato and timing of individual notes. Melodyne is known for is transparent sound and many creative possibilities.
If you're looking for a tool that lets you edit vocal recordings with a laser focus on the exact pitch curve, Melodyne is hard to beat. Another thing that sets it apart: Melodyne also works on polyphonic material. You can edit vocal recordings with multiple voices and even turn a single melody into an entire choir. It's also great for correcting the pitch and timing of instrumental recordings. The software integrates deeply into compatible DAWs via the ARA2 protocol.
The various versions of Melodyne are all available at Thomann, including updates from older versions. Here's a list*.
Synchro Arts Revoice Pro
Like Melodyne, Revoice Pro is designed to perform as naturally as possible and lets you go into great detail with your adjustments. The software is a comprehensive tool for editing vocals, dialogs or instruments.
If you're looking for a distinct, audible Auto-Tune effect, look elsewhere. But if you need a comprehensive and in-depth vocal alignment and pitch correction tool and additional effects like convincing double tracking, Revoice Pro is the right tool for the job. Another interesting feature is the ability to copy the pitch from one recording to another.
zplane reTune
This plug-in isn't the #1 choice for artificial Auto-Tune effects. But when it comes to polyphonic pitch shifting, reTune is in a class of its own, especially with complex and polyphonic material.
reTune allows you to alter the pitch of instrumental tracks or change the key of entire songs and delivers convincing results in a wide range of up to two octaves.
zplane reTune is available from Thomann.de*.
Soundtoys Little AlterBoy
Unlike many pitch correction plug-ins, Little AlterBoy by Soundtoys offers only a handful of parameters. While it can deliver the typical hard tuning effect of modern R&B and hip hop productions, there are plug-ins that are better at it.
So why is Little AlterBoy on this list? It's fast! The plug-in lets you create cool pitch effects in no time and even lets you change a male voice to a female voice or vice versa. It can also turn your voice into a robot.
Here's Little AlterBoy at Thomann.de*.
Free: MeldaProduction MAutoPitch
MAutoPitch by MeldaProduction is a free alternative. The plug-in works on voices and other monophonic material and offers some additional features, like stereo widening. It also features an integrated limiter.
If you'd like to experiment with automatic pitch correction before you buy one of the commercial tools, give MAutoPitch a try.
Free: Auburn Sounds Graillon 2
Auburn Sounds Graillon 2 is another free option. To be precise, there are two versions. The free version offers pitch correction and pitch shifting. The Pro version, which costs USD 39, adds a number of features for more drastic changes to the source material.
Due to its low latency, Graillon 2 can be used in real time. It sounds pretty decent and many consider it to be one of the best free alternatives to Auto-Tune. It's available for macOS, Windows and even Linux, which is another plus.
Image Sources:
Antares Auto-Tune: Antares
Brainworx bx_crispytuner and bx_crispyscale: Plugin Alliance
Waves Tune Real-Time: Waves
Celemony Melodyne: Celemony
Synchro Arts ReVoice Pro: Synchro Arts
zplane reTune: zplane
Soundtoys Little AlterBoy: Soundtoys
Meldaproduction MAutoPitch: Meldaproduction
Auburn Sounds Graillon 2: Auburn Sounds