Best free plug-ins this week: Music Pattern Generator, MAutoPitch and FAZU
One of our free plug-ins of the week isn't even a plug-in, but it's so good that we cannot leave it out. When you're done checking out Music Pattern Generator, we've got two more awesome freebies for you: MAutoPitch and FAZU Bass Distortion.
Need more free plug-ins? Check out our huge archives!
Wouter Hisschemöller Music Pattern Generator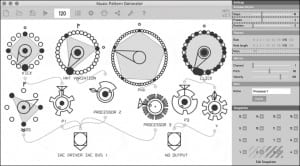 Developer Wouter Hisschemöller has released a big update for his wonderful Euclidian MIDI Pattern Generator. Like the predecessor, Music Pattern Generator is free and open-source. You can combine various Euclidian sequencers and effects in a modular fashion, which yields a never-ending supply of sequences and patterns. If there's ever been a software that can break any creative block, this is it. There's even a browser-based version for a bit of fun in between spreadsheets.
Music Pattern Generator is a stand-alone application for Linux, Windows and macOS.
Get Music Pattern Generator here
MeldaProduction MAutoPitch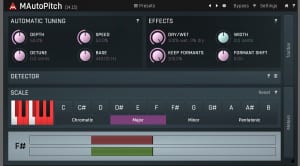 This free pitch correction tool has been around for a while, and it's one of those freeware essentials that no producer should be without. It does everything you'd expect from an Auto-Tune style plug-in, including pitch correction to configurable scales, formant shifting and even stereo expansion. The interface is straightforward and very easy to use. If you're looking for a free option for all your Auto-Tune FX needs, this could be it.
MAutoPitch is available for Windows and macOS in VST, VST3, AU and AAX formats.
Owl O'Lantern FAZU Bass Distortion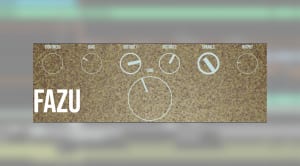 New developer Owl O'Lantern has released FAZU Bass Distortion, a distortion plug-in specifically designed for bass lines. It has two separate distortion knobs and you can adjust the sound with the tightness, bias, sparkle and tone controls. The developer says that this lets you dial in sounds that range from "the roar of a lion" to "the squeak of a mouse". It's always great to see new developers appear on the scene with fresh ideas, and FAZU looks like a great start.
FAZU Bass Distortion is available for macOS and Windows in VST3 and AU formats.
Video
Image Sources:
wouter-hisschemoeller-music-pattern-generator-01: Wouter Hisschemöller
meldaproduction-mautopitch: MeldaProduction
owl-o-lantern-fazu-bass-distortion: Owl O'Lantern, Gearnews