Best free plug-ins this week: Deelay, TaraLead and BassMatrix
We're kicking off summer with three great free plug-ins! Deelay is a versatile delay with plenty of features for creative sound shaping. We've also got another excellent distortion plug-in from Smao Lab, and a 303-style bassline synth with a nice pattern sequencer.
For many more free plug-ins, be sure to check out our archives!
Sixth Sample Deelay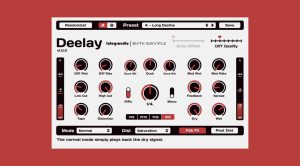 Deelay was developed by Sixth Sample in collaboration with Integraudio. One look at the interface leaves no doubt about it: This is a delay with a huge feature set for creative sound shaping. Besides the usual delay parameters and five delay modes, Deelay offers filters, diffusion, a tape mode with wow and flutter, and no less than eleven types of distortion. There's also a ducking feature that lowers the volume of the wet signal when the dry signal plays. Excellent stuff!
Deelay is available for macOS and Windows in AU and VST3 formats.
Smao Lab TaraLead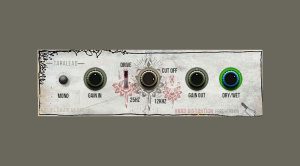 After Tarabia MK1 and TaraTube, TaraLead completes the trio of excellent free distortion plug-ins by Smao Lab. This time around, it's all about extreme distortion, overdrive, and fuzz. TaraLead mangles your signals using asymmetric wave clipping. It's got input and output gain knobs, a drive slider, a filter, a dry/wet control, and a mono button. That's all it takes for some serious earth-shaking distortion. Use it on guitar, bass, soaring lead sounds, or anything else.
TaraLead is available for macOS 10.12 or later (Intel only) and Windows 10 or later. It comes in AU, VST, and VST3 formats.
Witech BassMatrix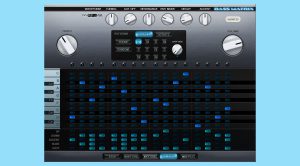 BassMatrix by Witech is a 303-style bassline synthesizer with all the essentials: saw/square toggle switch, cutoff, resonance, a simple decay envelope, and an accent control. Unlike the classic Roland synth, however, it features an easy-to-use grid-based sequencer that allows you to create patterns visually. You can even use the bottom row to set accents, slides, gates, and more. If you're into classic 303-style bass lines, but like to see what's going on, BassMatrix is for you.
BassMatrix is a VST3 plug-in for Windows. There's also a stand-alone version.
Videos about free plug-ins
Image Sources:
integraudio-deelay: Sixth Sample
smaolab-taralead: Smao Lab
witech-bassmatrix-01: Witech