Best free plug-ins this week: Analog, DelayArchitect and 808-ROMpler
This week's collection of the best free plug-ins brings you an "analog" filter and distortion effect, a fantastic open-source recreation of Logic's famous Delay Designer and a useful little ROMpler for all your 808 kick drum needs.
Check out our archives for many more free plug-ins!
Eplex7 DSP Analog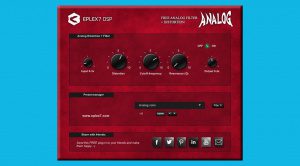 The name says it all: This new free plug-in by Eplex7 DSP is all about analog filtering and distortion. The developer says that it can be used to add light coloration and warmth to your tracks, but also for heavier distortion. Analog is based on a 2x over-sampled analog modeled "liquid" filter with resonance and an analog distortion circuit. With its simple GUI, the plug-in makes it easy to throw a filter and/or distortion effect on any audio track, such as drums, basses, synths or vocals.
Analog is a VST plug-in for Windows (32/64 bit).
JP Cimalando DelayArchitect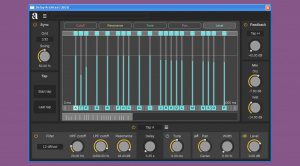 The Delay Designer has long been one of the best plug-ins in Apple's Logic Pro. DelayArchitect is a free, open-source adaptation of the concept. Like Delay Designer, DelayArchitect is the ultimate delay tool box: You can create custom delay effects by creating as many taps as you'd like and dialing in the volume, cutoff, resonance, tune and panorama for each one of them independently. It syncs to your song tempo and even swings. If you're not a Logic user, this one is a must-have.
DelayArchitect is available for Windows, macOS and Linux in VST3 and AU formats.
Recluse-Audio 808-ROMpler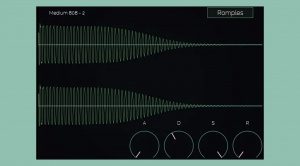 Adding classic, boomy 808-style bass drums to your tracks doesn't get any easier than this. 808-ROMpler is a simple sample player that comes with 16 samples. While they're definitely in the style of the legendary 808, the developer says that they were actually recorded on a DSI Tempest. You can edit each sound using the included ADSR envelope. And if you prefer to use your own samples, you can simple drag&drop them onto the interface – so it's actually not a ROMpler at all.
808-ROMpler is available for macOS and Windows in VST3 and AU formats.
Videos
Image Sources:
eplex7-dsp-analog-01: Eplex7 DSP
jp-cimalando-delayarchitect-01: JP Cimalando
recluse-audio-808-rompler-01: Recluse-Audio