Best free plug-ins this week: BYOD, TILTA and Iota Mini
This week's collection of the best free plug-ins includes a modular distortion plug-in from Chow DSP, an easy-to-use tilt equalizer from Analog Obsession and a cool little Trap/RnB ROMpler from AngelicVibes. Here's BYOD, TILTA and Iota Mini.
You'll find many more free plug-ins in our huge archive.
ChowDSP BYOD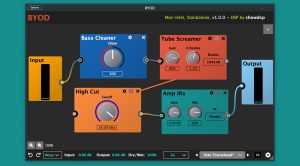 ChowDSP, the creator of the amazing Chow Tape Model, Chow Matrix and Chow Centaur plug-ins, has released BYOD. That stands for "Build Your Own Distortion", and it's an open-source modular guitar effect that lets you create your own custom effect chains using a combination of modules. Chow says that it includes emulations of various distortion and tone-shaping circuits, plus some other useful effects. BYOD is also available for iOS for some portable shredding fun. Great stuff!
BYOD is available for Windows, macOS, Linux and iOS. The desktop plug-in comes in VST, VST3, AU, AAX, and LV2 formats, and there's also a stand-alone version. On iOS, BYOD runs as an AUv3 plug-in.
Get BYOD here
BYOD in the App Store
Analog Obsession TILTA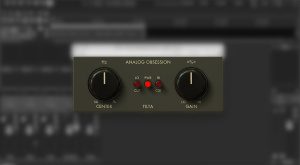 TILTA by Analog Obsession is an easy-to-use tilt equalizer, meaning that it affects frequencies above and below the center frequency at the same time. When the highs are boosted, the lows are attenuated, and vice versa. You can adjust the center frequency (50 Hz – 7 kHz) and gain (+/- 10 dB), and there's a pair of switchable high and low cut filters to help you control unwanted frequencies. It's a great tool for quick adjustments of the overall tonal balance of a signal.
TILTA is available for macOS and Windows in VST, VST3 and AU formats.
AngelicVibes Iota Mini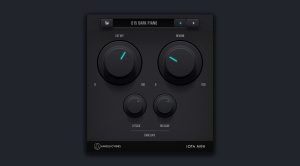 AngelicVibes calls Iota Mini a "free Trap VST", but nothing stops you from using it for other styles such as hip hop and RnB, as well. It's a cool little ROMpler plug-in packed with 50 factory presets designed to spark your creativity. You can choose a preset and then use the knobs to tweak the filter cutoff, reverb and envelope (attack/release). On top of that, Iota Mini contains ten drum kits made up of six sounds each, each of which has its own level slider and pan knob.
Iota Mini is available for Windows and macOS in VST, VST3 and AU formats. The download size is 4.2 GB on PC and 2.2 GB on Mac.
Video
Image Sources:
chowdsp-byod: ChowDSP
analog-obsession-tilta: Analog Obsession
angelicvibes-iota-mini-01: AngelicVibes